587 New Students -- The Most Diverse Entering Class in DePauw History -- Begin a "Magical Time" in Their Lives
August 20, 2016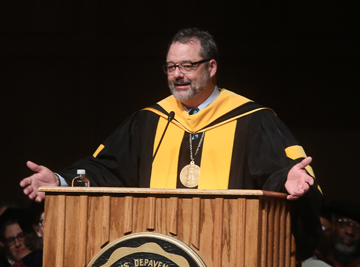 "How will you change the world?," DePauw University's twentieth president, D. Mark McCoy, asked the 587 members of the Class of 2020 at this afternoon's traditional opening convocation. Speaking in Kresge Auditorium filled with incoming students and their families, DePauw's new president urged the new undergraduates to "commit today to making the right choices for not just the current you but for the future you."
The afternoon program followed a morning which saw the most diverse entering class in DePauw's 179-year history unpacking cars and vans with their families and assistance from student and staff volunteers and moving into their living units. At the conclusion of the program, the first-year students began their orientation.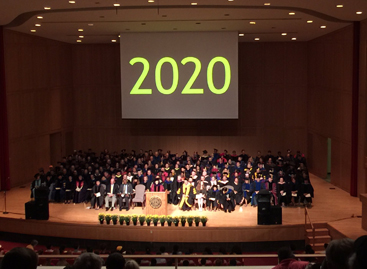 "You are entering into a magical time," stated President McCoy. "Think about it. Four years ago you were worried about fitting in to high school. Four years from now you will be worried about fitting into grad school or med school or even scarier, the real world. So we have these four years -- you will hear me refer to these as the 800 days -- the 800 days of your life you will be on this campus -- or the 600 days -- the 600 days we will have you in our classes. Either way, not much time to set you up for the life well-lived. We have big work to do. We'll do it together."
Dr. McCoy added, "You are also entering into a magical place. DePauw University has been welcoming students like you to the life of the mind for 179 years ...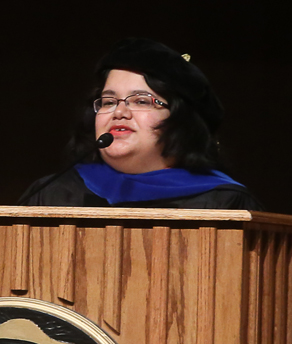 (It) has been changing lives since your great-great-great-great-great grandparents walked this earth."
"It can be tempting to escape the pressures of the real world, from the relentlessly terrible news we seem to be surrounded by," Deepa Prakash, assistant professor of political science, told the new students. "Here's our plea to you and our challenge to you: resist the impulse to close yourself off from change and challenges. Even as you settle into the rhythms and pleasures of life at DePauw and fall in love with it -- and there is much to love here -- stay open."
Dr. Prakash advised the new undergraduates to "do the opposite of what Britain did with the Brexit vote -- don't just stay on campus and your bubble -- leave, go, see and do things. Challenge yourself to broaden your horizons beyond DePauw, even while you're here ... I do think the happiest, most fulfilled students at DePauw are not necessarily those with the highest GPAs, or those who landed prestigious internships or even those with the coolest, biggest presences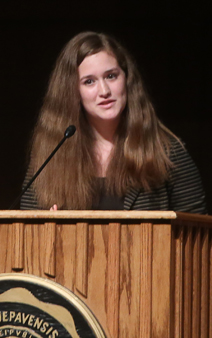 on campus -- it is those who use their time at DePauw to figure out something about themselves beyond the confines of the college experience. They find, to quote that great thinker of our times, Justin Bieber, a purpose."
"I can say the time you spend here will be some of the most transformative years of your life," senior and student body president Claire Halffield said as she addressed the incoming class. "You will learn to find comfort here, and you are officially a part of the DePauw family. However, I am asking you today to challenge yourself to be uncomfortable."
She continued, "Being uncomfortable means branching out from the friends you make during your first few days, and taking the time to talk to someone that you don't know. Being uncomfortable means listening to students who have differing perspectives, and accepting that sometimes, there isn't one right answer. At the same time, being uncomfortable means standing up and respectfully challenging someone when you don't understand their opinion. Being uncomfortable means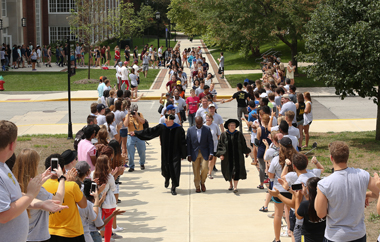 allowing yourself to grow, and your own ideas to change."
The traditional program also included remarks from Anne F. Harris, vice president for academic affairs; Alan P. Hill '81 & '83, vice president for student academic life and dean of experiential learning; and Don Phelan '79, president of the DePauw University Alumni Association.
The opening procession -- which typically brings the new students through the gate on the east side of East College lawn, past the historic building and through the academic quad, and toward the auditorium -- was substituted with a walk from the Lilly Center toward the building across the street because of weather concerns. There was a downpour as students moved in this morning, and a week of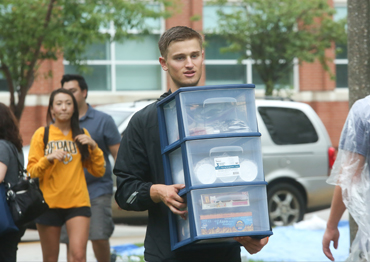 heavy rain had left the campus soggy.
"I wish that we could have welcomed you here in a beautiful 68 degree day with blue skies, no humidity and no rain," McCoy told the students and families seated before him. "But I saw something really important today and I hope you noticed it. You see, when I came around and everyone was unloading cars and running through campus and just standing and caught in that downpour, it was a wonderful moment. People were laughing, they were smiling, they were coming together as a team to get something done. It was fantastic and it was a valuable lesson.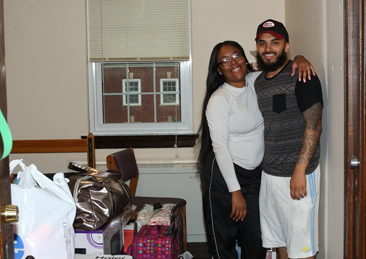 Life is not about avoiding the storms; the storms are inevitable. Life is about learning how to dance in the rain, and today you did that, DePauw."
As it happened, another heavy rain followed the ceremony, which closed with the singing of A Toast to DePauw.
Classes begin Wednesday.
Video of the complete program is embedded below. Learn more about the incoming class in this article.
Back