Japanese Modern Prints from DePauw's Permanent Art Collection On Display Aug. 24 - Dec. 9
August 22, 2016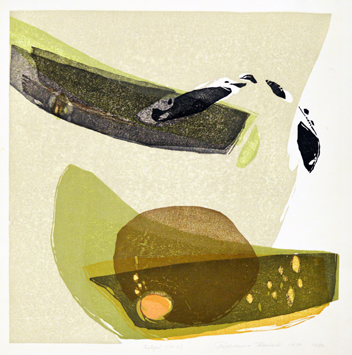 Abstract Traditions: Japanese Modern Prints from the DePauw University Permanent Art Collection opens Wednesday, August 24, at the Richard E. Peeler Art Center. The exhibition will remaion on view through December 9. (at right: Tasteful (No. 5), 1970s; woodblock print on paper, 19-1/16 x 18-1/2 inches, DePauw Art Collection: 2015.20.1, gift of David T. Prosser Jr. '65)
A pivotal moment in Japanese printmaking history, the artists associated with the modern print movement broke with centuries of rigid tradition and embraced the flexibility and spontaneous creativity afforded them by sketching, carving, and printing their own works.
Previously, historic Japanese prints prior to the early 20th century relied upon a well-established workshop method in which artists, carvers, and printmakers each completed a specialized task in the printmaking process. This exhibition and the accompanying catalog feature, for the first time, 40 key abstract pieces from the DePauw University permanent art collection. Noted artists include: Iwami Reika, Onchi Koshiro, Sekino Junichiro, Shinoda Toko, and Yamaguchi Gen.
A full color catalog with essay contributions by Hiroko Chiba, professor of Modern languages, DePauw University; Craig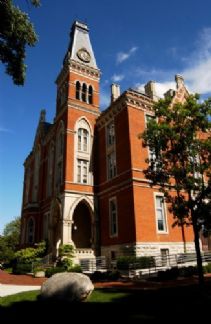 Hadley, director/curator of exhibits & collections, DePauw University; Pauline Ota, associate professor of art & art history, DePauw University; and Paul Watt, professor at Waseda University's Center for International Education will accompany the exhibition.
This exhibition and the accompanying print catalog was made possible with generous support from the Arthur E. Klauser '45 Asian & World Community Collections Endowment, DePauw University; Asian studies program, DePauw University; David T. Prosser Jr. '65; E. Rhodes and Leona B. Carpenter Foundation; Japan Foundation, New York; Leland D. Stoddard '40; and the Office of Academic Affairs, DePauw University.
The galleries at the Richard E. Peeler Art Center are open Monday-Friday 10 a.m. – 4 p.m.; Saturday 11 a.m. - 5 pm; and Sunday 1 – 5 p.m., and are closed during University breaks and holidays. For more information, click here or email craighadley@depauw.edu.
Back