Finishing Second at USA Track & Field 10-Mile Championships "A Breakthrough" for Noah Droddy '13
October 19, 2016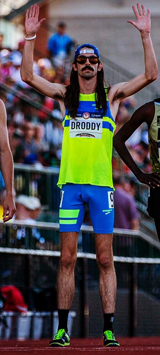 "After finishing dead last in the Olympic Trials 10,000, this was a breakthrough for me," says 2013 DePauw University graduate Noah Droddy, who finished second at the 2016 USA Track & Field Men's 10-Mile Championships in Minneapolis-St. Paul, just three seconds behind NCAA record-holder Sam Chelanga.
"I mean, I'm a D3 guy, never made it to state in high school," Droddy tells Deadspin. "To be able to run with a guy like Sam Chelanga ... this bumps me up a tier in American running."
The sports website includes a Q&A with Droddy, who became an internet sensation in July after competing in the U.S. Olympic trials.
"I came from a small school and didn't love the idea of a big university," Droddy says. "My high school coach, Brian Power, was influential --
he made me believe I could run -- and he's a DePauw alum. And I got a scholarship from the Lilly Foundation that allowed me to go to any Indiana school tuition-free, so that limited my search to Indiana. The decision to go to DePauw was a combination of those things." (at left: Droddy as a DePauw senior)
Read the article -- "Noah Droddy Has Been Called Majestic: That's Not The Half Of It" -- here.
A communication major at DePauw, Noah Droddy set the school record in the 10,000 meters in April 2013 and earned all-America honors in cross country in both 2011 and 2012.
Back