Trainer & Kinesiology Major Sarah Merkel '09 Celebrates 'Safe Sports School Award'
March 22, 2017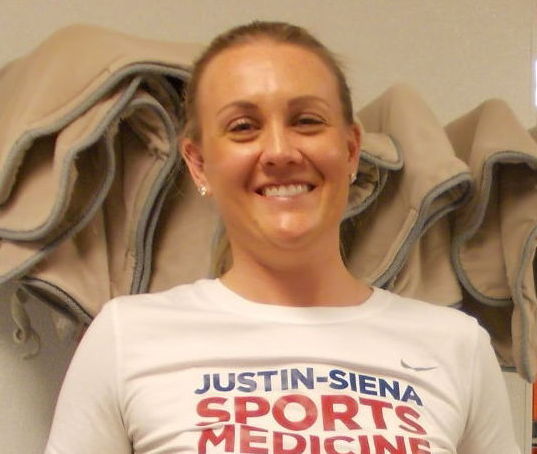 "It's fantastic to be recognized and to do it again for a second year, maintaining that level of care for our athletes and safety," says Sarah Merkel, head athletic trainer at Justin-Siena High School. The Catholic preparatory school, located in Napa, California, has received the National Athletic Trainers' Association's Safe Sports School award for its sports medicine program.
An article in the Napa Valley Register notes that Merkel "played basketball for DePauw University and was a member of the Tigers' NCAA Division III national championship team during the 2006-07 season. She graduated from DePauw with a degree in kinesiology-athletic training and after working for two years as a graduate assistant athletic trainer for the Academy of Art University in San Francisco, joined Justin-Siena as the Braves' first-ever athletic trainer. Merkel received her master's from San Jose State in kinesiology-athletic training."
A certified member of the National Athletic Trainers' Association and the California Athletic Trainers' Association, Merkel teaches an introduction to sports medicine course. She tells the newspaper. "My only hope is that more schools hire athletic trainers and earn this recognition, so then my kids are not only safe when they're here at home with me, but they're also safe when they go on the road."
Access the complete story at the newspaper's website. Also available is this previous story.
Source: Napa Valley (Cal.) Register
Back