55 DePauw Student-Athletes Inducted Into National Honor Society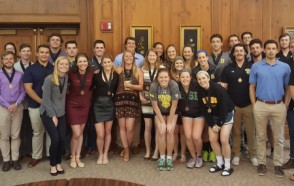 April 18, 2017
DePauw University honored 55 student-athletes for their exceptional work in the classroom and on the playing field during an April 17 ceremony inducting them into Chi Alpha Sigma, the National College Athlete Honor Society.
To be inducted, a student-athlete must be of junior or senior standing, have an endorsement from their coach, have lettered in their sport and have a cumulative 3.4 GPA. A full list of DePauw's student-athlete inductees can be found below.
Former DePauw head football coach Nick Mourouzis founded the National College Athlete Honor Society, or Chi Alpha Sigma, in Greencastle, Ind., on May 17, 1996. Mourouzis created the organization to bring recognition to deserving student-athletes, their families, teams, athletic departments and colleges.
Chi Alpha Sigma represents all levels of competition in the National Collegiate Athletic Association (NCAA) and the National Association of Intercollegiate Athletics (NAIA). There are currently 284 Chi Alpha Sigma chapters in 42 states and the District of Columbia.
In March, an analysis by Money and Sports Illustrated placed DePauw University on "a list of great colleges for students who love sports -- but who also want a high-quality, affordable education that positions them for career success." The magazines rank DePauw #49 among the "100 Best Colleges for Sports Lovers."
For more information about DePauw Athletics, visit DePauwTigers.com or follow @DePauwAthletics on Twitter.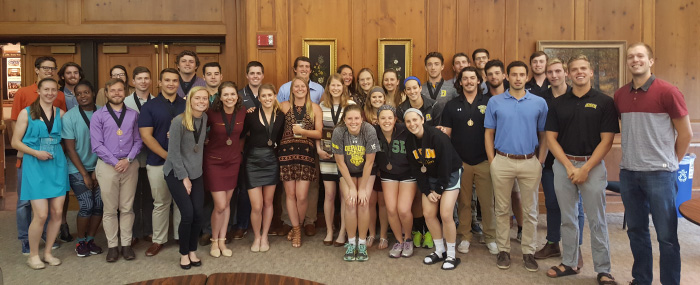 2017 Chi Alpha Sigma Inductees, DePauw University
Mary Emma Baldwin '18
Rachel Elizabeth Higson '18
Annie Claire Barrett '17
Elise Morgan Johns '18
Emily Hehl Budde '18
Kevin Rudolph Kenney '18
Bradley Levi Burch '17
Madelyn De-Zhen Lee '17
Madeline Mary Burds '18
William Edwards Longthorne '17
Leopoldo Burguete '18
Emily Biggs Matthews '17
Kathleen Ann Byers '18
James Joseph McDonnell '17
Aidan Thomas Cain '17
Nicholas Franklin Meszaros '18
Cody Daniel Campbell '17
Lois Mary Miller '17
Kelsey McKenna Cobbs '17
Claudia Haley Monnett '17
Samuel Charles Comer '18
Megan Kaye Montgomery '18
Rebecca Anne Conley '17
Peter Emerick Nelson '17
Grace Elizabeth Cook '17
William Connor Patterson '17
Caleb James Copeland '17
Reid Michael Pittard '17
Michael John Daseke '17
Nathaniel Taylor Reed '18
Danielle Lee Dattilio '17
Natalie Ann Sheeks '18
Benjamin Jackson Davis '18
Madeline Clare Smith '18
Jennifer Ann Dimos '17
Eric Phillip Speer '17
Odessa Omegia Fernandes '17
Kurt Andrew Swieter '18
Emma Kathryn Flynn '18
Taras Andriy Tataryn '18
Melinda Anne Franke '18
David Andrew Vogel '18
Elizabeth Anne Fraser '17
Zachery James Wade '17
Harrison Loach Glover '17
Amanda Joan Weber '17
Elizabeth Grace Graham '18
Jonathan Arman Wheeler '17
Annell Jean Graves '17
Peter Griffith White '18
Matthew Hoyer Gullickson '17
Elisabeth Susan Wilson '17
Christopher William Hawk '18
Ian Thomas Wright '17
Elisabeth Ann Hawkins '17
Back