"Nick Mourouzis Was Huge," Says Miami Dolphins Executive Joe Schoen '01
September 22, 2014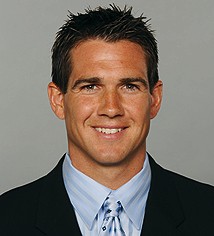 Joe Schoen, the new director of player personnel for the NFL's Miami Dolphins, had a strong career as a high school football player and "proved good enough to land at DePauw University, a Division III program in Greencastle, Ind., to play for head coach Nick Mourouzis," reports the South Bend Tribune. "By the time Schoen finished his senior year with the Tigers, he was named a captain and set the school record for catches in a season with 80 in 2000."
"Nick Mourouzis was huge at DePauw, not just football skills but how you can apply lessons that you learn in sports and football in life," Schoen tells the newspaper.
Tyler James, a 2011 DePauw graduate, writes, "But Schoen wasn't ready to give up the game. During his time at DePauw, he interned twice with the Carolina Panthers -- once with the ticketing department, another on the football operations side. They welcomed him back following graduation in May 2001 ... Schoen graduated on a Saturday and started in North Carolina the next Monday."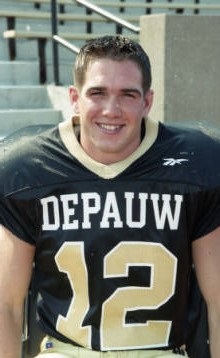 "I basically started at the bottom as a scouting assistant," Schoen said, "where you're making cut-ups, you're picking players up at the airport, you're working practices, you're doing everything from the ground floor."
Schoen went on to scout the Southwest for the Panthers, and joined the Dolphins in 2008 as a national scout. He was promoted to assistant director of college scouting and then was named director of player personnel in May. (at left: Schoen as a DePauw senior)
A communication major at DePauw, Schoen was a three-year letterman at DePauw University (1997-2000). He played quarterback as a freshman and wide receiver his final three years.
Access the complete article at the newspaper's website.
Back