Peeler Art Center Hosts 'Pulled, Pressed, and Screened: Important American Prints,' Aug. 30 - Dec. 10
August 21, 2017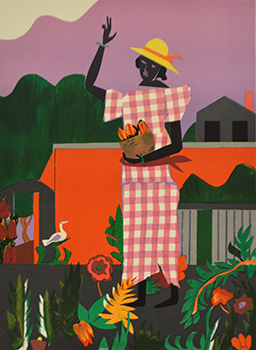 "Pulled, Pressed, and Screened: Important American Prints," an exhibition that surveys the activities of artists who put designs on paper during the time period of the 1930s to the 1980s, comes to DePauw University's Peeler Art Center this fall. Organized by the Syracuse University Art Collection and curated by Domenic Iacono, director, the exhibition includes 51 original prints, including screenprints, etchings, lithographs, aquatints, woodcuts and engravings. (at right: Romare Bearden, In the Garden, 1979, lithograph on paper; gift of Richard F. and Evelyn C. Cox, © Romare Bearden Foundation/licensed by VAGA, New York, N.Y.)
It opens August 30 and continues through December 10 and is presented without admission charge and is open to all.
The printed image in American art went through profound changes during the six decades surveyed by this exhibition. Beginning with the black-and-white lithographs popularized by the regionalists and urban realists and continuing through the experimental intaglio prints of the abstract expressionists,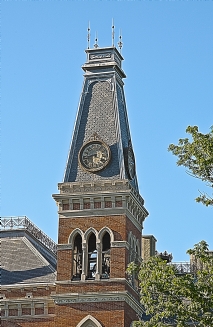 the 'Pop' explosion of screenprints, and the precision of super realism, printmaking has captured the imagination of countless American artists.
Thomas Hart Benton, Grant Wood, Anne Ryan, Milton Avery, Dorothy Dehner, Robert Motherwell, Andy Warhol, Jasper Johns and Richard Estes are a few of the artists represented in this examination of the growth in popularity of printmaking among American artists during this 50-year period. Especially significant are the contributions of women to printmaking during this era as well as the impact of African-American artists on the graphic arts. Combined with artists who immigrated to the United States and the increased numbers of painters and sculptors who took up the medium, this exhibition makes the egalitarian nature of the print abundantly clear.
Curated by SUArt Galleries Director Domenic Iacono, "Pulled, Pressed, and Screened" is drawn from the Syracuse University Art Collection holdings of more than 12,500 prints of which more than 7,500 are by American artists. This deep collection makes available work by print innovators such as Mauricio Lasansky, Gabor Peterdi, Boris Margo, and Garo Antreasian. It also enables us to share the work of specific art publishers such as the International Graphics Art Society, Associated American Artists, and Universal Art Limited Editions.
The Syracuse University Art Galleries Traveling Exhibition Program has provided affordable exhibitions to small and medium museums and university art galleries for nearly two decades. The SUArt Galleries staff generates exhibitions from Syracuse University's permanent art collection.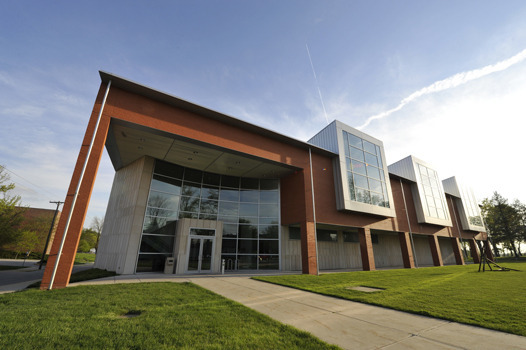 The focus of the collection is works of art on paper, demonstrating exceptional strength in pieces from the 20th century. Print shows have examined the work of James McNeill Whistler, Georges Rouault, and the German Expressionist movement. Other exhibitions have studied artist portraits and self-portraits, early 20th century images of New York City subways and skyscrapers and 19th century hand-colored Japanese photographs.
The galleries at the Richard E. Peeler Art Center are open Monday-through-Friday from 10 a.m. to 4 p.m.; Saturday 11 a.m. - 5 p.m.; and Sunday 1 – 5 p.m., and are closed during University breaks and holidays. Click here for more information about special events associated with this exhibition.
Back