Sophomore Institute Will Welcome 300 Students Monday
August 19, 2017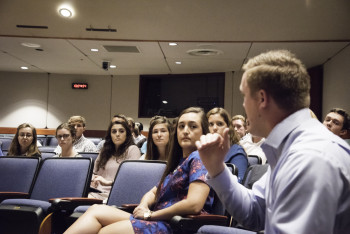 DePauw University's sixth annual Sophomore Institute is Monday, Aug. 21. More than 300 students will participate in the event. The Institute is a professional conference-style event hosted by the Kathryn F. Hubbard Center for Student Engagement and supported by 1982 DePauw graduates Kenneth W. and Carrie Melind Coquillette.
Sessions are designed to help students discover their strengths, balance their academics and activities, and better understand how to prepare for internship and job interviews. Additionally, students will work to develop goals specific to in-class and out-of-class experiences which will contribute to their future plans and success.
The Institute provides a plethora of opportunities for important relationship building with faculty and staff members, alumni, employers and community members.
30 alumni are participating as speakers and panelists. Keynote speaker Rhonesha Byng '11 is founder and CEO of Her Agenda, a digital media platform for millennial women. Byng won an Emmy Award as part of a team breaking news coverage for while she was a field producer with NBC in New York and has also received awards from the Associated Press and other organizations. Byng was a communication major and Posse Scholar at DePauw.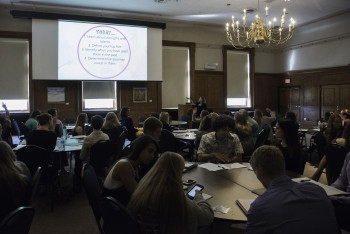 Breakout sessions throughout the day include "Wandering Paths: Finding a Career that Works for You," led by Ken Coquillette '82, Professor Greg Schwipps '95 and Dave Berque, associate vice president of student academic life and executive director of the Hubbard Center. The three panelists will share their experiences as undergraduates which led them to find meaningful career paths.
"You Have 7 Seconds" will be presented by 2003 DePauw alum and Roche Diagnostics Business Operations Manager John Alcorn. He will share the importance of first impressions, which are formed within the first seven seconds of meeting someone new.
Learn more about this year's Sophomore Institute here.
Back