Faculty, Staff Recognized for Contributions to DePauw and its Students
May 7, 2019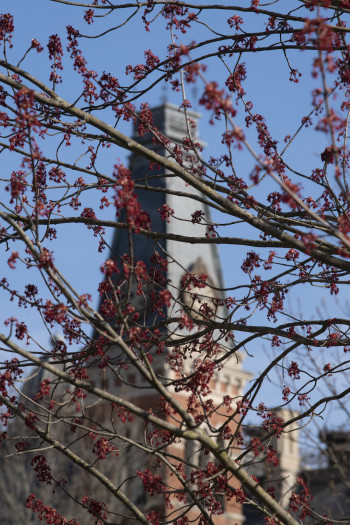 Six faculty members and a veteran staffer were recently honored for their contributions to DePauw University and its students.
Humberto Barreto, the Q.G. Noblitt professor of economics and management, who received the Dr. Edwin L. Minar Award for Scholarship, has developed an international reputation since arriving at DePauw in 2008. A native of Cuba who grew up in Miami, he is the author of five book monographs and at least 18 articles and book chapters. Barreto is known for using Microsoft Excel to conduct research and to teach.
The G. Bromley Oxnam Service Award, which recognizes a mid-career faculty member for significant contributions to the university, the Greencastle community or the wider arena of social outreach or justice, was given to two faculty members: Clarissa Peterson and Jen Everett.
Peterson, a political science professor who has been at DePauw 22 years, was recognized for her passion for the intellectual, social and emotional welfare of her students. She is known for mentoring and celebrating her students, especially those who have felt distressed or disenfranchised. Peterson previously directed Africana Studies and, in 2016, won the Anna Julia Cooper Teacher of the Year Award from the National Conference of Black Political Scientists.
Everett, associate professor of philosophy, is the co-director of Environmental Fellows Program. She is known for her work on sustainability as an ethical practice. She adopted a philosophy of zero waste when she directed the DePauw Campus Farm deconstruction project.
Pam Propsom, professor of psychology and neuroscience, was awarded the Mr. and Mrs. Fred C. Tucker Jr. Distinguished Career Award. Her research interests are science education, institutional change and a reduction in educational disparities. She has won grants from the National Science Foundation to improve undergraduate STEM education and the Howard Hughes Medical Institute to increase institutional capacity for inclusion of students from all backgrounds in science.
The United Methodist Exemplary Teacher of the Year Award, which recognizes excellence in teaching, civility and concern for students and colleagues and a commitment to value-centered education, was made to two faculty members.
Pauline Ota, associate professor of art and art history, was recognized for her encouraging and compassionate teaching style, in which she exhibits warmth and patience that makes her students feel at ease. Ota recently completed a competitive American Council of Learned Societies Frederick Burkhardt Residential Fellowship.
Bob Dewey, a history professor, was recognized for his devotion to students, his curricular innovation and, as a nominating colleague put it, his "daringly diverse research program." He is known for imposing rigorous standards for students, backed up by his guidance to ensure they can meet the standards.
Sandy Smith, manager of programming and outreach for the McDermond Center for Management and Entrepreneurship, was named Staff Member of the Year. She has worked at DePauw since December 1987. An alumna recently credited Smith for inspiring her to earn her degree, saying Smith "was an awesome support system."
Back