DePauw mourns the loss of Ferid Murad '58, pioneering scientist and loyal alum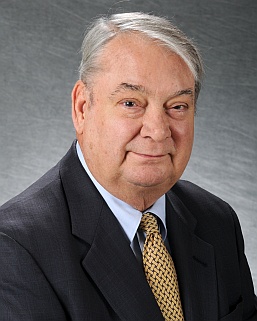 DePauw lost a loyal friend and inspirational figure when Dr. Ferid Murad '58 passed away on September 4, 2023, at home in Palo Alto at the age of 86. Dr. Murad was a Nobel Prize-winning scientist, pharmacologist and physician who made groundbreaking discoveries in the field of cardiovascular medicine and the effects of nitric oxide. 
Dr. Murad won the 1998 Nobel Prize in Medicine. His research and discoveries on nitric oxide not only contributed to a better understanding of how information is transmitted between cells but also had a significant influence on cardiovascular medicine, leading to changes in treatment following a heart attack. His research and findings on the effects of nitric oxide continue to influence the treatment of cancer, arthritis and other human diseases. 
Murad's loss was felt deeply within the DePauw community. Biology professor Henning Schneider recalls hearing a brilliant speech at DePauw's 175th Anniversary Distinguished Alumni Lecture in which Murad emphasized the importance of science education, the need for funding research to discover biochemical and biological concepts that could be related to diseases and the translation of science from the bench to the bedside. As a means of underlining how important Murad's work with nitric oxide was, Schneider notes that NO was Science magazine's "molecule of the year" in 1992. 
Murad highlighted the molecule's 'celebrity status' in his 1998 Timothy and Sharon Ubben Lecture at DePauw. He said, "We've just scratched the surface of this application in biology and diseases." Indeed, as a New York Times obituary notes, Murad had submitted a grant proposal just weeks before his death and still marveled at the astounding breadth of research being done within the field.   
Murad's legacy will continue at DePauw. The Murad Medal recognizes the senior who has had the most significant scholarly or artistic achievements during his or her time at DePauw. Professors teaching biology, immunology, physiology and other classes continue to draw connections between their curriculum and Murad's work. DePauw Biology professor Kevin Kinney notes the excitement of holding Dr. Murad's Nobel medal when it was donated to DePauw and the joy of sharing Murad's work with students. "I always make it a point to mention that our knowledge of nitric oxide is derived from the work of a DePauw alum, and a Nobel winner. I love having that specific connection to a concept, and I think the students like it too."
Born in Whiting, Indiana, Murad was the son of an Albanian immigrant father and American mother. He and his brothers, John and Turhon '67, developed a strong work ethic in the family restaurant. Murad came to DePauw as a Rector Scholar, earning his undergraduate degree in premedical science and chemistry in 1958. After graduation, he married Carol Ann Leopold '58, who had studied Spanish and English at DePauw. Murad went on to earn an M.D. and Ph.D. in Pharmacology from Case Western Reserve University in 1965. He remained active with DePauw, not only returning for lectures but also serving on the Rector Scholar Science and Technology Advisory Board and lending his name to the prestigious Murad Medal. For "exemplary and meritorious service to the university" he received an Old Gold Medal from the Board of Trustees in 1999. In addition, DePauw bestowed Murad with an honorary Doctor of Science in 2004.
Following his postgraduate education at Case Western, Murad completed an internship and residency in medicine at Massachusetts General Hospital in Boston. He later worked at George Washington University, the National Institutes of Health, the University of Virginia, University of Texas-Houston and Stanford University. Murad received numerous other awards and honors, including the Albert and Mary Lasker Basic Medical Research Award, American Heart Association Ciba Award and Baxter Award for Distinguished Research in the Biomedical Sciences from the Association of American Medical Colleges.  
Murad is survived by his wife Carol, son Joe, their four daughters: Christy Kuret, Carrie Rogers, Marianne Delmissier, Julie Birnbaum, and nine grandchildren. 
Whether we are writing about the intellectual challenge of our classrooms, a campus life that builds leadership, incredible faculty achievements or the seemingly endless stories of alumni success, we think DePauw has some fun stories to tell.

News media: For help with a story, contact:

Bob Weaver, Senior Director of Communications.
bobweaver@depauw.edu.