The Ferid Murad Medal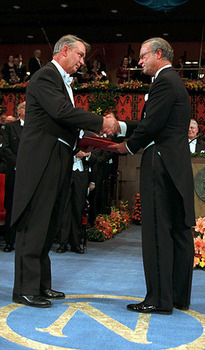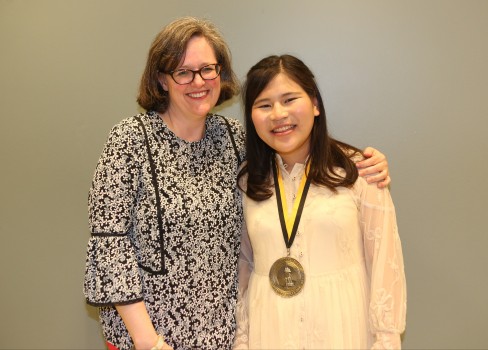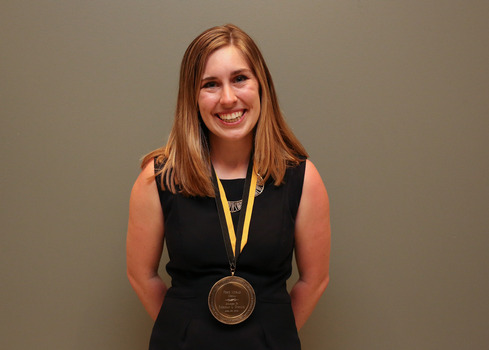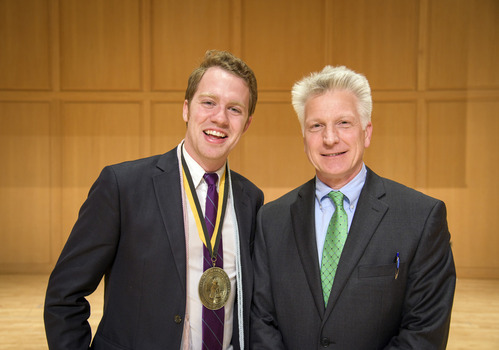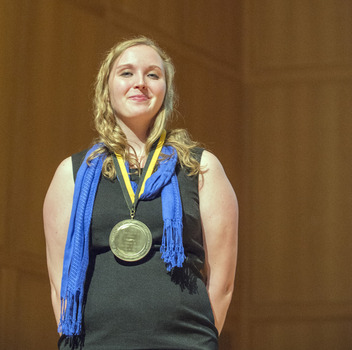 Named for Nobel laureate Dr. Ferid Murad '58, the Murad Medal recognizes the senior who has had the most significant scholarly or artistic achievements during his or her time at DePauw.
The 2018 Murad Medal Finalists
Elizabeth (Liz) Aguilar - 2018 Recipient
Elizabeth (Liz) Aguilar a biochemistry major from Los Angeles, CA who is minoring in computer science and Spanish. They are a Science Research Fellow (SRF), Bonner Scholar, and a member of Phi Beta Kappa and Sigma Delta Pi. They are the recipient of the NSF Graduate Research Fellowship, an alternate for Fulbright research in Sweden, a 2017 Barry M. Goldwater National Scholarship recipient, American Chemical Society Scholar, Grace Hopper Scholar, and Hispanic Scholarship Fund two time finalist. Liz has investigated the cause of rare genetic diseases in four labs both in the U.S. and Europe over three years. As a DePauw freshman, Liz worked with Prof. Gurnon (Biochemistry) and the Rare Genomics Institute to provide diagnoses for rare disease patients. During summer '15, Liz participated in the Clarity Challenge with researchers at Boston Children's Hospital with aims to provide the best bioinformatic diagnosis for rare disease patients. Liz also conducted immunology research with Prof. Petreaca (Biology) for their SRF research project in fall '15. Working at Stanford (summer '16) allowed them to study gene therapy methods to treat muscular dystrophy and won best poster at the Stanford Research Symposium. Liz also conducted full-time research abroad at the University of Geneva (Fall '16) to study and publish a review about ovarian cancer gene markers. In summer '17, Liz was an intern at University of Washington Seattle through the Genome Sciences department to develop a computational map of yeast genomes. Collectively, Liz has presented at six conferences across the U.S and in Helsinki, Finland. They are currently developing an algorithm for sifting genomic data with Prof. Gurnon and Prof. Byers. Liz has held leadership positions as class chair and senior intern of the Bonner Scholars program, Compton Center Intern, tutor for Greencastle education programs, communications coordinator of Be the Star You Are (BTSYA), EMT at Putnam County Hospital, reflection leader for the WTIS trip to Nicaragua, co-chair of ACM-W, United DePauw leadership, web developer for Putnam Pride Initiative, and local artist. Liz helped publish a book and raise $5000 for 2017 hurricane survivors through BTSYA and mentored LGBTQ+ youth in Indiana and abroad. As a first-generation LGBTQ+ college student and child of Latin American immigrants, they aspire to become a professor and mentor for underrepresented students. Liz will attend the Genome Sciences PhD program at University of Washington Seattle to pursue computational biology and a dual masters in data science.
Blake Beckemeyer
Blake Beckemeyer is pursuing a B. M. in vocal performance and a B. A. in mathematics. He is an Honors Scholar, Presidential Ambassador, member of the SOM Dean's Cabinet for then-Dean Mark McCoy, and a tutor for the Academic Resource Center, Mathematics Department, the Theory and Musicianship Faculty, and privately with Greencastle High School students. He is a member of Pi Kappa Lambda and Phi Beta Kappa and is Music Director for First Christian Church where he founded a concert series in 2016 to benefit Jason Asbury's '95 foundation. As a performer, Blake has had principal roles with DePauw Opera throughout, including coaching of the leading role of Laurie from composer Mark Adamo for DePauw opera Little Women. Blake was selected as one of the winners for this year's DPU Concerto Competition. Blake has performed outside of DePauw with principal roles in operas in Austria, Halifax, Canada, and New London, CT, and won competitions in Indiana and the Kalamazoo Young Vocalists Competition. Last summer, he went to SongFest as a Young Artist, and met GRAMMY winner Libby Larsen, who requested he record three of her works. As a professional chorister, Blake sang with Bach scholar-conductor Helmuth Rilling for performances in Thüringia and as part of GRAMMY winning Bach Ensemble-Helmuth Rilling. This summer, Blake is contracted at the Oregon Bach Festival. As a scholar, Blake wrote his Honors Scholar Thesis which develops a methodology to analyze the recitatives of the Bach passions, presenting two lecture recitals on the topic. In the Mathematics Department, his senior thesis gives the intervening analysis for "On the number of nonnegative partial sums of a nonnegative sum." One summer, Blake provided a statistical analysis of application cancellations for Robert Morris University's Enrollment Management division (Moon Twp, PA) which was presented in part to its Board of Trustees.
Anna Savery
Anna Savery is a History major, as well as an English Literature and Spanish double minor, from Zionsville, Indiana. She is an Honor Scholar, a William Wallace Carson Scholar, and a member of Phi Beta Kappa, Mortar Board Honor Society, and Phi Alpha Theta history honors society. Her research focuses on the twentieth-century U.S. through the lenses of local and micro- history. Outside of her academic work at DePauw, she has completed a research project for Indiana Legal Services, the largest free civil legal aid organization in the state, to honor their fiftieth anniversary. There was no concise historical narrative of ILS until her report, "Fifty Years of Indiana Legal Services." She also worked with the Indiana Historical Society to create a Keep Indianapolis Beautiful, Inc. pocket park in a neighborhood on the Near Eastside of Indianapolis. She located and analyzed primary source documents to recreate the history of the small neighborhood community, Springdale, and she authored and organized the exhibit panels. The park, Chinquapin Oak Park, is a permanent museum exhibit-style installation. For her History senior seminar, Anna wrote an urban microhistory entitled "Irvington in Transition: How a Prominent Indianapolis Near Eastside Neighborhood Declined in a Decade, 1920-1930." In her Honor Scholar senior thesis, she sought to comprehend real individuals' experiences during the Vietnam War, where her great-uncle served in the 101st Airborne in 1968. Her paper, "Exoticizing the Unfamiliar: American Soldiers Processing Vietnam through Photography," examines how veterans' processed their daily experiences in Vietnam through personal photographs submitted to the Library of Congress as a part of the Veterans' History Project. After DePauw, she intends to study museum curation at the graduate level in preparation for a career sharing history with as broad a public as possible.
2018 Finalists: Elizabeth Aguilar, Blake Beckemeyer, Anna Savery
2018 Nominees: Jonathon Brugman, Anna Dixon, Hyeree Ellis, Emily Fox, Peter Gorman, Nicholas Meszaros, Shanae Nelson
PAST RECIPIENTS
Midori Kawaue '17
Midori Kawaue is an international student from Japan with majors in History and French. She is a Rector Scholar, a Grew-Bancroft Scholar, recipient of the William Wallace Carson History Scholarship and Prindle Humanities Prize, and a member of Phi Beta Kappa, Phi Alpha Theta, Pi Delta Phi, and Mortar Board honor societies. Inspired by the Little House series, it has been her dream to pursue U.S. history and demonstrate that there are no intellectual borders in academia. For the past three years, Midori has been working as a co-editor of a Civil War Prisoner of War diary with Dr. John Schlotterbeck and the DePauw Archives. This book length manuscript is currently under review at Kent State University Press. In 2016, Midori was one of six students selected from a national pool for the Historic Deerfield Summer Fellowship Program, among the most prestigious national fellowship for undergraduates studying U.S. history. During this nine-week program, she produced a paper on a 19th century natural scientist's intellectual and religious affinities in the context of his Enlightenment belief in science. This paper was added to the collection of the Deerfield Library. As a continuation of this project, she is writing a year-long history thesis that examines the social construction of scientific knowledge from the early Republic to the Civil War era. Midori presented her thesis at the "Undergraduate Research Conference Science, Technology, Medicine and Society." Most recently, Midori has been named a finalist for the Gilder Lehrman History Scholar Award which recognizes history majors throughout the nation for their scholarly achievement. These experiences have prepared Midori for her ultimate goal: to pursue a PhD in the history of science and serve as an intellectual bridge between the U.S. and Japan, thus contributing to global dialogues on history.
2017 Finalists: William Burke, Annalyesse Mason
2017 Nominees: Diana Huynh, Megan Karbowski, Clay Langley, Eleanor Price, Olubusola Shifatu, YaTing Yang
Sheridan Schulte '16
Sheridan Schulte is a biochemistry and history double major with minors in French and European studies from Houston, Texas. Ultimately, Sheridan intends to pursue a career in medicine, but DePauw's liberal arts education has given her the opportunity to develop a broader understanding of world cultures, languages, and global health. She served as president of Timmy Global Health during her junior and senior years, raising campus awareness about health disparities, hosting public health speakers and fundraising events, and organizing medical service trips to Ecuador and the Dominican Republic. She also put her interest in public health and medicine to use in a research setting at DePauw, where she worked with Dr. Sharon Crary in the biochemistry department to create a diagnostic test for the neglected tropical disease, leishmaniasis. At M.D. Anderson Cancer Research Center, she examined different imaging modalities' ability to earlier detect pancreatic cancer. As a history major, Sheridan has performed extensive historical research. While studying abroad in Paris, Sheridan earned a scholarship to complete a thesis on the French Resistance movement during World War II. Her senior history thesis on the role and treatment of twentieth century American female physicians explores what it was like to be a female physician at a time when the level of women in medicine hovered at just five percent. Sheridan has been the recipient of multiple awards and scholarships, including the William Wallace Carson History Scholarship, Charles E. & Agnes Shawen Merit Scholarship for pre-medical students, and the Morehead Givens Western European Art History Scholarship. She is a member of Phi Beta Kappa, Order of Omega, and Phi Alpha Theta honor societies. Next year, Sheridan will begin her Masters of Public Health at the University of Texas with a concentration in Maternal and Child Health; she then plans to attend medical school. Her goal is to become an obstetrician and gynecologist and use her public health background working for a global health nonprofit organization that focuses on women's health and empowerment.
2016 Finalists: Megan Bailey, Sydney Cason
2016 Nominees: Page Daniels, Kimberly Mendez, Matt Piggins, Julia Roell, Erin Tolar, Céline Wachsmuth, Noelle Witwer
Stephen Dobbs '15
Stephen Dobbs is a geology major and mathematics minor from Mooresville, IN. Originally on track to study history at DePauw, Stephen's academic goals made a sharp turn when he discovered his love for geology. Seeing Stephen's genuine interest, promising ability, and a passion for the discipline, DePauw Professor Tim Cope invited Stephen to conduct geological research with him in northeast China. For the past three years—including over 150 days of field work in rural China—Stephen has devoted his undergraduate career to his research in an attempt to understand the complex history of the region. Aside from his time in the field, Stephen was a lab technician under Professor Jim Mills for DePauw's Department of Geosciences. Here, Stephen performed analyses for his research and the department while also teaching other students. Stephen's research culminated into two publications that he authored and presented at the Geological Society of America's annual meetings of 2012 and 2013. Since February 2014, Stephen has been working on a Senior Thesis about his research that he plans to publish. Stephen's academic pursuits earned him a series of honorary distinctions. DePauw's Department of Geosciences awarded him the Ernest Rock Smith Award in 2013 and 2014 for academic achievement in the geosciences. Stephen was also honored with DePauw's Paul S.Jarrett Endowed Merit Scholarship for 2013 and 2014, which commemorates academic achievement based on the criteria for the Rector Scholarship. Stephen was featured in DePauw magazine's 2013 fall issue highlighting his research in China. Nationally, he has had the honor of being initiated into Phi Beta Kappa, and has been recognized twice by the Barry M. Goldwater Scholarship Foundation—the most sought after academic achievement scholarship in the U.S. for undergraduate science students—with honorable mentions in 2013 and 2014.
2015 Finalists: Lucy Hang La, Madeline Perry
2015 Nominees: Quincy L. Abarr, Chelsea C. Schumacher, Patrick C. Brems, Kevin M. Smith, Emily C. Vincent, Doron Kantor, Michael L. Weber, Taylor M. Zartman, Yukun Zhang
Samantha M. Anderson '14
Samantha graduated from DePauw in three years as both a Rector Scholar and a Science Research Fellow. Committed to teaching science, she worked as a teaching assistant for the chemistry and biochemistry department and as a Quantitative Reasoning Center tutor. She also encouraged other women to pursue their interest in science through her role as a peer mentor for the Women in Science organization.
Samantha worked on five different research projects during her time at DePauw University. As a first year student, she learned how to weld while designing and building the protein sculptures that now hang in the atrium of the Percy L. Julian Science and Mathematics Center—a collaborative research project between biochemists and artists. Samantha found her passion for science research while completing a second research project that investigated protein structure and function. During another project, Samantha worked to create a drought resistant plant that could make its own water. Based on this work, combined with extraordinary classroom performance, the Biochemistry department awarded Samantha the Wylie-Condit Science Scholarship for promising science students. Samantha completed an internship in biochemistry and microbiology at the University of Wisconsin-Madison. This work resulted in a recent publication in Molecular Microbiology. She also worked on a project focused on neglected tropical diseases. Many of Samantha's projects culminated with poster sessions and oral presentations where Samantha was able to hone her science communication skills.
2014 Finalists: Trina M. Manalo, Maritza J. Mestre
2014 Nominees: Ethan E. Brauer, Anna M. Butz, Mackenzie M. Creameans, Gwendolen L. Eberts, Dana M. Ferguson, J.D. Hoover, Meredith D. Lockman, Cole P. Rodman, Katherine R. Shover, Garth E. Synnestvedt, Weiqing Zhang
About Ferid Murad '58

Dr. Murad won the 1998 Nobel Prize in Medicine for his discovery of the role of nitric oxide in the cardiovascular system. The discovery not only contributed to a better understanding of how information is transmitted between cells but also had a significant influence on cardiovascular medicine, leading to changes in treatment following a heart attack. His research and findings on the effect of nitric oxide continue to influence the treatment of cancer and arthritis and other human diseases.
A professor at George Washington University's School of Medicine and Health Sciences, Murad has received numerous other awards and honors, including the Albert and Mary Lasker Basic Medical Research Award, American Heart Association Ciba Award and Baxter Award for Distinguished Research in the Biomedical Sciences from the Association of American Medical Colleges
Murad earned his undergraduate degree in premedical science and chemistry from DePauw in 1958 before earning M.D. and Ph.D. in Pharmacology from Case Western Reserve University in 1965.
Elizabeth Aguilar
Blake Beckemeyer
Jonathon Brugman
Anna Dixon
Hyeree Ellis
Emily Fox
Peter Gorman
Nicholas Meszaros
Shanae Nelson
Anna Savery