The Ferid Murad Medal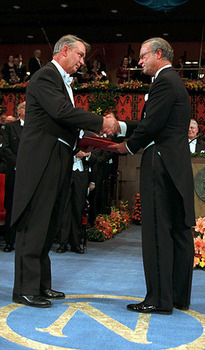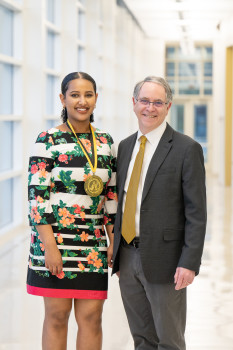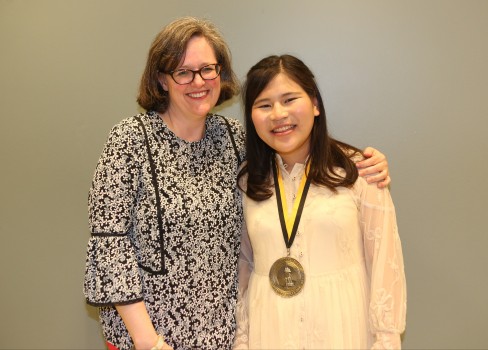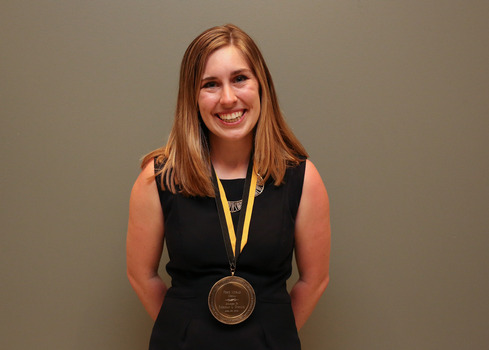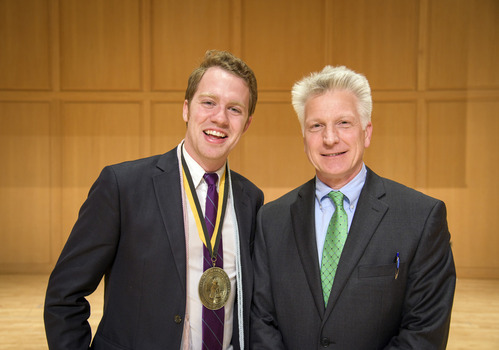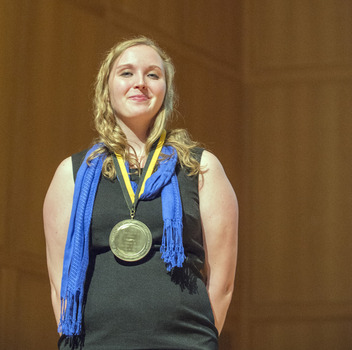 Named for Nobel laureate Dr. Ferid Murad '58, the Murad Medal recognizes the senior who has had the most significant scholarly or artistic achievements during his or her time at DePauw.
The 2023 Murad Medal Finalists
Amerti Guta - 2023 Recipient
Amerti Guta, from Addis Ababa, Ethiopia, is a junior Cellular and
Molecular Biology and Biochemistry double major at DePauw University in
Greencastle, IN. She was awarded the Truman G. Yuncker Award as an
outstanding Biology Student and the Percy Julian Award as a promising
Biochemistry student. As an undergraduate researcher, Amerti has
completed multiple research projects in microbial ecology, structural
immunology, and enzyme kinetics.
During her first year, Amerti joined Dr Akinwole's lab. Her work
focused on assessing the impact of wastewater effluents on the microbial
community of the receiving stream. In collaboration with Dr. Akinwole and
other bright DePauw students, current alums, Amerti has published this work
in World Journal of Microbiology and Biotechnology, and the Journal of
Hazardous Materials Advances. She has presented her work as the sole
undergraduate student at the Changing Microbiome symposium in
Boalsburg, Pennsylvania. Combining her work in Environmental Microbiology
and her career aspiration in biomedical sciences, Amerti is currently
preparing her third manuscript on "Real-time Antimicrobial Susceptibility and
Metabolic Characterizations of an Environmental Strain Stenotrophomonas
maltophilia NEB515" and will be presenting it at the American Society for
Biochemistry and Molecular Biology (ASBMB) in March 2023. In addition,
Amerti was part of Dr. Gurnon and Dr. Crary's lab that looks into in silico and
invitro characterization of rare genetic disorders. After spending two
summers and multiple semesters working in DePauw's research lab, Amerti
joined a structural immunology lab at UConn Health to conduct research in
Dr. Ruan's lab. She studied host-microbe protein interaction in Shigella
infection. She presented her work to the biomedical science community at
UConn Health, Merck & Co. headquarters and the Annual SigmaXi
conference where she received the Best Undergraduate Presentation award
in Immunology and Physiology.
As a first-generation college student with a keen interest in
mentorship and advocacy, Amerti serves as a Presidential ambassador, a
resident assistant, a STEM guide, a civic fellow, and a lab manager assistant
at DePauw University. Off-campus, Amerti serves as an executive assistant
for EFeMS, a nonprofit organization that helps African women thrive in
STEM. As recognition for her work on and off DePauw's campus, Amerti has
received numerous awards. Chief among those is the Leading Light Award,
Sallie Mae Scholarship, awarded to the overall top women in STEM in the
state of Indiana. She has also received the 2022 Outstanding Resident
Assistant of the Year award for her leadership and service in DePauw's
Housing and Residence Life office, the Men's Hall Scholarship for her
contribution to DePauw, and Wylie Condit Science Scholarship for her
achievements in the Biology department. Amerti is also a member of various
honorary societies, including the Phi Beta Kappa, a national honor society,
and Sigma Xi, a research honor society. After graduating from DePauw,
Amerti will pursue a Ph.D. program in Biomedical sciences. She has been
admitted to and interviewed at multiple prestigious PhD programs, including
Vanderbilt, Mayo Clinic, Cincinnati Children's, and UConn Health. She hopes
to inspire and mentor underrepresented students in STEM.
Hieu Tran
Hieu Tran is a senior international student from Ho Chi Minh City,
Vietnam. He pursues a double major in computer science and mathematics.
He has been a Dean's List and an Information Technology Associate. He has
been exploring various topics in computer science from human-AI
interaction to a combination of partial differential equations and neural
network systems. Throughout his time at DePauw University, he has been
working with Professor Steven Bogaerts in developing and improving
machine learning algorithms. During his first and second year, he has been
working with Tenzer Technology and Professor Steven Bogaerts in
developing machine learning algorithms, which enhances the users'
experience with game AI experience. During this time, he also assisted in
visualizing income inequality across the U.S. and deploying it as a software
package, resulting in the paper "Visualizing Income Distribution in the
United States" at Harvard University's National Collegiate Research
Conference. In his junior summer, he collaborated with Professor Steven
Bogaerts and Professor Brian Howard to develop an "in-the-wild" agent that
recommends Spotify songs based on facial expression recognition, which
resulted in a co-first-authored paper "Emotion-Aware Music
Recommendation" published at the EAAI-23 Conference on Artificial
Intelligence. Outside of DePauw, he also worked with Professor Tan Bui and
PHO-ICES GROUP (University of TexasAustin, TX) on modeling inverse
problems to predict the trajectory of the hurricane using a hybrid method
between partial differential equations and neural networks. During his
senior year, he has been working with Professor Brian Howard in developing
machine learning algorithms to automate proof theorem. After graduating
from DePauw University, Hieu will pursue a Ph.D. program in Computer
Science. He recently has been admitted to the Computer Science Ph.D.
program at Purdue University.
2023 Nominees: Ivana Zelaya Avila, Madeline Claus, Juli Guillen, Madeline Harper
PAST RECIPIENTS
NINA KATARINA ŠTULAR - '22
Nina Katarina Štular is an international student and a Vera Scholarship recipient from
Slovenia majoring in Philosophy and English Literature. During her first years at DePauw Nina
competed in Ethics Bowl on regional and national level and tutored writing in the Academic
Resource Centre. She worked as a research assistant to Prof. Reading on a project dedicated to
mapping the sources of Old English and Anglo-Latin literary culture that led her to write a paper
that she presented at the British Conference of Undergraduate Research. She also assisted Prof.Alvarez in organizing a scholarly conference on Bernard Mandeville and undertook a student-faculty research project under his mentorship that led her to produce the first translation of an 18thcentury collection of travel letters from English to Slovenian. As a Hillman Intern at Prindle Institute for Ethics, Nina designed and led workshops for local middle and high school children and worked on bringing an exhibit about Anne Frank's life to Greencastle.
In her junior year, Nina represented DePauw as a Visiting Student at Mansfield College
of Oxford University where she served as a Visiting Student Officer on the College's government
and rowed competitively for Mansfield's college rowing team. During her time at Oxford, she
also worked as a student consultant for consulting societies including the prestigious Oxford
Strategy Group. She also served as a senior editor of Broad Street Humanities Review, Oxford's
undergraduate interdisciplinary humanities journal.
Nina's scholarly work in Philosophy and English Literature has been published in multiple undergraduate journals such as Broad Street Humanities Review, Criterium: A Journal of Literaty Criticism, and Process: Journal of Multidisciplinary Undergraduate Scholarship. As a junior she was awarded the Walker Gilmer Prize for the junior or senior most outstanding in literature. She has also received the Best Essays from First Year Seminars Award as well as a Best Delegate Award at a Model UN conference in New York. She is a Presidential Ambassador and was inducted both into the Phi Sigma Tau Philosophy Honor Society and the Phi Beta Kappa national honors society.
For her Honor Scholar thesis Nina chose to integrate approaches of philosophy,
psychology, and neuroscience to discuss the historical development of the value of freedom of
expression, contemporary difficulties in regulating speech, and the worrying state of free
expression and free inquiry in Western academia. She was selected as the Nat Hentoff Award for
free speech recipient of 2021 for her short essay "A Generation of Violence: How Universities
Are Endangering Freedom of Speech."
2022 Finalists: Sophia Atkinson, Kate Cowger
2022 Nominees: Hamayl Afzal, Joanna Berry, Jordyn Blakey, Holly Buchanan, Elena Collins, D'Angelo McDade, Jenna Purichia
Sang Truong - '21
Sang Truong is a senior international student from Ho Chi Minh City, Vietnam. He pursues a triple major
in computer science, economics, and computational chemistry. He is a Management Fellow, a Science
Research Fellow, an Information Technology Associate, and a member of Phi Beta Kappa. He is the
recipient of the Randal L. Wilson Junior Award (2020), Bruce Allen Long Endowed Scholarship (2019),
and American Chemical Society's Inorganic Chemistry Award (2018). He is also a Princeton University's
P3 Scholar and a member of Google Research's CSRMP 2021. The driving force behind his interest in
machine learning research is its interdisciplinary scientific application. He has focused on leveraging
domain-specific knowledge to enhance the performance of machine learning algorithms for studying
interconnected systems in chemistry and economics. His previous research in strategic game modeling
and molecular modeling has resulted in five refereed publications. His most recent research was a
collaboration with Professor Todd Neller (Gettysburg College, PA) on modeling the decision-making
process in the game of Gin Rummy during summer 2020, which resulted in a first-authored paper
published at the 35th AAAI Conference on Artificial Intelligence. Sang has presented his scholarly work
in several conferences during his undergraduate study, such as a paper titled "Visualizing Income
Distribution in the United States" at Harvard University's National Collegiate Research Conference.
Since his sophomore year, Sang has conducted independent research with Professor Jeffrey Gropp
(DePauw University, IN) to design learning algorithms for time-series forecasting. Outside of DePauw,
Sang has spent a semester at the University of Oxford (UK) to understand the application of
computational learning theory and advanced machine learning in complex interconnected systems in
economics and molecular sciences. He has not only actively been involved in academic research but he
has also applied his research during his two internships. At Community Health Network, an Indiana-based integrated health care system, Sang employed time-series forecasting to estimate the financial impact of
COVID-19 to support the executive team in making informed decisions. At Cummins, a multinational
engine corporation headquartered in Indiana, his time-series models played an instrumental role in
minimizing the economic risk from investing in emerging markets. After graduating from DePauw, Sang
will pursue a Ph.D. program in Computer Science. He has been admitted to the Computer Science Ph.D.
program at Stanford University, Cornell University, Washington University at St. Louis, and Purdue
University.
2021 Finalists: Amelia Crevani, Sydney Majka
2021 Nominees: Danielle Adams, Juan Pablo Arenas Uribe, Margaret Fox, Area Guede Ramos
Luka Ignac - '20
Luka Ignac is an international student from Croatia with majors in olitical cience and French, and a minor in Peace and Conflict Studies. In addition to being a staple on Dean's ist, Luka is a Vera Scholar, a Presidential Ambassador, and a member of Phi Beta Kappa and Pi Sigma Alpha He is also a recipient of both the Richard Bunch Award for Best Junior in Political Science and the Ambassador Viron P. Vaky Award for Inter-American Relations. In addition, Luka is an alumnus of Clinton Global University, Benjamin Franklin Transatlantic Fellowship, One Young World Summit, and the Global-In-Fellowship.
During his time at DePauw, Luka has taken on numerous roles. As a freshman, he founded and served as the president of DePauw Model United Nations Club, leading the first DePauw delegation to American Model UN. During his second year, Luka became an intern for the Prindle Institute for Ethics. Alongside interning, Luka served as the president of the DePauw chapter of European Horizons (EuH), a transatlantic youth think-tank based at Yale University. As a member of EuH, Luka coauthored several policy papers addressing variety of policy challenges such as cybersecurity and cybercrime, consequences of Brexit for transatlantic relations, and operationalization of European Global Strategy. He presented his work during the Digital Economy Youth Summit at College of Europe, the European Student Conference at Yale University, and the European Horizons Midwestern Conference. His policy paper titled European Global Strategy - How to operationalize in the context of Europe's neighborhood was published in the Review of Transatlantic Affairs.
Luka has complimented his study of transatlantic cooperation as a political affairs intern at the Embassy of the Republic of Croatia in the USA. Witnessing EU cooperation motivated him to study abroad in Belgium in the fall of 2018. During his time in Brussels, Luka spearheaded a comparative research on the security policies of the EU and North Atlantic Treaty Organization (NATO). In addition, Luka has also worked for the Center for comparative and political science (CESPOL) at the Univerisité Catholique de Louvain-La-Neuve. At CESPOL, Luka worked as a research assistant on a project exploring how policies shape democratic linkages in Western democracies. In the spring of junior year, Luka continued his exploration of transatlantic security relationship through an independent study with Professor Smita Rahman. His work analyzed the determinants of the EU-NATO transatlantic security relationship and showed that the EU-NATO cooperation is dependent on their mutual ability to recognize value and operational compatibility. Luka devoted his senior year to examining NATO's resilience to transatlantic crises. Using International Relations theory, he argued that crises provide NATO with 'ontological security', continuously encouraging its adaptation. He was invited to present his findings at the 78th Midwest Political Science Association conference. Luka's continued commitment towards becoming informed and active participant in the transatlantic dialogue resulted an invitation to conduct a policy workshop on the EU-mediated dialogue during the 2019 European Conference at Harvard Kennedy School and chair a panel on the Future of Transatlantic Relationship during the 2020 Benjamin Franklin Transatlantic Fellowship Summit in Berlin.
Luka has also held leadership positions as a Lead Intern at the Prindle Institute, mentor at Benjamin Franklin Transatlantic Fellowship, project manager for the Global-In-Network, a Teacher's Assistant for French, and as a language tutor during DePauw's summer immersion program in France. In his last semester at DePauw, Luka devised and organized the bringing of the Anne Frank Exhibit from the Anne Frank House in Amsterdam to the Prindle Institute in order to ensure that the lessons of the Holocaust are never forgotten. In the fall of 2020, Luka will attend Georgetown University's Master of German and European Affairs program as one of five transformational global public service leaders on a prestigious McHenry Fellowship.
2020 Finalists: John Cotton, Zachary Wilkerson
2020 Nominees: Peter Niciega, Cecilia Slane, Gracie White, Savannah Jo Wilcek
Abigail Martin - '19
During my five years at DePauw, I have earned a Double Degree (both a Bachelor of
Music and a Bachelor of Arts) with three majors (Voice Performance, Peace and Conflict
Studies, and Religious Studies) and completed the Honor Scholar Program with distinction.
I entered DePauw with the hope of working toward an integration of peacebuilding work
and the arts, particularly music. I pursued each of my interests at a high level, and, as I
grew older, increasingly developed academic pursuits that were interdisciplinary and
influenced by each of my fields of study. My academic work has always had a practical
component and is therefore inseparable from my work outside the classroom.
Within the School of Music, I developed skills as a performing artist, culminating in
two capstone performance projects: my Honor Scholar Thesis Recital and my Senior
Recital. Through participation in DePauw mainstage productions, including four operas
(notably as Barbarina in Le Nozze di Figaro), two musicals (notably as Sister Mary Patrick
in Sister Act), and a play (Antigone), I grew as both an actress and singer, rounding out my
theatrical education as an Assistant Stage Manager for the opera Cendrillon. In 2015, I was
accepted into the Franco-American Vocal Arts Academy in Périgueux, France, for a two-
month-long performance intensive, and I earned first place at the National Association of
Teachers of Singing state competition. For my Honor Scholar Thesis, I developed a two-
hour interactive performance around the presentation of Emily Dickinson in art songs.
Amidst my performances of pieces by four prominent composers, I invited the audience
into activities designed to spark conversations about the ethics of using Dickinson texts (a
format and topic influenced by my Peace and Conflict Studies work). The innovative recital
workshop was groundbreaking, particularly for the School of Music, and has since
influenced other performances. My senior recital, "In Our Mother's Arms," is also a
complete artistic production, reflecting on themes of family, motherhood, and childhood.
Through my work in Peace and Conflict Studies (PACS), I pursued research
opportunities while also conducting practical, social-justice-based work on campus. In
2016, I served as a summer research assistant for Dr. Rachel Goldberg, which led to two
joint national conference presentations. On campus, I led Restorative Justice, helped to
plan DePauw Day of Dialogue, and worked toward Social Justice initiatives in the School of
Music. In 2018, I was recognized as the first winner of the PACS Praxis award for these
efforts. In my coursework, I began focusing increasingly on conflicts with an ethno-
religious dimension, with an eye toward the influence of constructions of gender,
particularly masculinity. The addition of my third major (Religious Studies) reflected this
focus, as did my capstone projects in both majors. My Religious Studies thesis, entitled
"Authorized by Blood: The Role of Religion and Religious Figures in Narratives of the
'Troubles,'" used narrative analysis to explore the place of religion in the civil conflict that
ripped through Northern Ireland during the late 20 th century. My PACS thesis, currently
under the working title "Militant Men and Disappearing Women: The Construction of
Masculinity in Boko Haram," uses content analysis of statements and videos by leaders of
Boko Haram as well as stories by girls and women captured by the Islamist-jihadist
organization to investigate how constructions of masculinity affect the violent actions of
the organization, particularly toward women.
Ultimately, my education has led me to seek a term of service in the Peace Corps
(beginning May 30, 2019), which I intend to follow with the pursuit of further education in
the field of International Peacebuilding—scholarly work with important and necessary
practical ramifications in the world.
2019 Finalists: Gabrielle Coffing, Peper Langhout, Purva Patel
2019 Nominees: Charlene Benitez, Katherine Marburger, Marko Mavrovich
Elizabeth (Liz) Aguilar - '18
Elizabeth (Liz) Aguilar a biochemistry major from Los Angeles, CA who is minoring in computer science and Spanish. They are a Science Research Fellow (SRF), Bonner Scholar, and a member of Phi Beta Kappa and Sigma Delta Pi. They are the recipient of the NSF Graduate Research Fellowship, an alternate for Fulbright research in Sweden, a 2017 Barry M. Goldwater National Scholarship recipient, American Chemical Society Scholar, Grace Hopper Scholar, and Hispanic Scholarship Fund two time finalist. Liz has investigated the cause of rare genetic diseases in four labs both in the U.S. and Europe over three years. As a DePauw freshman, Liz worked with Prof. Gurnon (Biochemistry) and the Rare Genomics Institute to provide diagnoses for rare disease patients. During summer '15, Liz participated in the Clarity Challenge with researchers at Boston Children's Hospital with aims to provide the best bioinformatic diagnosis for rare disease patients. Liz also conducted immunology research with Prof. Petreaca (Biology) for their SRF research project in fall '15. Working at Stanford (summer '16) allowed them to study gene therapy methods to treat muscular dystrophy and won best poster at the Stanford Research Symposium. Liz also conducted full-time research abroad at the University of Geneva (Fall '16) to study and publish a review about ovarian cancer gene markers. In summer '17, Liz was an intern at University of Washington Seattle through the Genome Sciences department to develop a computational map of yeast genomes. Collectively, Liz has presented at six conferences across the U.S and in Helsinki, Finland. They are currently developing an algorithm for sifting genomic data with Prof. Gurnon and Prof. Byers. Liz has held leadership positions as class chair and senior intern of the Bonner Scholars program, Compton Center Intern, tutor for Greencastle education programs, communications coordinator of Be the Star You Are (BTSYA), EMT at Putnam County Hospital, reflection leader for the WTIS trip to Nicaragua, co-chair of ACM-W, United DePauw leadership, web developer for Putnam Pride Initiative, and local artist. Liz helped publish a book and raise $5000 for 2017 hurricane survivors through BTSYA and mentored LGBTQ+ youth in Indiana and abroad. As a first-generation LGBTQ+ college student and child of Latin American immigrants, they aspire to become a professor and mentor for underrepresented students. Liz will attend the Genome Sciences PhD program at University of Washington Seattle to pursue computational biology and a dual masters in data science.
2018 Finalists: Elizabeth Aguilar, Blake Beckemeyer, Anna Savery
2018 Nominees: Jonathon Brugman, Anna Dixon, Hyeree Ellis, Emily Fox, Peter Gorman, Nicholas Meszaros, Shanae Nelson
Midori Kawaue '17
Midori Kawaue is an international student from Japan with majors in History and French. She is a Rector Scholar, a Grew-Bancroft Scholar, recipient of the William Wallace Carson History Scholarship and Prindle Humanities Prize, and a member of Phi Beta Kappa, Phi Alpha Theta, Pi Delta Phi, and Mortar Board honor societies. Inspired by the Little House series, it has been her dream to pursue U.S. history and demonstrate that there are no intellectual borders in academia. For the past three years, Midori has been working as a co-editor of a Civil War Prisoner of War diary with Dr. John Schlotterbeck and the DePauw Archives. This book length manuscript is currently under review at Kent State University Press. In 2016, Midori was one of six students selected from a national pool for the Historic Deerfield Summer Fellowship Program, among the most prestigious national fellowship for undergraduates studying U.S. history. During this nine-week program, she produced a paper on a 19th century natural scientist's intellectual and religious affinities in the context of his Enlightenment belief in science. This paper was added to the collection of the Deerfield Library. As a continuation of this project, she is writing a year-long history thesis that examines the social construction of scientific knowledge from the early Republic to the Civil War era. Midori presented her thesis at the "Undergraduate Research Conference Science, Technology, Medicine and Society." Most recently, Midori has been named a finalist for the Gilder Lehrman History Scholar Award which recognizes history majors throughout the nation for their scholarly achievement. These experiences have prepared Midori for her ultimate goal: to pursue a PhD in the history of science and serve as an intellectual bridge between the U.S. and Japan, thus contributing to global dialogues on history.
2017 Finalists: William Burke, Annalyesse Mason
2017 Nominees: Diana Huynh, Megan Karbowski, Clay Langley, Eleanor Price, Olubusola Shifatu, YaTing Yang
Sheridan Schulte '16
Sheridan Schulte is a biochemistry and history double major with minors in French and European studies from Houston, Texas. Ultimately, Sheridan intends to pursue a career in medicine, but DePauw's liberal arts education has given her the opportunity to develop a broader understanding of world cultures, languages, and global health. She served as president of Timmy Global Health during her junior and senior years, raising campus awareness about health disparities, hosting public health speakers and fundraising events, and organizing medical service trips to Ecuador and the Dominican Republic. She also put her interest in public health and medicine to use in a research setting at DePauw, where she worked with Dr. Sharon Crary in the biochemistry department to create a diagnostic test for the neglected tropical disease, leishmaniasis. At M.D. Anderson Cancer Research Center, she examined different imaging modalities' ability to earlier detect pancreatic cancer. As a history major, Sheridan has performed extensive historical research. While studying abroad in Paris, Sheridan earned a scholarship to complete a thesis on the French Resistance movement during World War II. Her senior history thesis on the role and treatment of twentieth century American female physicians explores what it was like to be a female physician at a time when the level of women in medicine hovered at just five percent. Sheridan has been the recipient of multiple awards and scholarships, including the William Wallace Carson History Scholarship, Charles E. & Agnes Shawen Merit Scholarship for pre-medical students, and the Morehead Givens Western European Art History Scholarship. She is a member of Phi Beta Kappa, Order of Omega, and Phi Alpha Theta honor societies. Next year, Sheridan will begin her Masters of Public Health at the University of Texas with a concentration in Maternal and Child Health; she then plans to attend medical school. Her goal is to become an obstetrician and gynecologist and use her public health background working for a global health nonprofit organization that focuses on women's health and empowerment.
2016 Finalists: Megan Bailey, Sydney Cason
2016 Nominees: Page Daniels, Kimberly Mendez, Matt Piggins, Julia Roell, Erin Tolar, Céline Wachsmuth, Noelle Witwer
Stephen Dobbs '15
Stephen Dobbs is a geology major and mathematics minor from Mooresville, IN. Originally on track to study history at DePauw, Stephen's academic goals made a sharp turn when he discovered his love for geology. Seeing Stephen's genuine interest, promising ability, and a passion for the discipline, DePauw Professor Tim Cope invited Stephen to conduct geological research with him in northeast China. For the past three years—including over 150 days of field work in rural China—Stephen has devoted his undergraduate career to his research in an attempt to understand the complex history of the region. Aside from his time in the field, Stephen was a lab technician under Professor Jim Mills for DePauw's Department of Geosciences. Here, Stephen performed analyses for his research and the department while also teaching other students. Stephen's research culminated into two publications that he authored and presented at the Geological Society of America's annual meetings of 2012 and 2013. Since February 2014, Stephen has been working on a Senior Thesis about his research that he plans to publish. Stephen's academic pursuits earned him a series of honorary distinctions. DePauw's Department of Geosciences awarded him the Ernest Rock Smith Award in 2013 and 2014 for academic achievement in the geosciences. Stephen was also honored with DePauw's Paul S.Jarrett Endowed Merit Scholarship for 2013 and 2014, which commemorates academic achievement based on the criteria for the Rector Scholarship. Stephen was featured in DePauw magazine's 2013 fall issue highlighting his research in China. Nationally, he has had the honor of being initiated into Phi Beta Kappa, and has been recognized twice by the Barry M. Goldwater Scholarship Foundation—the most sought after academic achievement scholarship in the U.S. for undergraduate science students—with honorable mentions in 2013 and 2014.
2015 Finalists: Lucy Hang La, Madeline Perry
2015 Nominees: Quincy L. Abarr, Chelsea C. Schumacher, Patrick C. Brems, Kevin M. Smith, Emily C. Vincent, Doron Kantor, Michael L. Weber, Taylor M. Zartman, Yukun Zhang
Samantha M. Anderson '14
Samantha graduated from DePauw in three years as both a Rector Scholar and a Science Research Fellow. Committed to teaching science, she worked as a teaching assistant for the chemistry and biochemistry department and as a Quantitative Reasoning Center tutor. She also encouraged other women to pursue their interest in science through her role as a peer mentor for the Women in Science organization.
Samantha worked on five different research projects during her time at DePauw University. As a first year student, she learned how to weld while designing and building the protein sculptures that now hang in the atrium of the Percy L. Julian Science and Mathematics Center—a collaborative research project between biochemists and artists. Samantha found her passion for science research while completing a second research project that investigated protein structure and function. During another project, Samantha worked to create a drought resistant plant that could make its own water. Based on this work, combined with extraordinary classroom performance, the Biochemistry department awarded Samantha the Wylie-Condit Science Scholarship for promising science students. Samantha completed an internship in biochemistry and microbiology at the University of Wisconsin-Madison. This work resulted in a recent publication in Molecular Microbiology. She also worked on a project focused on neglected tropical diseases. Many of Samantha's projects culminated with poster sessions and oral presentations where Samantha was able to hone her science communication skills.
2014 Finalists: Trina M. Manalo, Maritza J. Mestre
2014 Nominees: Ethan E. Brauer, Anna M. Butz, Mackenzie M. Creameans, Gwendolen L. Eberts, Dana M. Ferguson, J.D. Hoover, Meredith D. Lockman, Cole P. Rodman, Katherine R. Shover, Garth E. Synnestvedt, Weiqing Zhang
About Ferid Murad '58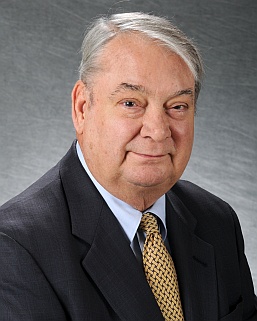 Dr. Murad won the 1998 Nobel Prize in Medicine for his discovery of the role of nitric oxide in the cardiovascular system. The discovery not only contributed to a better understanding of how information is transmitted between cells but also had a significant influence on cardiovascular medicine, leading to changes in treatment following a heart attack. His research and findings on the effect of nitric oxide continue to influence the treatment of cancer and arthritis and other human diseases.
A professor at George Washington University's School of Medicine and Health Sciences, Murad has received numerous other awards and honors, including the Albert and Mary Lasker Basic Medical Research Award, American Heart Association Ciba Award and Baxter Award for Distinguished Research in the Biomedical Sciences from the Association of American Medical Colleges
Murad earned his undergraduate degree in premedical science and chemistry from DePauw in 1958 before earning M.D. and Ph.D. in Pharmacology from Case Western Reserve University in 1965.