Holocaust exhibit, documentary at DePauw in March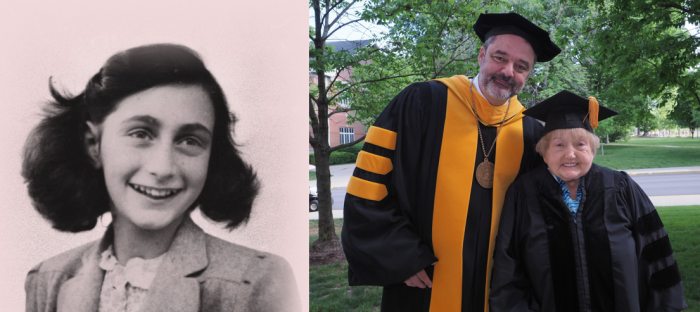 Two events intended to educate about the Holocaust are headed to DePauw next month.
-A traveling photographic exhibit from the Anne Frank House will be displayed March 1-19 at the Janet Prindle Institute for Ethics. An opening ceremony is scheduled for 3-5 p.m. March 1.
-A screening of "Eva: A-7063," a documentary about Eva Mozes Kor, a Holocaust survivor who started CANDLES Holocaust Museum and Education Center in Terre Haute, is set for 7 p.m. March 10 in Thompson Recital Hall in the Green Center for the Performing Arts. Ted Green, the documentary's director, will introduce the film and describe how it was made, and Alex Kor, a Central Indiana podiatrist and Eva Kor's son, will talk after the screening about his mother.
The photographic exhibit, called "Let Me Be Myself: The Life Story of Anne Frank," depicts Frank's life and put it in the context of Adolph Hitler's rise to power. Frank died in Bergen-Belsen concentration campus in 1945 when she was 15.
Nazis wrested Kor and her twin sister Miriam from their home in Romania and delivered them to Auschwitz concentration camp, where they were subjected to experiments by Josef Mengele. In 1995, in what she considered to be an act of self-healing, self-liberation and self-empowerment, Kor publicly forgave the Nazis, saying they should no longer have power over her life. She opened CANDLES, the only museum in the world dedicated to the memory of twins and survivors of medical experimentation. Kor, who was awarded an honorary degree by DePauw in 2018, died last summer during a trip to Auschwitz.
Go here for a story about how and why DePauw senior Luka Ignac '20 organized these events. (Photos above: l, Anne Frank; r, Eva Kor with DePauw President Mark McCoy.)
Whether we are writing about the intellectual challenge of our classrooms, a campus life that builds leadership, incredible faculty achievements or the seemingly endless stories of alumni success, we think DePauw has some fun stories to tell.

101 E. Seminary St.
Greencastle, IN, 46135-0037
(765) 658-4416

News and Media