This story appears in the Fall 2023 issue of DePauw Magazine arriving in November.
Story by Casey Patrick, Photos by Brittney Way
Sofia Piazzisi is pretty sure she wants to be a lawyer, and possibly open a practice in South America, Canada or Europe someday. Like most 18-year-olds, she's not sure. As a first-year student at DePauw University this fall, she is on a path toward a career while she explores her interests. 
A major factor in her decision to commit to DePauw was its business offerings, and she isn't alone. Piazzisi is among a significantly large number of students currently seeking undergraduate business programs.
Traditionally, liberal arts and sciences universities don't have business schools, but as a leader in liberal arts education, DePauw looks at things differently. As such, in the fall of 2023, DePauw opened its School of Business and Leadership (SBL). 
With the new school, DePauw became one of only four Top 50 liberal arts institutions in the country with a school of business – and the only one in the Midwest. The opening of the SBL means more than the availability of new majors and minors. It is part of DePauw's commitment to modeling a 21st-century, world-class liberal arts undergraduate education.
This work propels DePauw into an exciting era where we can honor our roots while we forge transformation at the university. Strengthening and centering the liberal arts while launching new programs and schools ensure that our students continue to be the leaders the world needs in a rapidly changing environment.
Ranked No. 16 among the "Most Innovative Schools" in the country by U.S. News & World Report in 2022, DePauw is up for the challenge. Its focus on ethics and leadership is a truly unique value proposition. With a transformative renovation of Harrison Hall, the appointment of Dean John Clarke, three new faculty members, and DePauw's first group of students taking classes associated with the School of Business and Leadership, the stage is set.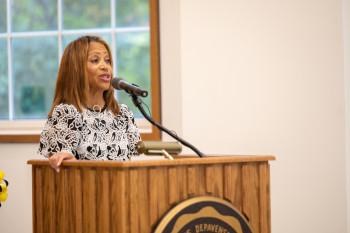 In 2020, DePauw President Lori White asked school leaders and stakeholders to think boldly as they developed the university's five-year strategic plan. Among the four overarching goals that arose from the process was to renew DePauw's academic programs while continuing to honor and build on its history as a liberal arts and sciences college. The SBL was, in part, a result of this commitment. 

As we thought about new academic areas that we could develop, we sought to build on current strengths such as our historically strong Economics major while also considering areas with emerging interests from current and future students," says Dave Berque, vice president for academic affairs and computer science professor. 
DePauw has a long history of producing leaders across different sectors – for-profit, nonprofit, government – so it made sense to build on this foundation. In addition, DePauw students had been participating in the highly regarded Management Fellows Program since 1982. They embraced its business-related coursework, career readiness activities, networking, internships and alumni involvement.
DePauw is a remarkable institution that has always been an incubator for leadership.

– Ken Coquillette '82

, partner, Goldman Sachs & Co., co-chair, DePauw University School of Business and Leadership Steering Committee
"Every year we talk to a lot of prospective students who are interested in liberal arts but still want to declare a business-related major," says Mary Beth Petrie, vice president for enrollment management. "In the past, it took more of an effort to make the connection for them. But now with the SBL in place, they can search and find things more easily." This is critical since most college searches start online. 
"K-12 education today also puts more emphasis on career readiness, so students researching schools often consider academic program availability just as seriously as factors such as geographic location, cost or size of the student body," Petrie adds. "With the launch of the SBL, it has become clearer to prospective students that DePauw offers innovative educational experiences in business and leadership." 
Beyond offering attractive majors, minors and pathways, the strategic planning steering committee knew that DePauw's liberal arts and sciences tradition – developing the whole person – could be a major differentiator for the SBL.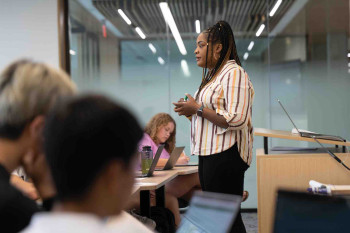 "We saw an opportunity to launch a program that would marry together our strengths in delivering a liberal arts-style education with business competence," Berque says. Students could learn to value diverse perspectives and cultures, and connect to other disciplines while they take classes in finance and entrepreneurship, for example. They would not only gain business and professional knowledge but also understand the philosophical implications in a global context.
Reflecting its dedication to the liberal arts and sciences, DePauw's new three-school model puts the College of Liberal Arts and Sciences (CLAS) at the center of every student's experience. The School of Business and Leadership and the Creative School sit alongside the CLAS as separate yet intimately connected schools.
The School of Business and Leadership provides DePauw students with a framework to address the career-related outcomes of their curricular and cocurricular experiences regardless of their field of study or career aspirations. Students from non-business disciplines are excited to understand how their interests, values, motivators, passions, talents, and skills can provide insight into future careers.

– John Clarke

, Dean, DePauw University School of Business and Leadership
Exploration is part of the DePauw culture. Approximately 20 percent of students choose to double major, and about half have a minor area of study. When first-year student Jeremy Stutzman was looking for a college, he knew he was interested in business, but he was also passionate about environmental ethics. Business was a priority for Braden Murphey, too, but computer science and pre-health also piqued his interest. As new students are drawn to the SBL, they can explore multiple areas before making a decision about their areas of focus. 
DePauw leadership expects many students like Stutzman and Murphey to study across each of the three schools. An environmental geoscience major might minor in finance to better understand how climate change impacts governments. A student passionate about amplifying the voices of first-time voters might study political science and the ethics in society from the CLAS and entrepreneurship from the SBL. This kind of cross-pollination of ideas promotes creativity and broadens perspectives. Clarke says DePauw's approach can also help students reach their potential. 
"This role is an opportunity to impact every student at DePauw in a positive way and impact the environment in which every faculty member and staff member works at DePauw. The motivation for me is the chance to have a bigger impact," he says.
Business and leadership students at DePauw, as well as students interested in other areas, will also benefit from the influence of the Prindle Institute for Ethics, which equips students to deepen their understanding of different moral perspectives and think critically about the inescapable ethical issues of our time.
"Developing these abilities is an important part of growing as a person, but they are also the kinds of abilities that are in high demand from employers," says Jeffrey Dunn, the Phyllis W. Nicholas Director of the Prindle Institute for Ethics. "We help students cultivate understanding and critical thinking through a variety of interactive experiences and programs, and work with professors across the disciplines at DePauw to integrate ethics into their classroom curriculum."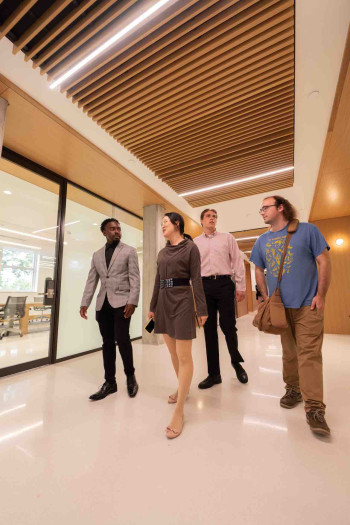 During the coming year, DePauw will hire an inaugural director for its Sanger Leadership Initiative, which will be available to all DePauw students through the SBL. The initiative will integrate and strengthen cocurricular and curricular leadership opportunities across the university, helping DePauw to further its mission to develop leaders the world needs. Already this fall, faculty are offering new courses including Religion and the Art of Leadership, Leadership in the Age of Disruption and Nonprofit Leadership. 
The intermingling of disciplines, and combination of the curricular and cocurricular opportunities, isn't new to DePauw. Jon Phillips '95 runs the venture capital and private equity arm of a privately held financial services firm, First Trust in Wheaton, Illinois. As a high-schooler from Massachusetts, he chose DePauw in part because he could combine the business-focused Management Fellows Program with a liberal arts degree. He majored in economics and minored in religion, served on student government, wrote stories for The DePauw, and participated in service-oriented winter term courses in Argentina and Bolivia. 
A semester interning at Deloitte Consulting in Detroit convinced him that his future would be in business. He fine-tuned his acumen at Northwestern University's Kellogg School of Management, where he earned his MBA, before returning to Deloitte full time. He calls his DePauw experience foundational, particularly in entrepreneurship, providing the basis for launching three different businesses over his career in consulting, investment banking and private equity.
Without a doubt, it is the deeply ingrained values of a liberal arts education that will set apart the DePauw School of Business and Leadership. This educational model develops critical thinkers and great communicators that can thrive and succeed in our rapidly changing world.

– Phyllis Barkman Ferrell '94

, Eli Lilly and Co., executive-on-loan to Davos Alzheimer's Collaborative, Healthcare System Preparedness Program Lead; member, DePauw University School of Business and Leadership Steering Committee
"I'm a really big fan of liberal arts education. It teaches you how to think and expand the tools to frame problems and structure solutions. DePauw has the opportunity to create a business education and approach that is incredibly distinctive from traditional business schools. This is important not only to attract students but also to educate future leaders in business," says Phillips. 
DePauw's alumni community includes leaders who are big thinkers driving success. These alumni also tend to generously offer their time and expertise to fellow DePauw students and alums. Phillips's entrée into investment banking came from a DePauw connection, not a Kellogg connection. The SBL will serve as yet another way for alumni to engage and plug in more closely to students and each other. 
"It will help DePauw continue to be a recognized national leader in applied liberal arts education. We continue to lead by pushing the envelope and looking at things a little differently because that's what liberal arts grads do," Phillips says.
Originally from Winslow, Indiana, DePauw alum Justin Dye '94 also serves on the DePauw Board of Trustees and is managing director of Dye Capital & Company in Boca Raton, Florida. He says DePauw laid the foundation for him to become a lifelong learner, undaunted by the challenge of exploring topics outside of his political science major and religion minor. The DePauw experience gave him opportunities to lead, follow, pursue new interests, learn new things and effectively work with people. 
"You had to show up and participate. You had to write well, speak well and defend a position, solve problems and be creative," he says. Dye went on to spend a significant portion of his career as an executive in the food retail and supply chain sectors and led efforts to drive shareholder value with more than $40 billion in acquisitions, divestitures, refinancings and real estate transactions.
He adds that DePauw is really good at cultivating outstanding, humble leaders. The SBL cements the university's commitment to developing leaders to excel at every stage of their careers, from building trust and consensus to defining a vision for an organization.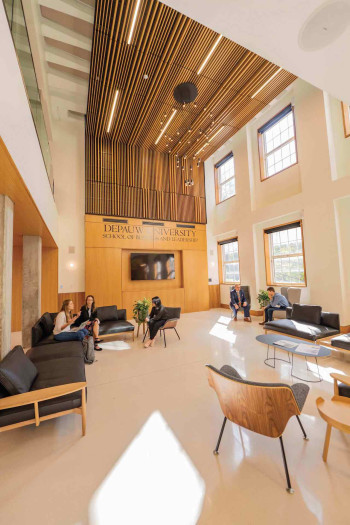 "I don't know of another university that gives students that opportunity so well. That should resonate with prospective students and their parents when they are trying to make college decisions," Dye says.
The new SBL is located inside Harrison Hall, the three-story, red-brick building that opened as a science building in 1939. The building was last renovated in the 1980s, when natural light, ceiling height and open space weren't necessarily fashionable. 
"This was an opportunity to allow the building to breathe," says Christiana Moss, principal architect on the new renovation.
She and her partners at Studio Ma, an award-winning design firm based in Phoenix, Arizona, were inspired by the school's multifaceted vision, one of openness and transparency. "The notion that the School of Business and Leadership was for the entire university and that everyone can benefit from having experiences around leadership and understanding entrepreneurship grounded in ethics was really exciting," she says. 
When someone walks into Harrison today, they enter a two-story atrium whose height physically connects the SBL to other disciplines being taught in the building. This communal entry is designed to make all students, staff and faculty members feel welcome. The commingling of audiences extends to alumni, who will have spaces to meet and work when they are on campus.
"This will be a place where people can linger. Our hope is that we have to drag them out to get fresh air," Clarke says. "We expect students and faculty will find ways to use the building that we didn't even anticipate." The new space is also adaptable, capable of shifting to accommodate how people use it in the future.
Like at the recently renovated Roy O. West Library, the SBL includes spaces for different interactions, from intimate to wholly public. One room is equipped with Bloomberg terminals to connect students with the data, news, analytics and networks necessary for deep business research and analysis. Other rooms are tailored for presentations, lectures and collaborative discussions. Translucent glass used throughout allows visitors to see almost all of the perimeter walls of the building. 
Moss and her team were careful to honor Harrison's history. Interior millwork and casework directly relate in scale to the original exterior windows. Cast-in-place concrete columns have been exposed. Reflecting the school's focus on ethics and input from students, construction includes locally sourced white oak and sustainably made furniture. A seal commemorating the building's history has been relocated to new flooring in the atrium.
A DePauw sophomore led Clarke on his first tour of campus. Just over a year into her career at DePauw, she was able to convey the life and culture of the campus succinctly and with enthusiasm. She understood the value of the institution and the experience it offered her, Clarke says. She had found an environment in which she could thrive. 
She said something like, "You wouldn't recognize me if you had met me a year ago. I'm a different person now because of DePauw," Clarke recalls. 
The School of Business and Leadership further extends DePauw's longstanding tradition of transforming students' lives. But it doesn't stop there. "We have an opportunity for DePauw to be a national leader in higher education offering new programs that will attract students and demonstrating the value of liberal arts education. But we are also building on our historic strengths in liberal arts and bringing them to other curricular areas that are exciting for students," Berque says. "We want to be known nationally for how to be a liberal arts college."
DePauw's new School of Business and Leadership models the future for a 21st-century, world-class liberal arts education
Meet the Dean: John Clarke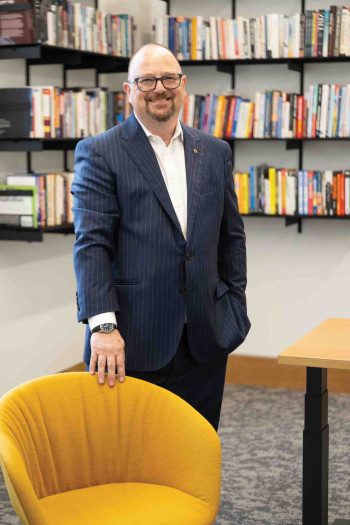 Born in Manchester, England, Clarke comes to DePauw from the Tulane University Freeman School of Business. For 10 years, he worked for Accenture, leading teams and working with senior executives in North America, Europe, Asia and Australia. During a meeting with a former professor, he expressed how much he valued the people development component of his job. Soon after, he started his transition back to education in order to focus full-time on helping people reach their full potential. 
"Academia works in cycles or semesters. Every cycle, there is an opportunity to impact people in some fundamental way. To perhaps change the trajectory of their lives. It might sound arrogant or bold, but it's real," he says.
---
See more School of Business and Leadership
DePauw Magazine
Spring 2023
A GATHERING PLACE FOR STORYTELLING ABOUT DEPAUW UNIVERSITY
Whether we are writing about the intellectual challenge of our classrooms, a campus life that builds leadership, incredible faculty achievements or the seemingly endless stories of alumni success, we think DePauw has some fun stories to tell.

News media: For help with a story, contact:

Bob Weaver, Senior Director of Communications.
bobweaver@depauw.edu.