This item appears in the Fall 2023 issue of DePauw Magazine arriving in November.
CRITICAL THINKERS.
PROBLEM-SOLVERS.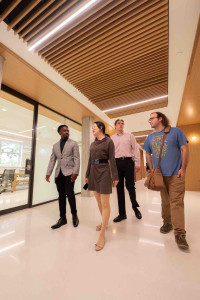 Grounded in a rigorous liberal arts foundation, DePauw graduates are steeped in leadership skills, such as critical thinking, problem-solving, breadth of knowledge, creativity, communication and teamwork. Through small interdisciplinary courses, meaningful discussion, collaborative projects and independent research, DePauw's liberal arts foundation puts students on the path to a life of purpose, prepared for the evolving business and leadership roles that will address the most pressing issues of our times.
1 of 4 Top 50 Liberal Arts Institutions in the U.S. - and the only one in the Midwest - with a School of Business
A LEGACY OF LEADERSHIP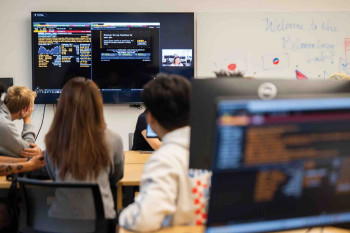 School of Business and Leadership students will follow in the tradition of DePauw alumni who have gone on to lead in public service, the corporate world and that of nonprofits, including Teach For America, the U.S. legislature, General Mills, the Boston Celtics, TOMS and General Motors.
#4 Nationally for Upward Mobility
BUSINESS IS DYNAMIC 
A hallmark of a DePauw education is the opportunity for leadership and experiential learning. These centers and cocurricular programs serve all DePauw students in addition to those connected with the School of Business and Leadership. 
DePauw Consulting Group
DePauw Entrepreneurship Group
DePauw Innovations
DePauw Investment Group
DePauw Marketing Group
DePauw Sports Management and Administration Group
DePauw Pre-Law and Public Affairs Group
Hartman Center for Civic Engagement
Investment Banking Workshop
Management Fellows Program
Sanger Leadership Initiative
The Prindle Institute for Ethics
The Robert C. McDermond Center for Management & Entrepreneurship
The Ullem Center for Sustainability
Women in Economics and Business
GLOBAL REACH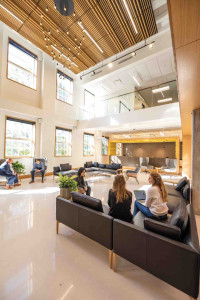 DePauw has been a leader in global education for decades, offering high-quality, dynamic and accessible opportunities for students to study, intern and research at universities and organizations around the world. Recent international internship locations include: 
Hanoi, Vietnam
Ho Chi Minh City, Vietnam
Kathmandu, Nepal
Milan, Italy
Tokyo, Japan
Ulaanbaatar, Mongolia
Victoria, Australia
Top 14% Return on Investment
AREAS OF STUDY 
Actuarial Science
Business Analytics
Finance
Economics
Plus minors in:
Accounting and Finance for Decision-making
Business Administration
Entrepreneurship
International Business
The academic programs listed in the School of Business and Leadership build on DePauw's long history in offering a strong economics major. For many years economics has been one of DePauw's most popular majors and it has produced many successful alumni. It is exciting to watch as we leverage these strengths.

– Dave Berque

, vice president for academic affairs, professor of computer science
DePauw Magazine
Fall 2023
A GATHERING PLACE FOR STORYTELLING ABOUT DEPAUW UNIVERSITY
Whether we are writing about the intellectual challenge of our classrooms, a campus life that builds leadership, incredible faculty achievements or the seemingly endless stories of alumni success, we think DePauw has some fun stories to tell.

News media: For help with a story, contact:

Bob Weaver, Senior Director of Communications.
bobweaver@depauw.edu.