Two outstanding seniors awarded Murad Medal, Walker Cup
Two outstanding seniors won the most prestigious awards DePauw University makes to its newest graduates.
Amerti Guta, an international student from Addis Ababa, Ethiopia, was awarded the Ferid Murad Medal, which is given to the senior with the most scholarly and/or artistic achievements at DePauw.
J.D. O'Keane, who hails from Lake Bluff, Illinois, won the Walker Cup, awarded to the senior who has contributed the most to DePauw over the student's four years.
The awards were announced at a ceremony April 24.
Murad Medal:
Each DePauw department or program nominates a senior to win the Murad Medal, and a faculty committee narrows the nominees to three from which Academic Affairs selects the winner. The medal is named for Nobel Prize winner Ferid Murad '58, a physician and Ph.D. pharmacologist whose work has saved the lives of premature babies and cancer and heart patients and inspired 160,000 publications that build on his discoveries.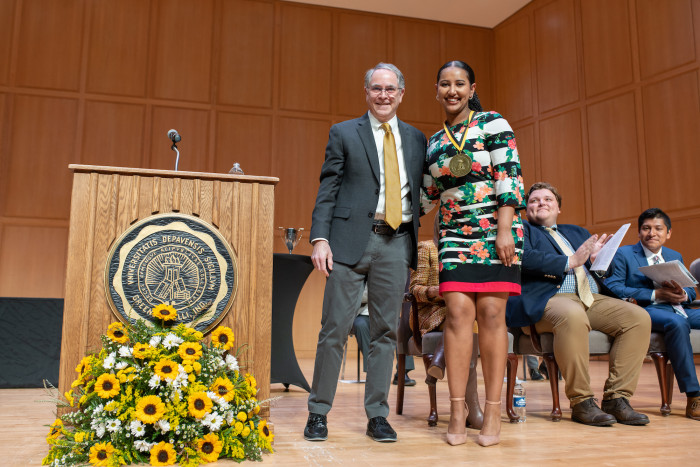 Guta is a cellular and molecular biology and biochemistry double major and recently received the 2022 Leading Light Award, Sallie Mae Scholarship, which is presented to the overall top women in STEM across the state of Indiana.
Guta has completed multiple research projects including a study on the impact of wastewater treatment plants with Biology Professor Akinwole. The study is published in the World Journal of Microbiology and Biotechnology and the Journal of Hazardous Materials Advances.
She has served as a resident assistant and a peer tutor (STEM guide), presidential ambassador, civic fellow and lab manager assistant. A member of the Phi Beta Kappa, a national honor society, and Sigma Xi, a research honor society, Guta was also among the students selected to share their DePauw story on The College Tour on Amazon Prime. Off-campus, she serves as an executive assistant for EFeMS, a nonprofit organization that empowers African women in STEM. Guta has received numerous awards for her work and leadership, including the 2022 Outstanding Resident Assistant of the Year award, the Men's Hall Scholarship, and the Wylie Condit Science Scholarship & Truman G. Yuncker Award.
After graduation, Guta will pursue a Ph.D. in biomedical sciences focusing on immunology at the Mayo Clinic.
The finalist for the Murad Medal was Hieu (Bu) Tran of Ho Chi Minh City, Vietnam, who is a double major in computer science and mathematics.
Walker Cup:
Seniors vote for the Walker Cup recipients, and the names of the three students with the highest number of votes are forwarded to a committee comprising the university president and academic department heads that selects the winner. The award is named after Guy Morrison Walker, an 1890 graduate and a lawyer who proposed it.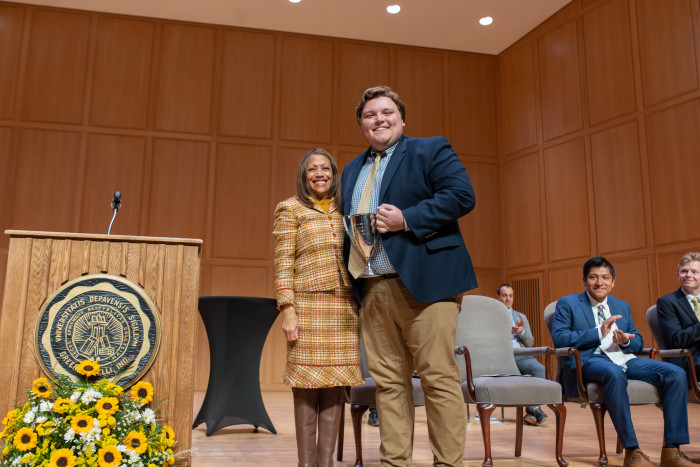 O'Keane is a double major in economics and political science and a Management Fellow, four-year student athlete as a member of the football team, a member of the Indiana Alpha chapter of Phi Kappa Psi, and is the current student body president.
Within DePauw student government, O'Keane has served as vice president of academic affairs, chief of staff and executive vice president. He is a Management Fellow ambassador, admissions ambassador and serves on alumni and admissions panels. O'Keane was selected to the Student Athletic Advisory Committee (SAAC) and was a member of D3TV's board of directors and has hosted a Sunday radio show on WGRE for four years. O'Keane oversaw an initiative to launch Tiger Transit three days a week in which he volunteers to drive. He is currently partnering with Putnam County Hospital to bring back Sexual Assault Nurse Examiners (SANE) to campus and is working with Overdose Lifeline in Indianapolis to bring Fentanyl testing strips to campus. Additionally, he has been selected by the Fraternal Government Relations Council to represent DePauw at a national conference in Washington D.C. He was among 10 students who represented DePauw on Amazon Prime's The College Tour. O'Keane's academic honor society recognitions include: Order of Omega, Pi Sigma Alpha, Omicron Delta Epsilon, Chi Alpha Sigma, Dean's List, Tiger Pride Honor Roll and NCAC Academic Honor Roll.
Upon graduation, O'Keane will work for BMO within their commercial analyst development program.
The finalists for the Walker Cup were Amerti Guta, Thomas Brelage, of Fishers, Indiana, who double majors in chemistry and kinesiology, and Edgar Garcia Cuatlatl, from Plymouth, Indiana, who majors in global health and minors in kinesiology.
Whether we are writing about the intellectual challenge of our classrooms, a campus life that builds leadership, incredible faculty achievements or the seemingly endless stories of alumni success, we think DePauw has some fun stories to tell.

News media: For help with a story, contact:

Bob Weaver, Senior Director of Communications.
bobweaver@depauw.edu.