University Awards Convocation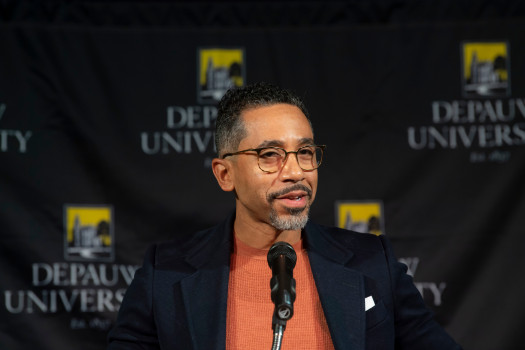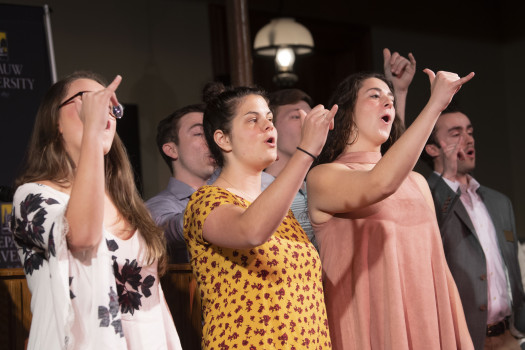 DePauw recognizes the excellence of its students, faculty, and staff in this annual celebration of their outstanding work, scholarship, and artistic expression.
Summary of Awards Spring 2021
Summary of Awards Spring 2020
Summary of Awards Spring 2019
Due to COVID-19, the 2020 and 2021 Awards Convocations were held remotely. Access contents below:
2021 Awards Convocation Links:
Article on Goldwater Scholarship Winners
Article on Murad Medal and Walker Cup Winners
Article Featuring Staff Member Awards
Faculty Member of the Year Presentation
Tucker Presentation
Exemplary Teaching Award
Minar
Oxnam

2020 Awards Convocation Links:
Student Awards and Virtual Recognition
Exemplary Teaching Awards
Minar
Oxnam
Tucker
The University Awards Convocation is held every Spring. On the Academic Year 2018 - 2019, the event was held at Meharry Hall, East College, 29 April 2019 from 7:00PM - 8:00PM. The event is open to the whole campus, family, and friends. Broadly the University Awards Convocation recognizes student achievements, faculty achievements, and the Staff Member of the Year.
We recognize students who have won nationally competitive fellowships such as the Gilman, Goldwater, and Fulbright. We also recognize the student winner and finalists for the Ferid Murad Medal, named for Nobel laureate Dr. Ferid Murad '58. The Murad Medal is awarded to the senior who has had the greatest scholarly and/or artistic accomplishments while at DePauw. The convocation is capped off when the University President awards the Walker Cup to the senior who has done the most for DePauw in their time here.
We recognize faculty with the Minar, Oxnam, and Tucker awards. The Edwin L. Minar Jr. Scholarship Award was established in 1981 and recognizes exceptional scholarly achievement. It is named in honor of its first recipient, a former professor in the Department of Classical Languages (1951 - 1980). The G. Bromley Oxnam Award for Service was established in 2009 and recognizes significant contributions to the University, academic professional world, the local Greencastle community, or to the wider arena of civic contributions through social outreach or social justice. The award is named for DePauw's thirteenth president (1928 - 1936). Finally, the Mr. and Mrs. Fred C. Tucker Jr. Distinguished Career Award recognizes since 1988 a senior member of the faculty who has made notable contributions to DePauw by their commitments to students, to teaching excellence, to their chosen disciplines, and to University service. This award is always presented by the DePauw University President and is accompanied by a $10,000 stipend.
We also recognize the Staff Member of the Year. This member of the Tiger community staff is selected independently by the DePauw Student Government. Traditionally presented by the DePauw Student Government President, this award recognizes that member of the staff who students see as having made significant contributions to the DePauw community.
Academic Awards Convocation Programs:
Senior Showcase Programs: