The Ubben Lecture Series: Brad Stevens '99, March 20
The lecture will be livestreamed here. Login/create an account and use the promo code TIGERS2023 to view the stream for free.
Brad Stevens, president of basketball operations for the NBA's Boston Celtics and 1999 graduate of DePauw University, will return to DePauw to present a Timothy and Sharon Ubben Lecture Monday, March 20. The program will begin at 7:30 p.m. in Kresge Auditorium, located within the Green Center for the Performing Arts at DePauw University. Stevens has guided teams that have "overachieved at overachieving," according to the Wall Street Journal.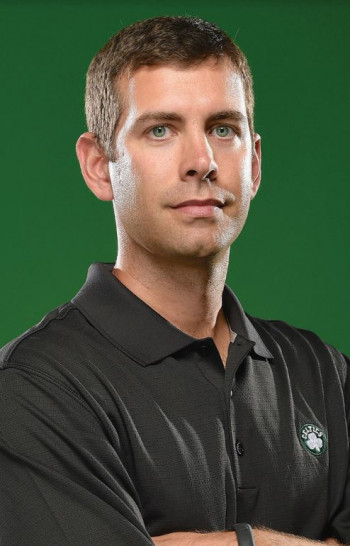 Born and raised in Zionsville, Ind., Stevens was a basketball standout at Zionsville High School, setting five team records. At DePauw, where he was an economics major and Management Fellow, Stevens was a dean's list honoree and volunteered as a civic intern at the Hartman Center. On the basketball court, he played in all possible 101 games for the Tigers and earned four varsity letters, and was named all-conference, academic all-conference, and was a three-time Academic All-America nominee.
After graduation, he worked as a marketing associate at Eli Lilly and Company and served as a volunteer basketball coach at Carmel High School. In 2000, Stevens realized his real love was the hardwoods and not the office tower, and left his job for a volunteer position at Butler University. Soon after, he was named the Bulldogs' coordinator of basketball operations, and a year later was tapped as an assistant basketball coach. In April 2007, he was named – at age 30 – to lead the Division I men's basketball program.
In his first year, Stevens led Butler to 30 wins, becoming the third-youngest head coach in NCAA Division I history to have a 30-win season. In 2010, his third year as head coach, Stevens broke the NCAA record for most wins in a coach's first three years, exceeding the previous record by eight wins. In the NCAA Tournament, Stevens coached Butler to its first Final Four in school history, while also becoming the second-youngest head coach to make an NCAA National Championship game. With the following season's team also making the Final Four, Stevens became the youngest coach to go to two Final Fours. Twice named the Horizon League Coach of the Year, Stevens compiled a 166-49 record with the Bulldogs.
Stevens was named the head coach of the Boston Celtics in July 2013, becoming the youngest head coach in the NBA. Over eight seasons he led the storied franchise to a 354-282 record and seven playoff appearances, including a conference championship and five trips to the conference finals. On June 2, 2021, the Celtics named Stevens president of basketball operations. "Before he was maybe the best coach in the NBA, Stevens was maybe the best coach in college basketball," wrote Ben Cohen in The Wall Street Journal.
"He's unbelievable in how he carries himself," Gregg Popovich, head coach of the NBA's San Antonio Spurs, said of Stevens. "He's truthful and straight up with his players, and in this league, that's the biggest thing they respect – that you are comfortable in your own skin."
As David Woods wrote in 2015 for the Indianapolis Star, "[Stevens] was a star in high school but not at DePauw University, where the coach was Bill Fenlon. Stevens said Fenlon taught him how to be a teammate, calling it the greatest lesson he learned as he went into coaching."
"My experience at DePauw was about as beneficial as any experience I've had," Stevens told ESPN.com in November 2013. The coach told the Indianapolis Star that a DePauw course he took as a sophomore instilled in him the notion of servant leadership. "It's not for everybody," he said. "I'm sure there are plenty of people who have led without that. But it's a great way to lead. It keeps you grounded in what's important."
Stevens returned to DePauw in April 2010 to deliver a Robert C. McDermond Lecture. He recounted some things he learned from DePauw people, calling it "among the best advice I've ever received." His grandfather, also a DePauw graduate, offered, "Never marry for money. You can borrow it cheaper." Mary Dixon, one of Stevens' economics professors, advised, "If you want to be any good at anything, you'd better start to do the things that you don't like to do."
Stevens added, "There's always something that you need to do because it's the right thing to do and a difficult thing to do and you may not enjoy it as much. I appreciate her standing up and saying that, because sometimes we need to hear what we don't want to hear."
In 2015 Stevens received DePauw University's Young Alumni Award. He is also a member of DePauw's Athletic Hall of Fame.
The NBA executive and his wife and DePauw classmate, Tracy (Wilhelmy) Stevens '99, are the parents of two children, daughter Kinsley and son Brady.
Established in 1986 through the generous support of 1958 DePauw graduates Timothy H. and Sharon Williams Ubben, the Ubben Lecture Series was designed to "bring the world to Greencastle." The series has presented 119 events over the past 37 years.
Following a conversation with his college head coach, Bill Fenlon, Stevens will answer questions submitted by the audience which you may send via email to ubbenlectureseries@depauw.edu.
As with all Ubben Lectures, the event will be presented free of admission charge and is open to all. Seating will be on a first-come, first-served basis, and no tickets will be distributed.
The visit by Stevens is the second Ubben Lecture given during the 2022-23 academic year. Maria Ressa, acclaimed journalist and recipient of the 2021 Nobel Peace Prize, came to DePauw Nov. 2.
Whether we are writing about the intellectual challenge of our classrooms, a campus life that builds leadership, incredible faculty achievements or the seemingly endless stories of alumni success, we think DePauw has some fun stories to tell.

News media: For help with a story, contact:

Bob Weaver, Senior Director of Communications.
bobweaver@depauw.edu.