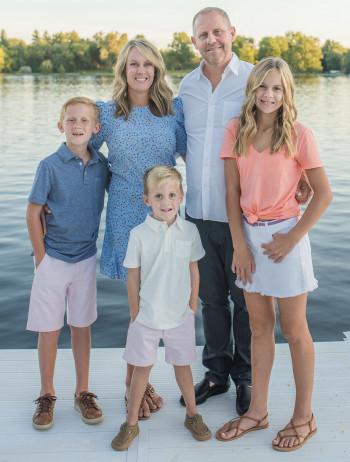 Jeff Smith says it wasn't until he was in his 40s and his business had flourished that he began to fully appreciate the value he had gained from his DePauw experience.
The native Hoosier, who graduated with a class of 25 from a small-town high school in Southern Indiana, says the DePauw experience was at times overwhelming and intimidating. His freshman year, he says, was particularly tough. He remembers being disappointed after getting a C- grade in an English class taught by Andrea Sununu. When he went to speak with Sununu, who is legendary for her extensive notes on student papers, requirements that papers be rewritten and tough reading assignments, she encouraged him, saying his work had improved tremendously throughout the semester and he should stick with it. From that day forward, Jeff's papers improved at DePauw. He realizes today that a tough class gave him the writing and critical thinking skills he still uses daily.
Smith has a degree in history from DePauw, where he also played soccer for coach Page Cotton. "I learned that I am very competitive and ambitious by nature," he says, "and my business, managing a team, gives me a positive outlet for my need to compete and lead a team. Today I take the most pride in not only doing my best but also being the best teammate I can be." 
Some of his most memorable experiences at DePauw include studying abroad for a semester in Greece and spending a winter term in El Salvador. "Having a liberal arts degree and living abroad expanded my horizons and expanded my thinking," he says.
Smith owns City Wide Facility Solutions, which provides commercial janitorial and maintenance services. He previously was in telecom sales and management for a decade. He is married to Katy, a Butler grad, and they have three children: Ella, 13; Stewart, 10; and Grayson, 4. 
In 2019, Jeff celebrated his 25th DePauw reunion. He served on the reunion committee, encouraging attendance of his Sigma Chi fraternity brothers. Last fall he participated in the Business in the Liberal Arts summit at DePauw, and he has been inspired to be more involved with the university. He has volunteered through Admission to speak with prospective students at Guerin Catholic High School in Noblesville, Indiana, , and recently made a philanthropic commitment establishing the Jeffrey S. Smith Family Endowed Scholarship at DePauw. The scholarship will give access to a DePauw education to students who might otherwise be unable to afford it. "I wanted to help students benefit from the same opportunity I had," Smith says. "As I have started and grown a business, I know that the benefits of my DePauw experience were tremendous. I want that for a young ambitious person."
Support student scholarships by making an annual gift to The Fund for DePauw online at www.depauw.edu/alumni/giving/.  To learn more about endowing a scholarship contact Steve Trautman, executive director of charitable giving at  765-658-6701 or steventrautman@depauw.edu.