About the Program
Science Research Fellows (SRFs) can major in any science (Biology, Chemistry and Biochemistry, Computer Science, Geoscience, Mathematics, Physics & Astronomy, Kinesiology, Psychology). There are three academic components to the progam: HONR 191 (.5 cr) fall semester of 1st year, HONR 192 (.5 cr) spring semester of first year and HONR 491 (.5 cr) fall semester of senior year. In addition, students will complete 1 summer on campus doing a 10 week research project and a 2nd summer (or academic semester) completing an external research internship. See details of each below:
Research Experience I* (Fall) & II (Spring)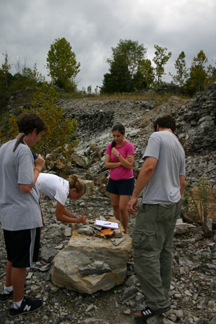 In Research Experience I (HONR 191), students learn the basics of science research--how research is different than that learned in a classroom setting, how science works-- which helps to develop the skills necessary for future research experiences. In you first fall semester, students are assigned to work with a science faculty member in small groups (5-6 students) on a research project which culminates in a group presentation. These projects are distributed across the science departments at DePauw.
In the students' first spring semester (HONR 192), science faculty members are matched with interested SRF students on an individual project which begins the preliminary work in spring semester and continues into the summer 10-week program (see below).
Fall 2012 Research Experience I (HON 191: Small Group Projects)
Archives: HON 191 Group Projects: Fall 2004-2011
*New Entering DPU/SRF Students: Please don't confuse the SRF 'seminar' HONR 191 (it's not a seminar) with your first year seminar course. The SRF-HONR 191 fall semester class is called Research Experience I and is taken IN ADDITION TO your other DePauw classes. Typically, the average DPU entering student takes 4 credits (for the average science student-- a math class, a science class with lab, a first yr. seminar course and one other class); however, the SRF student will have that extra .5 credit HON 191 class on Thursday afternoons, 12:40-3:30 pm timebank. You cannot register for the class yourself. It is a 'closed' class in which we must register you--only open to accepted beginning SRF students.
Student/Faculty Summer Research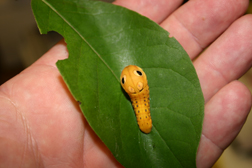 After (fall) HONR 191 and (spring) HONR 192, during their first summer in the program, students spend 10 weeks on campus as paid research assistants working on a collaborative research project with a science faculty member. The projects typically begin just after Memorial Day in May and end after the first week of August, with some much needed time off at the end of the academic year and before the new one begins. Students present their findings in a poster session at an open-university forum in mid- fall. In addition, project results have occasionally been presented at state, regional and national professional meetings, and a few projects have resulted in publications in professional journals.
2013 Spring/Summer Independent Research Projects
Archives: Summer Research Projects 2002-2012
Off-Campus Semester Internship
Students are expected to complete at least one additional 400 hour (10 wks/40 hr per week) research internship after their on-campus summer. They are eligible as early as summer following sophomore year through the summer following their junior year. Students can choose a semester long internship for academic credit or a summer paid internship. The SRF Program maintains a list of internship opportunities and will help students apply for these opportunities by offering resume and cover letter advice and a summer workshop on how to apply for externships. Students are encouraged to go off campus to a major research university, a government laboratory or a private research corporation. Some students elect to do their internship at a research location outside of the United States. Others may choose a continuing project at DePauw.
Link to Internship Pages Locations/ Contract/ Previous student experiences
Senior Capstone Seminar (HONR 491)
SRF students close their DePauw careers by taking a senior-level capstone seminar in their final fall semester. The class provides the opportunity for the Research Fellows to share their research internship experience with other students in the program and to read about and discuss scientific issues that will be relevant to their careers after graduation. Recent class assignments have included writing original research proposals and designing projects to share their excitement about science with the outside world.