About the Program
Science Research Fellows is an honors program for outstanding students interested in scientific research. The program contains five components, described below.

First Year Introduction to research and opportunities
Students become connected to the program and to our science and math departments by attending a series of research talks. SRF seniors present work conducted during their research internship, and through these presentations, departmental presentations, and guest speakers, first year students are introduced to research opportunities available on-campus and off-campus. There is no SRF-requirement during summer following the first year, but research opportunities exist for interested students.
---
Research Experience I
In Research Experience I (HONR 291; 0.5 credits; 1st semester of sophomore year), students learn the process of science in preparation for future research experiences. Students work with a science faculty member in small groups (5-6 students) on a research project which culminates in a group presentation. These projects are distributed across the science departments at DePauw.
Click here to view examples of Research Experience I.
---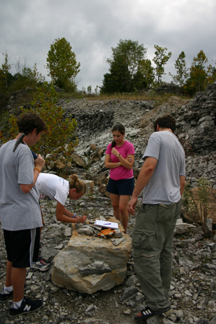 Collaborative Summer Research
In the summer following the sophomore year, students join the lab of a science faculty member for a collaborative eight-, nine- or ten-week summer research experience. All students present their findings in a poster session at an open-university forum in early fall (September). Depending on the outcome of the research, students may have opportunities to present their research at regional or national conferences, or work with faculty members to publish results in a professional journal.
Click here to view examples of recent summer research.
---
Research Internship
Students complete an additional research experience in the third year. Typically this experience takes place in the summer following the third year, but students may also choose a semester long internship for academic credit. Opportunities exist at a major research universities, government laboratories and private research corporations, in the United States and abroad. As another option, SRF also supports the continuation of established collaborations between students and professors at DePauw.
The SRF Program maintains a list of research internship opportunities to help students looking for these opportunities. We collaborate with the Hubbard Center for Experiential Education by offering resume and cover letter advice and a workshop on how to apply for these research experiences.
Link to Internship Pages Locations/ Contract/ Previous student experiences
---
Senior Capstone Seminar
SRF students close their DePauw careers with a senior-level capstone seminar (HONR 491) in their final fall semester. The class provides the opportunity for the Research Fellows to share their research internship experiences with other students in the program and to read about and discuss scientific issues that will be relevant to their careers after graduation. Recent class assignments have included writing original research proposals and designing projects to share their excitement about science with the outside world. They are also required to do an oral presentation to underclassmen about their research internship.