Science Research Fellows
Highlights
DePauw Poster Session
Student researchers present projects at the fall poster session in the Julian Science and Math Building.
Read More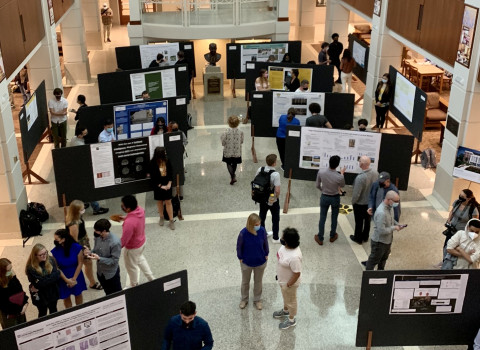 Since 1991, DePauw has offered a Science Research Fellows Program to small cohorts of recruited students who are passionate about hands-on research in science. The program has been tremendously successful in supplementing the coursework for science majors in preparation for careers in science research and in careers adjacent to science research, such as medical professionals.
In Fall 2021, with the 30-year anniversary of the Science Research Fellows Program, we committed to expanding opportunities for all interested DePauw students. We are expanding from a small recruited cohort of students to an inclusive model. We want to ensure that all DePauw students who are already passionate about science research -- and students who become passionate about science research as they take classes at DePauw and begin having hands-on experiences -- have a clear pathway for developing skills towards a career in research and research-adjacent fields.
Our scaffolded pathway gives you skills to pursue hands-on research (on and off-campus) and then thrive in conducting your research, effectively communicating your research, and exploring relevant post-graduation opportunities.
See examples of research projects that were conducted by DePauw students (including many science research fellows) and then presented at our Fall 2022 Student Research Poster Session. Many of our students also travel to present their research at national and international conferences.