President Obama Jokes with Vernon Jordan '57 at Alfalfa Club's Annual Soiree
February 1, 2009
February 1, 2009, Greencastle, Ind. — Speaking of Vernon Jordan, President Barack Obama joked last night, "Just because a guy can give great speeches doesn't mean he's going to be a great president." Obama appeared at the annual dinner of Washington, D.C.'s Alfalfa Club. At the event, the exclusive organization anointed Jordan, a 1957 graduate of DePauw University, its "presidential nominee."
"Now in its 96th year, the 200-member club has one mission: to put on a black tie dinner in Washington on the last Saturday in January where some of the most powerful figures in politics and commerce can mingle and jocularly nominate one of their own to run for President of the United States -- all out of the prying eyes of the press, who are forced to rely on second-hand accounts from those in the room," notes a summary. "Three of the faux nominees have actually gone on to win the real thing, which goes a long way toward indicating what sort of club this is. Think ambassadors, Supreme Court justices, media magnates, the Bush family and Henry Kissinger. To put it in Obama -- er Lincoln -- terms, it's a soiree of the elite, by the elite and for the elite. Star-struck they're not."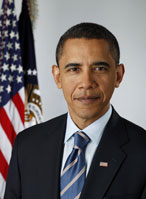 Read more at the Web site of the Cleveland Plain Dealer.
Vernon E. Jordan Jr., senior managing director at Lazard Frères, is the former president of the National Urban League and an advisory member of DePauw's Board of Trustees. He recently published Make It Plain: Standing Up and Speaking Out. Learn more about him in this recent article.
The manager of Barack Obama's presidential campaign, David Plouffe, will visit DePauw tomorrow as a Timothy and Sharon Ubben Lecturer. Details can be found here.
Back