Biology
The study of life in all its forms.
Highlights
Olin Greenhouse
The Olin greenhouse is open to visitors Monday through Friday from 8:30 a.m. to 3:30 p.m. Visitors can expect to see a wide variety of plants from tropical, fruit bearing and carnivorous plants to cacti and succulents that are housed in the tropical, temperate or desert rooms.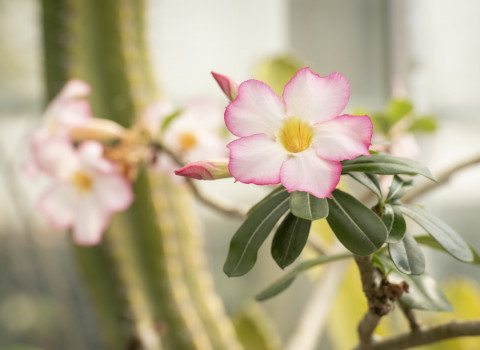 Biology is the application of scientific principles and procedures to the understanding of living things. The major in biological sciences introduces the student to the art of scientific discovery, and provides an exposure to the full breadth of biological systems, from molecules to ecosystems.
Sample Courses:
Evolution, Organisms and Ecology; Human Genetics; Plant Biology; Microbiology; Animal Physiology; Plant-Animal Interactions; Immunology; Neurobiology
SPRING 2021
The Biology Dept. Main Office will be staffed Monday – Friday
9:00am to 12:00pm.
If no one is in the office and you need assistance please feel free to contact any of the persons listed.
Becky Kinney (Administrative Assistant) rebeccakinney@depauw.edu or 812-241-8529.
James Bendix (Department Chair) -jbenedix@depauw.edu
Dana Dudle (Department Co-Chair) - ddudle@depauw.edu
Wendy Tomamichel (Lab Manager) wendytomamichel@depauw.edu
* Please contact instructors directly for questions about your individual courses. *

Commitment to our students remains a top priority. Feel free to contact us with any questions or concerns.