Angela N. Castañeda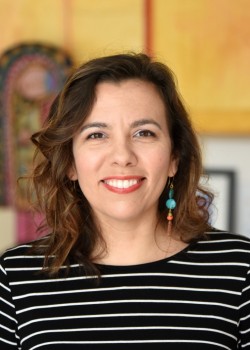 Why Anthropology?
"The purpose of anthropology is to make the world safe for human differences."
-Ruth Benedict
The goal of cultural anthropology is to understand the dynamics of variation in culture and thus create a safer environment for diverse ways of thinking and behaving. One of the fundamental questions for cultural anthropology is how these variations are reproduced, both in society and for individuals. Because reproduction is so strongly associated with biology in our society, viewing it through a cultural lens offers significant insight on the key questions of our discipline including the relationship between nature vs. culture. I believe that the study of reproduction provides a holistic approach to studying what is at the core of anthropology itself.
Research and Teaching Interests
I am the Edward Myers Dolan Professor of Anthropology at DePauw University. I earned my doctorate in Cultural Anthropology from Indiana University. My research interests include identity, religion, and expressive culture among communities of the African Diaspora in Latin America and the Caribbean, as well as the cultural politics of reproduction, birth, and motherhood in the Americas. I use examples from my research in my courses, which include Human Cultures, Latin American and Caribbean Cultures, Religions of the African Diaspora, Anthropology of Food, Performing Cultures in the Americas, Ethnographic Methods, Ethnographies of Reproduction, and Senior Seminar.