Bill and Sally Dillon '87 Engage DePauw Interns in Life-Saving Mission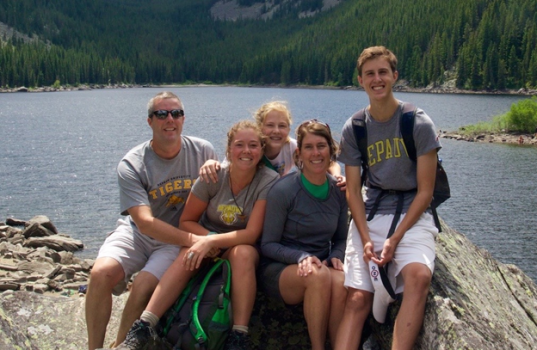 With a DePauw story that spans four generations, Dr. Bill Dillon and Sally Clark Dillon (both DePauw Class of 1987) are passionate about remaining actively involved with the University. While their children Julia '17 and Jack '19 carry on the DePauw legacy started by Bill's grandmother Julia Christian Dillon '31 and his parents Susannah Harger Dillon '60 and Dr. James C. Dillon '62, Bill and Sally maintain more than a vicarious connection to DePauw. The couple have supported The Fund for DePauw (formerly the Annual Fund) for more than 20 years, and they host events for admitted students in the Louisville area. The DePauw connection that brings them the greatest sense of personal satisfaction, though, is hosting Winter Term interns at their Start the Heart Foundation.
Start the Heart exists to improve survival from cardiac arrest by offering free training in a life-saving method known as hands-only cardio-pulmonary resuscitation (CPR). Bill, an interventional cardiologist, and Sally, the organization's executive director, created the foundation to improve the statistic that fewer than one in 10 people survive a cardiac arrest. Bystander intervention triples a victim's chance of survival, and hands-only CPR is less complicated and less intimidating for a bystander to perform than traditional CPR with mouth-to-mouth resuscitation. The Dillons' main focus is on training all Louisville-area high school students in the method. Start the Heart teaches volunteers such as DePauw Winter Term interns to deliver the training to high school students and community groups.
"Over the last three Winter Terms, 19 DePauw students have instructed more than 9,000 students in life-saving, hands-only CPR," Sally said. "We have had an incredible group of students teaching the class, and they are from all over the world – Brazil, Egypt, New York City, Missouri and Indiana, to name a few. While volunteering their time, DePauw students learn about an important public health issue, hone their teaching and presentations skills and create lasting bonds with other students they may never have met had they not been involved in the program. We feel that alumni creating opportunities for DePauw students is a huge benefit for students' career exploration and post-graduate networking."
Bill, originally from Indianapolis, and Sally from Winnetka, Ill., met while attending DePauw and married in 1989. He earned a degree in chemistry and went on to attend Indiana University School of Medicine. She earned a degree in English and went on to earn a Master's in counseling and psychology from St. Mary's College in Minneapolis. They will celebrate 28 years of marriage in 2017 and will also return to campus for their 30-year reunion.
"We have three kids," Sally said. "Julia is 22 and a senior at DePauw; Jack is 20 and a sophomore at DePauw; and Kate is 16 and a sophomore in high school. Both Julia and Jack looked at several colleges in the Midwest and on the east coast. What stood out was the personal outreach that DePauw extended to them as they were searching for schools. As students they regularly reach out to professors to discuss a class, schedules or life plans – a huge benefit not found at larger schools.
"Julia's extensive involvement with her sorority, the admission office and WGRE radio station has allowed her to learn and thrive just as much outside the class room as in the classroom with her major in communications and minors in education studies and art history. Jack is working hard as a biochemistry major and also learning outside the class room with his involvement on the baseball team, Phi Delta Epsilon (international medical fraternity) and his fraternity. Most everyone asks Kate if she is going to DePauw. Our expectation is that she looks at all the schools that interest her and make the decision on her own, the philosophy we used with both Jack and Julia."
About their philanthropic support of DePauw, Sally said, "We have hosted the newly admitted students in Louisville, which gives prospective students the opportunity to talk with admission staff and DePauw alumni in their hometown. And Bill periodically speaks to Phi Delta Epsilon members on campus. We continue to support The Fund for DePauw because we appreciate the scholarships that bring in a more diverse student body and attract the brightest students regardless of financial status. Many of the exceptional DePauw students we have met through our Start the Heart program would not have found DePauw without its generous scholarship offerings. We also feel that donations are important to keeping the campus competitive with other universities."
Bill and Sally agree that one of the most important things about their DePauw experience has been the people they met who have remained their closest friends throughout the years. They plan to attend their 30th reunion June 9-11, 2017, and say they can't wait to see their classmates. Alumni Reunion Weekend registration is available here.
@DePauw_Alumni on Twitter
---