Investigative Report by Stan Jastrzebski '03 Honored by RTDNA
May 4, 2017
Stan Jastrzebski, news director of West Lafayette, Indiana public radio station WBAA and 2003 graduate of DePauw University,has been honored with an Edward R. Murrow Award from the Radio Television Digital News Association (RTDNA). Jastrzebski received the "Best Investigative Reporting" award for Region 7/Small Market Radio.
The Murrow Awards have been presented since 1971. Award recipients demonstrate the spirit of excellence that Murrow set as a standard for the profession of electronic journalism.
Access a list of winners here.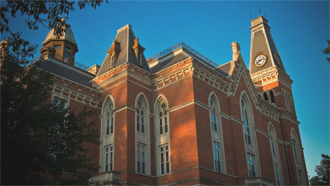 Jastrzebski, who was a mainstay on DePauw's student radio station, WGRE, also previously worked at radio stations WGN/Chicago, Network Indiana, WFIU in Bloomington, Indiana, and WFSU in Tallahassee, Florida. A communication major and Media Fellow while at DePauw, Jastrzebski also earned a master's degree from Northwestern University's Medill School of Journalism.
He recently received two third place awards in the "Best of the Best in Indiana Journalism" competition sponsored by the Society of Professional Journalists. Read more here.
Back