Brad Stevens '99 to Receive Honorary Doctorate from Butler U
April 6, 2014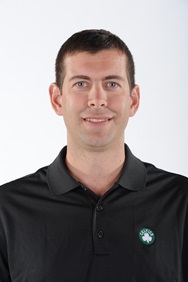 Brad Stevens, head basketball coach of the NBA's Boston Celtics and 1999 graduate of DePauw University, will receive an honorary doctorate at Butler University's commencement ceremony on May 10. The doctorate will recognize Stevens' contributions to the university as its men's basketball coach before he left last summer to join the Celtics.
Stevens led Butler to a 166-49 record, including a 12-5 record in the NCAA Men's Basketball Championship and two consecutive trips to the national championship game (in 2010 and 2011). His 166 wins are the most for any NCAA Division I basketball coach over the first six years to start a career. He was named the head coach of the Boston Celtics in July 2013, becoming the youngest current head coach in the NBA.
"We didn't have a formal opportunity to thank Brad or celebrate the many contributions he made to the Butler community," says Butler president James M. Danko. "So for us, this will be that chance. Brad was a dedicated member of the Butler community for more than a dozen years, and still maintains close ties to the university. It is wholly appropriate that we honor him at commencement with his first Butler degree."
A report notes, "Stevens attended DePauw University in Greencastle, Ind., where he earned his degree in economics. He left his job at Eli Lilly and Co. to join Butler's coaching staff as a volunteer under Thad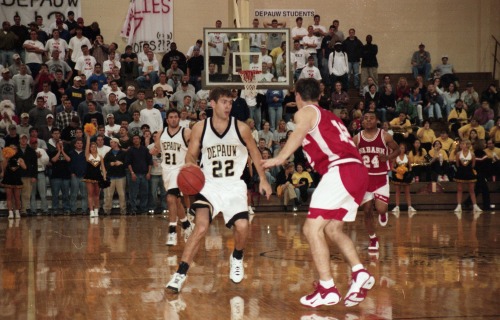 Matta in 2000, eventually rising to head coach and leading the Bulldogs to back-to-back national championship games." (at left: Stevens in action as an undergraduate)

Read more at NESN.com.
Brad Stevens played four years on the Tiger basketball team and majored in economics and management and was a Management Fellow. "My experience at DePauw was about as beneficial as any experience I've had," he told ESPN.com in November 2013.
On April 13, 2010, Stevens returned to his alma mater to deliver the Robert C. McDermond Lecture.
Also available is this recent story.
Back