New York Times Calls Prof. Maurice Manning's Poems "Terrific"
August 22, 2001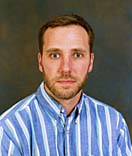 August 22, 2001, Greencastle, Ind. - "How do you write a book of poetry?" an inmate at the Putnamville Correctional Center asked DePauw University assistant professor of English Maurice W. Manning, who teaches the prisoners once a week in his spare time. "Write one poem a day for 30 days," was Manning's response. The inmate countered with, "How do you get it out there where it's something someone is supposed to read?" Manning's one word reply: "Luck."
Call it what you will, but Manning, an assistant professor of English at DePauw, is on a roll. The manuscript that made Manning a selection of the Yale Series of Younger Poets, the longest-running poetry prize in America, is now available in bookstores. Lawrence Booth's Book of Visions, published by Yale University Press, is also the subject of a Sunday, August 19, New York Times book review. The Times' Dwight Garner writes, "In his first book ... Maurice Manning displays not just terrific cunning but terrific aim -- he nails his images the way a restless boy, up in a tree with a slingshot, nails anything sentient that wanders into view." Garner concludes the glowing review with, "file under: books that shouldn't work, but do."
You can read the complete review (registration may be required) here. The Yale University Press offers more information on Lawrence Booth's Book of Visions at its site.
On the same day the Times was reviewing his book,
Manning was the subject of an in-depth article in Kentucky's Lexington Herald-Leader. The article by Art Jester, which includes the exchange between Manning and the inmate, traces the writer's Kentucky roots to his appointment at, in Jester's words, a "respected college," DePauw, where Manning is beginning his second year as a professor. You can read the illuminating profile by clicking here.
Maurice Manning's work has drawn a great deal of praise and media attention in the past year. He was profiled on NPR (National Public Radio) in April, and several of his poems appeared in publications including the New Yorker.
Manning is one of two national award-winning poets teaching at DePauw. Professor J. Eugene Gloria, won the National Poetry Series Competition which, like the Yale University prize, allows winning poets to publish their first book.
Source: New York Times
Back