National Award For DePauw's Indoor Tennis & Track Center
August 1, 2002
August 1, 2002, Greencastle, Ind. - The United States Tennis Association (USTA) has selected DePauw University's indoor tennis and track center as one of the outstanding public tennis facilities for 2002. The University was notified of the honor in a letter sent from R. Gerald Perry, chairman of the USTA Facility Awards Committee. DePauw will be recognized and presented with a commemorative plaque next month at the USTA's semi-annual meeting in New York. The University will also receive a large lexan sign that will be hung in the tennis and track center, which itself will be permanently listed among past Facility Award recipients at the USTA National Tennis Center in Flushing Meadow, New York.
Formally dedicated in ceremonies April 27, 2001 (read more here), the center (which is located behind Blackstock Stadium) includes more than 132,000 square feet of space, including six tennis courts, a 200-meter track, batting cages for baseball and softball, golf nets, a putting green, and executive locker rooms for men and women (two each). The $11 million building can also accommodate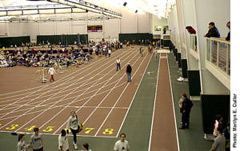 practice sessions for other sports, including indoor soccer, football, field hockey and other sports.
"This recognition by the USTA is proof that in less than a year and a half, this building has developed a national reputation," said DePauw University Athletic Director Page Cotton. Shortly after opening its doors, the center hosted the NCAA Division III Men's Tennis Championships. In March, the NCAA Division III Men's and Women's Indoor Track and Field Championships will be held in the building.
"Our teams benefit from having state-of-the-art practice space, and our students enjoy having a place to run and play tennis year-round," Cotton says. "This new center, through the events it hosts, is also bringing a lot of new visitors from around the nation to DePauw, and they rave about this facility. Clearly, that word-of-mouth and awards like this are great assets as we continue to build DePauw's national reputation."
DePauw University's athletic teams finished the 2001-02 academic year ranked 14th among 395 NCAA Division III schools in the Sears Directors' Cup standings, marking their best finish ever and the sixth straight year that the Tigers improved upon the previous year's finish (read more here). The 2003 National Collegiate Athletic Association Division III Men's and Women's Indoor Track and Field Championships will take place March 14-15. You can learn more by clicking here.
Back