DePauw Prepares to Welcome 700 New Students
August 13, 2002
August 13, 2002, Greencastle, Ind. - One of the largest incoming classes in the recent history of DePauw University, will arrive on campus Saturday, which is move-in day for the 700 new students. A flurry of summer construction activity will ensure that new housing options are ready, and that the new and returning students will study and learn in buildings that have been completed or progressed greatly since final exams last spring.
[DOWNLOAD AUDIO: "Great Season" 137KB] "We had a great admission season," says vice president of admission and financial aid Madeleine Eagon. "It was the kind of a year where you couldn't do anything wrong. It didn't matter what we did-- it went right." Hoping to attract a class of 630, DePauw exceeded its goal by 70 even before the May 1 deadline despite admitting a historically low percentage of applicants (66%). A record 3,454 completed applications were received for the 2002-03 entering class, 399 more than the previous record set a year before when 72% of applicants were admitted.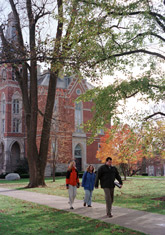 The incoming class comes to Greencastle from 35 states and 8 countries. Forty-eight percent of the new students are from Indiana, down from 54% a year ago. The median (unweighted) high school grade point average of the entering class is 3.74 (up .10), the median class rank is 91% (up 1%), and 73 were valedictorians or salutatorians in high school (up from 41).
[DOWNLOAD AUDIO: "Much Stronger" 230KB] "It was a very strong admission year," says Eagon. "We not only had more students, but by a purely academic measure, they're stronger, much stronger as a group."
Eagon says its difficult to pinpoint why so many more academically gifted students are applying to and enrolling at DePauw, but she senses that people around the nation and the world are hearing more about the University, and its programs, faculty and facilities.
[DOWNLOAD AUDIO: "The Word is Out" 328KB] "As one gets better... enhances one's faculty and expands it ... builds more buildings and offers new programs, it takes awhil
e for that information to sort of get out to the public, but I think, clearly the information is out there. Our ranking in U.S. News & World Report (as a top-tier national liberal arts college and a "best value"; read more here) continues to help us, because that's an external validator." Eagon added that The Princeton Review's ranking of DePauw's professors, social environment, radio station and spiritual environment as among the top 20 of all colleges in the nation (read more here) also has increased student interest in the University.
Thirty-three new full-time faculty members begin work at DePauw this fall, bringing the total to 221.
[DOWNLOAD AUDIO: "Faculty Expansion" 249KB] "This completes a four-year expansion of the faculty, designed to maintain the diversity of the curricular offerings and to expand the offerings to include the 50 first-year seminars, without sacrificing the courses for the various majors and programs," reports vice president for academic affairs and Dean of the Faculty Neal Abraham. DePauw's faculty-student ratio is one-to-ten with an average class size of 17.
[DOWNLOAD VIDEO: "Increasingly Full-Time" 274KB] "The faculty is increasingly full-time, there are fewer and fewer part-time faculty members; and increasingly permanent in that the percentage of tenure-track faculty members is going up."
New faculty include Amy Lynn Barber (seen above right), an internationally renowned percussionist who is Dean of the DePauw University School of Music (read more here). Dr. Barber comes to DePauw from the Interlochen Arts Academy in Michigan, where she served as director of percussion, and is founder of the Percussion Plus Project, which will perform concerts at DePauw and around the nation. (BONUS CLIP:
[DOWNLOAD AUDIO: "Dr. Abraham on Percussion Plus" 228KB])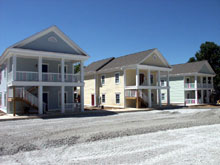 Nine new duplexes, which were built over the summer behind Roy O. West library and will house 8 upperclass students each, are ready to go, reports James Lincoln, vice president for student services.
[DOWNLOAD VIDEO: "Duplex Update" 205KB] "There may still be some outside work, some landscaping that needs to be done, but the duplexes will be ready" by the time students arrive, Lincoln says. Because of the large incoming class, Anderson Hall will now house first-year students, and the University has created additional freshman rooms in Bishop Roberts, Mason and Lucy Rowland Halls. DePauw is also leasing the Little Rock Apartments this year, to provide an additional housing option after the April 7 fire at Rector Hall, which will be renovated once the insurance company returns the building to the University.
[DOWNLOAD VIDEO: "Next Fall" 363KB] "We're looking toward a completion date [for the building] now of the fall of 2003," Lincoln says (a previous story offers more information here).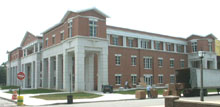 The new wing of the Julian Science and Mathematics Center, which is adding 120,000 square feet of new space, doubling its size, and being renovated, is now open.
[DOWNLOAD AUDIO: "New Space" 524KB] "In particular, it provides the new departmental homes for math, geology and geography, and computer science [which] has never had a place that brought all computer science majors together with faculty," Dr. Abraham says. "It's the largest undergraduate computer science program in the country in a liberal arts college, we're averaging about 50 majors graduating each year. So, [there'll be] lots of spaces for student-faculty collaboration and labs and so forth." The new Julian Center, which will also serve as a home base for 361°, DePauw's technology initiatives, should be completed by the fall of 2003 (read more here).
Just behind Julian, crews are putting the finishing touches on DePauw's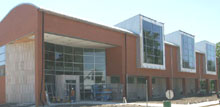 new art building. Located at the southeast corner of Jackson and Hanna Streets, the two-story, 80 thousand square foot structure will provide space for the teaching of art history and studio art as well as other classes.
DePauw's academic quad has been renamed the Holton Memorial Quad, which features new landscaping, a new outdoor classroom in the center entrance to Asbury Hall, and an outdoor patio area that will adjoin Roy O. West library. A year ago, the library was given a new facade to match the Georgian architecture of nearby Asbury and Harrison Halls. The beautification project honors Ruth Clark and Philip Forbes Holton, both members of the Class of 1929, who left DePauw University a gift of $128 million. Received in 1999, the gift marked the largest-ever received by a liberal arts college and was used to create the Holton Memorial Fund, which
provides scholarships to students of "high character and with academic and leadership potential." You can read more by clicking here.
"DePauw has never had a stronger incoming class, and has never offered its students better facilities, faculty members and opportunities for learning and exploration," says President Robert G. Bottoms. "I look forward to welcoming the newest members of the DePauw family to campus on Saturday, as they begin a new and exciting chapter in their lives at a University that's never been more vibrant. It is a great time to be at DePauw."
Back