'Watercolor: In the Abstract' at Peeler Art Center, January 20 through March 14
January 7, 2003
Also on Display: "Award-Winning Paintings from the Watercolor Society of Indiana"; "Virginia Maksymowicz: Accumulated Intention"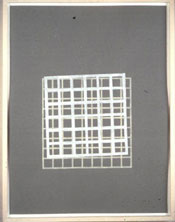 January 7, 2003, Greencastle, Ind. - Twenty-two artists reveal their enchanted affair with the spontaneous and mercurial medium of watercolor in an exhibition opening January 20 at DePauw University's Richard E. Peeler Art Center. Titled "Watercolor: In the Abstract," the exhibition will continue through March 14.(at left: Betsy Kaufman's Untitled, 1999, watercolor and pencil on colored paper, courtesy Leslie Tonkonow Artworks + Projects, New York)
By addressing abstraction over realism, "Watercolor: In the Abstract" presents a lesser-known side of the medium of watercolor – one that is a startling divergence from the plein air easel paintings that constitute the memberships of watercolor societies throughout the U.S. and abroad.
Created by some of the major figures in contemporary art – such as Gerhard Richter, Sol LeWitt, Al Held, Richard Tuttle, Louise Fishman, Sam Gilliam, Sean Scully and Melissa Meyer – the abstract works in this exhibition collectively shatter the stereotype of watercolor as an "amateur medium." Also included are works by several mid-career and emerging abstract painters of note, including Eva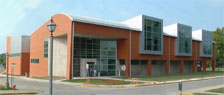 Lundsager, Suzanne Joelson, Martin Kline, Ian Hughes and Kim Anno.
Author and art critic Barbara Rose attests to the significance of the medium within the context of contemporary art when she states in an essay contained in the exhibition catalogue: "That watercolor still evokes and seduces with its airiness and look of effortlessness, despite how great the effort to control the mercurial medium actually is, testifies to its continuing viability as a genuinely experimental means of making new work."
The watercolors of Gerhard Richter are part of his exploration of style and media that pits abstraction against representation, photography against painting, graphic against pictorial art. Al Held paints large scale watercolors (in a sense an oxymoron) as part of his analysis of what elements in the art of the old masters may be retrieved and reformulated in new ways in order to reanimate contemporary abstraction. (at left: Gerhard Richter's Spinne (08.03.97), 1997, watercolor on paper, from the collection of Jim and Jane Cohan)
Sol LeWitt, best known for geometric sculpture and large wall drawings that are frequently executed by teams of assistants, is represented in this exhibition by a gouache that offers the viewer a rare chance to see the artist's own hand.
German painter Gunther Forg, known for his large abstract paintings, uses acrylic on paper to float rectangular shapes in an amorphous space. Like Forg, Betsy Kaufman uses the rectangle; however, her modular forms on colored paper grounds are more related to the quiet, contemplative mood of the paintings of Agnes Martin than to any analogies with the agitated rhythms of contemporary life.
Irish-born Sean Scully began working with watercolor when traveling in Morocco, Mexico and Italy. Known internationally for his abstract stripes, Scully temporarily sheds his usual formalistic sobriety while working with the medium of watercolor – in these paintings, the white spaces shine through the massive, dark-hued blocks that are typically found in his oil paintings. (at right: Sean Scully's 3.6.99, 1999, watercolor on paper, courtesy of the artist)
One of the youngest, emerging artists in the show is Ian Hughes, who uses a dispersion technique in which paint is applied and then diluted with water, forming organic puddles of color that are further defined with pencil and pastel.
"Watercolor: In the Abstract" was developed by Melissa Meyer and curated by Pamela Auchincloss and Alex Muse. The exhibition tour was organized by Alex Muse, Seattle, and Pamela Auchincloss/Arts Management, New York. (at left: Ian Hughes' Untitled, 1998, dispersion, pastel and pencil on paper, courtesy of the artist)
The galleries at the Richard E. Peeler Art Center are open Monday through Friday from 9 a.m. to 4p.m.; Saturday from 10 a.m.–4 p.m.; and Sunday 1–5 p.m. The exhibit is free and open to the public. For more information, call (765) 658-6556 or send an e-mail by clicking here.
Back