'Virginia Maksymowicz: Accumulated Intention' at Peeler Art Center Through March 9
January 20, 2003
Also on Display: "Watercolor: In the Abstract" and "Award-Winning Paintings from the Watercolor Society of Indiana"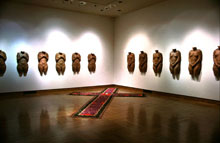 January 20, 2003, Greencastle, Ind. - "Virginia Maksymowicz: Accumulated Intention," a retrospective exhibition of mixed media works and installations by Philadelphia artist Virginia Maksymowicz, will be on view at the Richard E. Peeler Art Center, Visual Arts Gallery, at DePauw University January 29 through March 9, 2003. The exhibit is free and open to the public. (at left: "Lily of the Mohawks" (installation view), 1995; paper, clay, acrylic, Tyvek, silk flowers and petals and perfume)
For nearly 25 years, Virginia Maksymowicz has developed a form of imagery that addresses cultural and political issues in a nontraditional, yet understandable, form, through the conflation of figures, objects and narrative text. Frequently employing humor as a "hook," her work contains aesthetic and historical references that are readable on multiple levels.
The primary medium of Maksymowicz's mixed media works is handmade paper, which she uses not only for its lightness in weight and capacity for mimicry but also because of its association with fragility, one that complements the conceptuality of the work.
Maksymowicz has a particular interest in feminist issues and often focuses on the particular circumstances of a range of women, from both the past and current times. Her figures are almost always cast from her body, and the stories she tells have their foundation in aspects of the artist's personal experience. (at right: "What is it that we refuse to see?" (detail), 1997-99; cast paper, acrylic, Glass Wax, blue fluoresent lights, wood and metal)
Maksymowicz has exhibited her work at the Franklin Furnace and The Alternative Museum New York; ARC and N.A.M.E. galleries in Chicago; Museum of Contemporary Art in Sao Paolo, Brazil; as well as numerous galleries, museums, and art institutions throughout the United States and abroad. In 1984 she received a National Endowment for the Arts fellowship in sculpture, and she has been honored with numerous other grants and awards. Her work has been reviewed in the New York Times, Newsday, the New Art Examiner, and the Philadelphia Inquirer. Her series, "The History of Art," appears on the cover of The Female Body, published by the University of Michigan Press in 1991.
Virginia Maksymowicz, who resides in Philadelphia, earned her B.A. in Fine Arts from Brooklyn College of the City University of New York in 1973, where she studied with Lucas Samaras.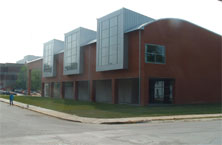 In 1977, she earned a B.F.A. in Visual Arts from the University of California, San Diego, where she worked with Allan Kaprow, Eleanor Antin, and Newton and Helen Harrison. Maksymowicz has been a visiting professor of art at several U.S. colleges and universities, including Oberlin College, Minneapolis College of Art and Design, and the Moore College of Art and Design in Philadelphia. Currently, she is an assistant professor of art at Franklin & Marshall College in Lancaster, Pennsylvania.
The galleries at the Richard E. Peeler Art Center are open Monday-Friday 9 a.m. to 4 p.m.; Saturday 10 a.m. - 4 p.m.; and Sunday 1 - 5 p.m.
Back