Mark Your Calendar for Old Gold Weekend, October 31- November 1
September 17, 2003
More About Julian Center Rededication & Science Week
September 17, 2003, Greencastle, Ind. - The rededication of the renovated and expanded Percy L. Julian Science and Mathematics Center is among the highlights this year of DePauw's traditional homecoming. You're invited back to campus for Old Gold Weekend 2003, October 31 through November 1. In addition to the ceremony to celebrate the "new" Julian Center, which has doubled in size and now features a breathtaking three-story atrium, there will also be two banquets to present awards to outstanding alumni and, of course, the traditional Old Gold Day football game versus Southern Collegiate Atheletic Conference foe Centre College.
The spotlight will be on the sciences at DePauw, with a full week of lectures featuring alumni and presentations by students leading up to Old Gold Weekend (read more here). The official rededication of the Julian Center will take place on Saturday, November 1, at 10:30 a.m. The ceremonies will be held in the Robert W. and Lynn Browne Atrium of the building.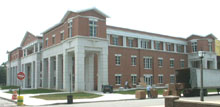 The featured speaker will be Jeanne Narum, executive director of Project Kaleidoscope, a national initiative for the reform, improvement and strengthening of undergraduate mathematics and science education. Members of the family of Percy Julian '20 will participate in the ceremonies. A celebration luncheon will be available immediately following the rededication at the Student Social Center at the Walden Inn.
At 7 p.m. on Friday, October 31, the DePauw Alumni Association will host the Alumni Achievement Awards Banquet in the Memorial Student Union Building ballroom to present the following awards:
Old Gold Goblet - Nancy Shelly Schaenen '51
Young Alumni Award - Newton F. Crenshaw '85
Distinguished Alumni Achievement Award for Citizenship and Voluntary Service - Rev. Dr. Eunice B. Poethig '51
Distinguished Alumni Achievement Award for Creative and Performing Arts - Georgette Zirbes '62
Distinguished Alumni Achievement Award for Management and Entrepreneurship - David B. Becker '75
Distinguished Alumni Achievement Award for Media - John J. Oliver, Sr. '34 (posthumous)
Distinguished Alumni Achievement Award for Professional Achievement - Alexander Vraciu '41
Prior to the banquet, at 5:30 p.m. the Alumni Association will dedicate a new Alumni Achievement Wall of Honor in the lobby of the Union Building.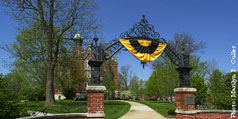 On Saturday, November 1, the Athletic Hall of Fame will hold a reception at 6:30 p.m. at the Walden Inn followed by a banquet to induct new members:
Ronald Galiene '58 - football and golf
Duff Gula '63 (posthumous award) - baseball and football
David Hathaway '84 - basketball and track
Heidi Shays Heinbaugh '91 - field hockey
Jack Hogan '67 - baseball and basketball
Peter Work '61 - football, track and wrestling
1989-90 men's basketball team
The full weekend schedule is posted online. You can access it here, or call the Office of Alumni Relations at 877-658-2586 (ALUM) for more information. We look forward to seeing you!
Back