Prof. Catherine Fruhan is 2004 Tucker Award Recipient
April 26, 2004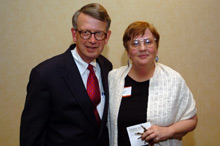 April 26, 2004, Greencastle, Ind. - Catherine Fruhan, professor of art at DePauw University, is the 2004 recipient of the Mr. and Mrs. Fred C. Tucker Jr. Distinguished Career Award. The honor is made annually by the president of the University to a senior member of the faculty. The award is designed to recognize the achievements of those faculty members who have made notable contributions to DePauw by their commitments to students, teaching excellence, their chosen disciplines, and University service (photo shows DePauw President Robert G. Bottoms with Dr. Fruhan).
At Friday night's Timothy H. and Sharon Ubben Society of Teacher-Scholars and Faculty Recognition Dinner, held at the Student Social Center at the Walden Inn, Noah M. Lemos,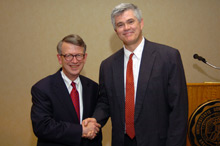 professor of philosophy, became the sixth recipient of the Edwin L. Minar Jr. Scholarship Award. Established in 1981, the award is presented in recognition of exceptional scholarly achievement and is named in honor of its first recipient, a former professor in the department of classical studies.
At the dinner, Vice President of Academic Affairs and Dean of the Faculty Neal B. Abraham also announced that Joseph R. Flummerfelt, the world-renowned conductor of the Westminster Choir and a
1958 DePauw University graduate, will return to his alma mater in the fall as Elizabeth P. Allen Distinguished University Professor of Music. Recently named "Conductor of the Year 2004" by Musical America, Flummerfelt is retiring from the choral leadership of Westminster Choir College after 33 years. Leonard Bernstein called Flummerfelt "the greatest choral conductor in the world."
Dr. Abraham also introduced other appointees to new endowed professorships and chairs and recognized special appointments made for the current academic year. They are:
Endowed Faculty Chairs:
Paul B. Kissinger Chair in Physics and Astronomy (2004-09): Victor A. DeCarlo Jr., Professor of Physics and Astronomy
Kenneth S. Wagoner Chair in Psychology (2004-09): Karin L. Ahlm, Professor of Psychology
Edward Myers Dolan Chair in Anthropology (2004-09): Eric K. Silverman, Associate Professor of Sociology and Anthropology
Richard W. Peck Chair in Creative Writing (2004-06): Joseph Heithaus, Associate Professor of English
University Professors (2004-2008):
Thomas D. Hall, Lester M. Jones Professor of Sociology
Bruce Stinebrickner, Frank L. Hall Professor of Political Science
Valarie Ziegler, Professor of Religious Studies
Carla G. Edwards, Cassell Grubb University Professor of Music
Distinguished Professor Awards (2004-06):
Medora C. Adams Distinguished Professor Award: S. Page Cotton Jr., Professor of Kinesiology
Ner Cline Distinguished Professor Award: Vergene C. Miller, Professor of Music
George Manners Distinguished Professor Award: Judith A. Raybern, Professor of Education
Distinguished University Professors
Elizabeth P. Allen Distinguished University Professorship (2004-05): Joseph R. Flummerfelt, Allen Distinguished University Professor of Music
Hampton and Esther Boswell Distinguished University Professor (2001-): Yvonne C. Williams, Boswell Distinguished University Professor of Black Studies
Distinguished Visiting Professors:
The Robert and Carolyn Frederick Distinguished Visiting Professor of Ethics: David H. Smith (2004-05)
Eugene S. Pulliam Distinguished Visiting Professor in Journalism (2003-08): Ken Bode
Faculty Fellowships (2004-07):
Larz A. Whitcomb Faculty Fellowship: Srimati Basu, Associate Professor of Sociology and Anthropology
Arthur Vining Davis Foundations Faculty Fellowship: Barbara C. Bean, Professor of English
Alfred & Kathleen Evens Faculty Fellowships: Yung-chen Chiang, Professor of History; Glen D. Kuecker, Assistant Professor of History
John T. and Margaret Deal Faculty Fellowship: Eric Edberg, Professor of Music
Joseph Boyer Faculty Fellowship: Arthur B. Evans, Professor of Modern Languages
Allen A. Wilkinson Faculty Fellowship: Ophelia D. Goma, Associate Professor of Economics and Management, James G. Mills Jr., Associate Professor of Geology and Geography, Sunil K. Sahu, Associate Professor of Political Science
Fulton Family Faculty Fellowship: Daniel E. Shannon, Associate Professor of Philosophy
Martha C. Rieth Faculty Fellowship: Caroline B. Smith, Associate Professor of Voice
The John and Janice Fisher Fund for Faculty Development:
John and Janice Fisher Fellowship (2004-05): John T. Schlotterbeck, Professor of History
John and Janice Fisher Time-Out Awards (2004-05): Rebecca L. Bordt, Assistant Professor of Sociology; Tim Good, Assistant Professor of Communication Arts and Sciences; Jeanette K. Jerz, Assistant Professor of Geology and Geography; Rebecca L. Upton, Assistant Professor of Sociology and Anthropology; Lili Wright, Assistant Professor of English
Also honored at the dinner were retiring faculty members Underwood Dudley, Professor of Mathematics, who came to DePauw in 1967; Nick Mourouzis, Professor of Kinesiology and Head Football Coach (1981); Amir Rafat, Professor of Political Science (1966); and Edward G. Ypma, Professor of Psychology (1966).
Back