DePauw Again Among USA's 331 Most Interesting Colleges
July 19, 2004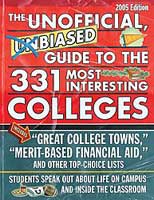 July 19, 2004, Greencastle, Ind. - DePauw University is ranked #4 in the nation in the percentage of full-time undergraduates receiving merit-based financial aid (45%), and #2 in average amount received per student ($12,134), in the new, 2005 edition of the Unofficial, Unbiased Guide to the 331 Most Interesting Colleges. The book -- published by Simon & Schuster and sponsored by the test-preparation company Kaplan, Inc. -- also ranks DePauw's fraternity and sorority system as the second strongest in the USA (Washington and Lee University is #1, one percentage point ahead of DePauw).
Now in its third year (DePauw has been listed in each edition), the book's findings are based on a random sample of high school guidance counselors across America. Its editors write, "DePauw's extensive internship opportunities and attention to marketable knowledge and skills bode well for anyone looking to beat the competition before their careers even begin ...
The education DePauw offers is specifically designed to hone students' analytical skills, perfect their writing ability, and ensure that they can think and speak effectively."
331 Most Interesting Colleges also notes the "approachability and quality" of DePauw's faculty. A senior is quoted as saying, "I've found the personal attention to be the largest incentive possible to do well. The professors are open to suggestions, if you think something is simply not working well in class. I've even been invited by one of my professors to help reorganize a class I just finished, and to help her develop a second-level class to follow it up. It's a really good feeling to have so much say in your education, and not just be led by the hand."
The text asserts, "DePauw is a wired college. Lilly Endowment awarded the school a $20 million grant to launch its 361° program. Using a new technology center in the math and science building as its base, the program will prepare DePauw students for the use of information technology in all aspects of their careers and lives."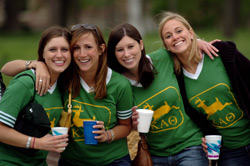 The book details how approximately 75% of DePauw students participate in community service programs. "This is one of our best selling points," a sophomore is quoted as saying. "A lot of programs are student-run, providing more leadership experience for interested students." The guide refers to the annual Monon Bell football game as "one of the nation's oldest and fiercest football rivalries."
The University is also in the top tier of national liberal arts colleges as ranked by U.S. News & World Report (read more here), and is ranked in the Princeton Review's annual book highlighting America's top schools, The Best 357 Colleges: 2005 Edition (read more here).
Back