DePauw in US News & World Report's Top Tier of National Liberal Arts Colleges for Fifth Year
August 20, 2004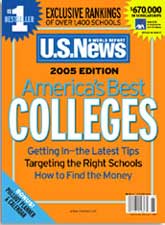 Friday, August 20, 2004, Greencastle, Ind. - DePauw University is in the top tier of America's national liberal arts colleges for the fifth consecutive year, according to U.S. News & World Report's 2005 rankings, released today. DePauw is ranked 42nd -- in a three-way tie for that position with Centre College (Kentucky) and Occidental College (California) -- the highest-ranked school of its kind in the state of Indiana. DePauw's first-year experience -- depauw.year1 -- is also cited as a "program to look for." The magazine ranks a total of 217 liberal arts colleges on statistical measures such as student SAT scores, graduation rates and institutional resources, as well as a subjective measure of academic reputation.
"It's been five years since we first appeared on this elite list, and its clear from looking at that data that DePauw and its peer institutions get better each year," says DePauw President Robert G. Bottoms. "We're in an extremely competitive environment, and while I'm pleased with our showing, it's clear that we can't stand still if we want to maintain and improve upon our standing. All of us who work and
study at DePauw and those who have graduated from this fine University are proud of what we have, and we each have a responsibility to continue to build upon our traditions. As DePauw improves and its reputation continues to grow, so will the value of a DePauw degree and the pride we have in being associated with the University."
DePauw's scores improved in several key categories (the U.S. News 2005 report is based on 2003 data). The average freshman retention rate of 91% was a two percent improvement; the percentage of incoming freshmen who were in the top 10% of their high school class climbed one point, to 57%; DePauw has become more selective in admissions: it accepted 57% of applicants, down four points; the student/faculty ratio of ten to one is down one student from the previous report, meaning class sizes are smaller; 94% of faculty members are full-time, up one percentage point; and the alumni giving rate of 35% puts DePauw 81st overall in that category, up two spots from the last rankings.
"The percentage of alumni who support DePauw is definitely a category where we can't stand still," says Lisa Hollander, vice president for development and alumni relations. "We don't think being ranked 81st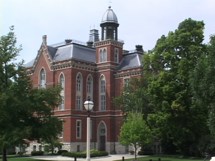 reflects the reservoir of warm feelings and pride that DePauw alumni have for their alma mater. Our peer institutions are outperforming us significantly, and with their loyal, annual support, DePauw alumni can make a difference in this area."
For a third year, U.S. News includes a list "of schools with outstanding examples of academic programs that are believed to lead to student success," the editors write. DePauw is cited as having an exemplary first-year experience. "Orientation can go only so far in making freshmen feel connected," the magazine states. "Many schools now build into the curriculum first-year seminars or other academic programs that bring small groups of students together with faculty or staff on a regular basis."
U.S. News also ranks DePauw 3rd in the nation for highest percentage of sorority members (70%); #4 for highest percentage of fraternity members (74%); 15th among the schools with the highest percentage of students receiving merit aid (45%), and 21st for the highest percentage of students who study abroad (60%).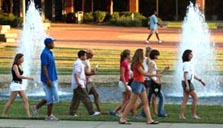 The 2005 report is available online at U.S. News' Web site now by clicking here (a subscription is required to access all of the data). The magazine and annual guidebook will both be on newsstands Monday.
On Saturday, DePauw will welcome 682 new students to campus-- one of the largest incoming classes in its recent history (read more here).
"Since we first appeared in U.S. News' top tier in 2000, DePauw has become more selective in the students it accepts and an even stronger institution that it has been traditionally," says Madeleine Eagon, vice president of admission and financial aid. "The generosity of our alumni has allowed the University to offer more outstanding scholars and students with financial needs extremely attractive scholarships, while increasing the number of full-time faculty from 160 to 223 over the past six years. The renovated, state-of-the-art Julian Science and Mathematics Center, and the new Rector Village, indoor tennis and track center, Peeler Art Center and other campus improvements have strengthened what we offer young people both academically and socially. DePauw is a great place to study, learn and live, and increasingly it's the top choice of talented students. There's never been a better time to be at DePauw University."
The top-tier ranking by U.S. News is one of a number of external validations that DePauw has received in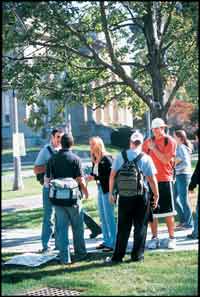 recent months. The National Survey of Student Engagement (NSSE), co-sponsored by The Carnegie Foundation for the Advancement of Teaching and the Pew Forum on Undergraduate Learning, found that DePauw continues to outpace peer institutions and national averages in every category, including enriching educational experiences, supportive campus environment and level of academic challenge. NSSE finds that DePauw students spend more time studying, engaging in class discussions and collaborative projects with classmates, and volunteering in their community than students at peer institutions and the national average at all colleges and universities (read more here).
Princeton Review's annual publication, The Best 357 Colleges: 2005 Edition -- an unscientific, random survey of more than 110,000 students at the nation's top colleges -- ranks DePauw as #1 in "major frat and sorority scene"; lists student-run WGRE as the #6 college radio station in the country; and DePauw is #12 for "more to do on campus". The guide gives DePauw an academic rating of 97 (based, according to the Review, on "how hard students work at each school and how much they get back from their efforts"; rated on a scale of 60-100 with 100 being best). By comparison, Massachusetts Institute of Technology, ranked "toughest to get into" in this year's book, has a 94 score. DePauw earns a financial aid rating of 98, a 97 for the strength of its admissions, and a quality of life score of 90. Read more by clicking here.
Finally, the new, 2005 edition of the Unofficial, Unbiased Guide to the 331 Most Interesting Colleges -- published by Simon & Schuster and sponsored by the test-preparation company Kaplan, Inc. -- ranks DePauw #4 in the nation in the percentage of full-time undergraduates receiving merit-based financial aid (45%), and #2 in average amount received per student ($12,134). The publication also ranks DePauw's fraternity and sorority system as the second strongest in the USA (Washington and Lee University is #1, one percentage point ahead of DePauw). The editors write, "DePauw's extensive internship

opportunities and attention to marketable knowledge and skills bode well for anyone looking to beat the competition before their careers even begin... The education DePauw offers is specifically designed to hone students' analytical skills, perfect their writing ability, and ensure that they can think and speak effectively." Read more here.
"It's an exciting time for DePauw, which continues to build upon a long tradition of excellence," Dr. Bottoms added. "While we have much to celebrate, we're mindful of our need to strive for more, and I'm confident that our loyal alumni and dedicated faculty and staff will help us reach new heights."
Back