Ambassador Paul Bremer's DePauw Speech, 'Iraq and the War on Terrorism,' Will Be Among His First Since Returning from Middle East
September 10, 2004
"Issues for America" Information; Submit A Question for Ambassador Bremer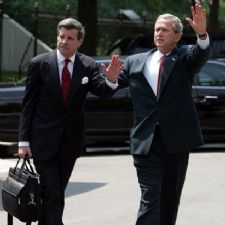 September 10, 2004, Greencastle, Ind. - "President Bush picked him for the most powerful post any American has held abroad since General Douglas MacArthur's postwar years in Japan." That's what the New York Times wrote of L. Paul Bremer III, former presidential envoy to Iraq, who is coming to the campus of DePauw University, next Thursday, September 16, to deliver The Timothy and Sharon Ubben Lecture, "Iraq and the War on Terrorism" (read more about Bremer by clicking here). The speech by Ambassador Bremer will open "DePauw Discourse 2004: Issues for America," a three-day election issue forum hosted by the Washington C. DePauw Society (read more here). The event will begin at 8 p.m. in Kresge Auditorium within DePauw's Performing Arts Center. Like all Ubben Lectures (see complete list by clicking here), it is free and open to the public.
The DePauw lecture will
mark Bremer's first visit to a college campus, and only his fourth speech in the United States, since he returned from Iraq in June. "The level of interest and excitement for this event, on this campus and across the region, is remarkable," says Ken Owen '82, director of media relations at DePauw and coordinator of the Ubben Lecture Series.
Ambassador Bremer's speech will be followed by a brief question-and-answer session. If you have a question for Mr. Bremer, you may submit it by sending an e-mail here.
"DePauw Discourse 2004: Issues for America" will offer the DePauw community an engaging dialogue centering on some of the most pressing matters facing the nation as the November election approaches. September 17 and 18 seminars will feature Lee Hamilton '52, former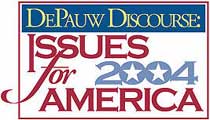 U.S. Congressman and vice chair of the 9/11 Commission; civil rights leader, Pulitzer Prize-winner and political historian Roger Wilkins; and three dynamic panels of accomplished current and former public servants, journalists, and DePauw faculty members who will define domestic issues, discuss the media's impact on the presidential campaign, and contemplate America's role in the world. The sessions are open to all students and faculty in addition to those registered for "Issues for America."
Learn more about "DePauw Discourse 2004: Issues for America" and the speakers here.
Back