Gift of Tim and Denise Manning Solso '69 Will Create Lab Building in DePauw Nature Park
February 28, 2005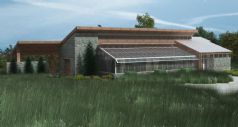 February 28, 2005, Greencastle, Ind. - Construction is under way on an approximately 3800-square foot laboratory building, Manning Environmental Field Station, within the 480-acre DePauw University Nature Park. The building, which can accommodate up to 32 students in the main lab area, is made possible by the generosity of Tim Solso, chairman and chief executive officer of Cummins, Inc. and a 1969 graduate of DePauw University, and his wife Denise Manning Solso '69.
The Manning building is named in memory of the father and grandfather -- Dr. John Thomas Manning '40 and George A. Manning '11, respectively -- of Denise Solso. "This gift recognizes two very important people in our lives and the connections to DePauw that have enriched our families for several generations," Mr. Solso, a Trustee of DePauw, says. "DePauw University and the unique environment it provides for learning and intellectual engagement is something Denise and I have benefit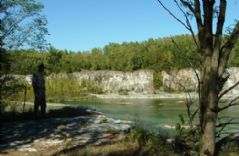 ed from, and we want to ensure that future generations of students will have even greater opportunites."
Denise Manning Solso adds, "The Nature Park is a wonderful asset for the campus and community, and the Manning Environmental Field Station will provide a place for students to learn science and conduct research in a natural environment which is contingent to the campus, something very few colleges and universities offer. My father and grandfather loved DePauw, as Tim and I do. This is a marvelous way to pay tribute to their memory as well as the traditions of DePauw."
In addition to the classroom laboratory, Manning Environmental Field Station will be equipped with three attached greenhouses, an attached garage for storage of an all-terrain vehicle and field equipment, a project room/office, and a room with incubators/grow chambers. The structure will be wired for data, Internet and video with a wireless hub.
"With the Nature Park being so close to campus, we will be able to offer weekly ecology and plant biology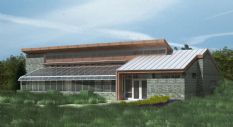 labs in the new building as part of our normal course offering," says Wade Hazel, professor of biology. "In addition, student and faculty researchers will be able to use the lab as a base for their research activities in the Nature Park. We'll also make the building available to local schools, who are already making use of the park. This will be a wonderful enhancement to DePauw's science curriculum. In fact, I know of very few other universities that can provide the experiences the Nature Park and the Manning building will offer."
Dr. Hazel says the combination of the lab building and the diverse habitat found within the Nature Park will allow DePauw to strengthen its curricular offerings in field biology through courses such as ecology, plant biology, and conservation.
Officially opened in September 2004, the DePauw Nature Park features four trails (covering approximately 10 miles) for walking, jogging, hiking and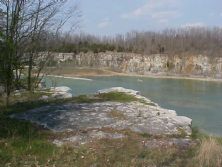 biking; arboretums; a canoe launch; and outdoor classrooms. Potentially at a later time, amenities could be added, including a lodge for retreats and overnight guests, as well as an outdoor amphitheater.
The park was made possible by a generous gift of land from Hanson Aggregates, which mined a limestone quarry on the site for many years. The company donated 280 acres of the land, and agreed to lease the remaining 178 acres to the University for $1 annually for ninety-nine years. DePauw acquired 23 acres of adjacent property to increase the total to 481 acres.
Read about the Nature Park's dedication here, and access the original September 2003 announcement of the park by clicking here.
Back