Ceramics Exhibition -- "Engelke, Goodheart, Hay, and Herrold: Revisited" -- Opens February 2
January 11, 2005
Also: "Yun-Fei Ji: The Empty City," February 2-April 17
Also: "2005 DePauw Biennial: Contemporary Art in the Midwest," February 16-May 8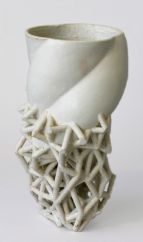 January 11, 2005, Greencastle, Ind. - An exhibition of the ceramic work of Dan Engelke, John Goodheart, Dick Hay, and David Herrold opens at DePauw University's Richard E. Peeler Art Center on Wednesday, February 2, 2005. "Engelke, Goodheart, Hay, and Herrold: Revisited" may be visited through March 6, 2005, and is free and open to the public. (at left: David Herrold, Vessel on Truss, 2004, 14" high, porcelain)
During the 1970s, an exhibition titled "Indiana Ceramics" opened at DePauw University's Emison Art Center, and featured the work of four promising young ceramists: Dan Engelke, John Goodheart, Dick Hay and David Herrold. In 1975, Herrold, professor of art at DePauw, organized an exhibition called "Indiana Low Temperature," one that served as an introduction to the work of the four artists at an early point in their respective careers. At the original show the group presented a gallery talk about the unusual, and sometimes controversial, imagery they used, and also speculated about where they thought the ceramics medium was heading.
These four young Indiana ceramists banded together through their desire to de-emphasize the traditional craft skills the ceramic medium represented. Among their shared attitudes was a disrespect for the clay object as a "humble vessel." Thirty years later, all four have returned to the vessel as a significant theme in their work.
As they approach retirement from their appointments at Indiana universities, they bring their work together to reflect on the evolution of their ceramic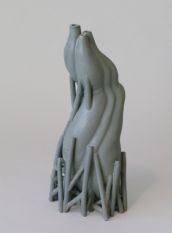 practices over the intervening years. The DePauw exhibition, "Engelke, Goodheart, Hay, and Herrold: Revisited" will trace the trajectory of their development as ceramists through the inclusion of photographs of their early work from the 1970s, as well a selection of the ceramic objects they currently create. (at right: David Herrold, Water Bag with Informal Trestle, 2004, 14" high, porcelain)
Dan Engelke has exhibited at the International Museum of Ceramics, Faenza, Italy and SOFA Chicago. His work has been included in a number of exhibitions, including the International Exhibition of Design, St-Etienne, France and The Altech Ceramics Bienniale 2000, Sandon Civic Center, South Africa. He has served on the faculties of the University of Southern Indiana (1971-78) and Purdue University (1978-2004), from which he recently retired.
John Goodheart is a professor of ceramics at Indiana University, Bloomington (1973-present). His work has been exhibited at the Craft Alliance Gallery, St. Louis; Pewabic Pottery, Detroit; Mark Rushman Gallery, Indianapolis; and the Garth Clark Gallery, New York.
Dick Hay's work is part of a number of public collections, including the Byung-Tak Woo Public Collection, Korea; The Sea of Japan Collection, Japan; the Pushkin Museum of Fine Arts, Moscow; and the State Museum of Art, Riga, Latvia. He is currently the head of the ceramics program at Indiana State University.
David Herrold has exhibited at Instituto Allende, San Miguel de Allende, Mexico; Images Center for Photog
raphy, Cincinnati; the Rushman Gallery, Indianapolis; and the Alexandria Museum of Art, Alexandria, Louisiana. He currently is a professor of Art at DePauw University (1972-present).
The artists will present a gallery talk at an opening reception, February 9, 2005, from 4 to 6 p.m.
The galleries at the Peeler Center are open Monday through Friday from 9 a.m. to 4 p.m.; Saturday 10 a.m.-4 p.m.; and Sunday 1-5 p.m. For more information, call the gallery information line at (765) 658-4882 or visit click here.
Back