A Message on the Commercialization of American Life, Brought to You by Prof. Ted Rueter
May 6, 2005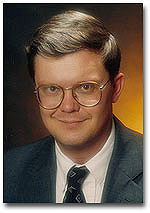 May 6, 2005, Greencastle, Ind. - "Coming soon to a police department near you: NASCAR-style advertising plastered all over police cruisers," writes Ted Rueter, assistant professor of political science, in today's Bloomington Herald-Times. "The Charlotte-based racing giant has graciously offered police cars for $1 each, in exchange for the free publicity. More than 20 cities have signed up, and 200 more have expressed interest."
The professor continues, "Other cities are also exploring commercialization deals. St. Charles, Mo., voted to sell advertising space on its garbage trucks. The California Milk Processing Board sent offers to dozens of small towns, asking one of them to change their name to 'Got Milk? California.' In exchange, the milk board will make the town the focus of an advertising campaign, contribute an undetermined amount to the local school system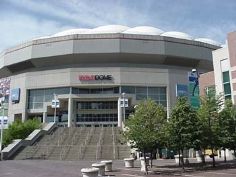 and construct a 'Got Milk?' Museum.
Rueter asserts, "The commercialization of daily life is virtually complete. Most Americans are now assaulted by at least 2,500 commercial messages every day. There are corporate ads on park benches, postal boxes and library cards... NASA has announced plans to solicit ads on its space station. Professional boxers and Arena League cheerleaders have advertisements on their stomachs... In contemporary America, everything needs a sponsor -- rock concerts, PBS shows, sporting events, the Olympics, and church bulletins. Two New Jersey students pitched themselves as 'spokesguys' for any corporation willing to fund their college education. First Bank USA signed them up, for $40,000 a year. The pair, now attending Pepperdine and USC, will wear clothing with First Bank USA logos and speak with students about the joys of getting into debt."
In conclusion, Rueter points out, "While corporations are in the business of selling cool, Tommy Hilfiger is in the business of signing his name. The company manufactures nothing; it simply establishes licensing agreements. As Naomi Klein notes, 'Jockey International makes Hilfiger underwear. Pepe Jeans London makes Hilfiger jeans, Oxford Industries makes Tommy shirts, and Stride Rite Corporation makes its footwear. What does Tommy Hilfiger manufacture? Nothing at all.' And the proper response if corporations seek sponsorship deals with city governments? Nothing at all."
Read the complete essay at College News.org.
Learn about Ted Rueter's other recent opinion columns here, here,here, and here.
Source: Bloomington (Ind.) Herald-Times
Back