Democratic Chairman Howard Dean a "Loose Cannon" Who "Needs to Go," Prof. Ted Rueter Argues
June 17, 2005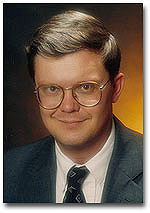 June 17, 2005, Greencastle, Ind. - "Howard Dean is the poster boy of the Bush-hating, anti-war cultural left, who are mad as hell at President Bush and aren't going to take it anymore. And he is a disaster as chairman of the Democratic National Committee," writes Ted Rueter in today's Herald-Times of Bloomington, Indiana. Rueter, assistant professor of political science at DePauw University, has authored ten books, including, 449 Stupid Things Democrats Have Said, 449 Stupid Things Republicans Have Said, and The Politics of Race: African-Americans and the Political System.
"The high-decibel former governor," has committed a series of recent gaffes, Dr. Rueter states, among them Dean's claim that "Republicans all behave the same, and they all look the same. It's pretty much a white Christian party." Rueter notes, "In addition, Dean appears to have a shaky understanding of foreign affairs. After the overthrow of Saddam Hussein, Dean commented, 'I suppose that's a good thing.' He declared that the United States will not always have the strongest military. He said that we 'should also do our best' not 'to "prejudge' where Osama bin Laden is guilty of war crimes."
Offering a number of similar examples throughout his column, the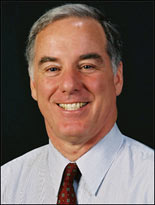 professor states, "Chairman Dean is a loose cannon. His rhetorical assults are certain to restrict the Democratic base, not expand it. In particular, insulting the other party's voters is a very poor strategy. Dean has also failed as a party fundraiser. In the first quarter of 2005, the Democratic National Committee raised $14.1 million, compared to $32.3 million for the Republican National Committee. At present, the DNC has $7.2 million in the bank, compared to $26.2 for the RNC. Howard Dean is the wrong person to head the Democratic party. He needs to go."
Access the complete essay at College News.org.
Learn about Ted Rueter's other recent opinion columns here, here, here, here, and here.
Source: Bloomington (Ind.) Herald-Times
Back