Vernon Jordan '57, Fr. Richard McBrien and Former US Senator Birch Bayh Deliberate 'Civility and Politics' at DePauw Discourse 2005
September 17, 2005
Also: United Nations "Urgently Needs Reform," Paul Volcker Says in Opening Session; Samantha Power Discusses Genocide and the State of Human Rights; Presidential Aide Liza Wright Discusses White House Hiring and "Cronyism"; DePauw Discourse 2005 Web Site; DePauw Discourse Photo Gallery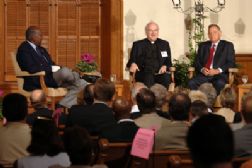 September 17, 2005, Greencastle, Ind. -

[Download Audio: "Loss of Civility" - 93kb] "Since religious groups have become much more directly involved in politics -- in partisan politics -- it's been more and more difficult to maintain that civility in the political world," said Father Richard McBrien this morning in a DePauw Discourse 2005 session on "Civility and Politics." McBrien, Crowley-O'Brien Professor of Theology at the University of Notre Dame, was joined by civil rights legend and presidential adviser Vernon E. Jordan Jr. `57, and former U.S. Senator Birch Bayh in the program, which was held in Meharry Hall of East College.

[Download Audio: "No Basis for Compromise" - 135kb] "When you have people who
are convinced that their political and cultural and social convictions have the stamp of approval from God, and that they are doing God's work, there's no basis for compromise," Fr. McBrien added. "If you grant anything to the other side, you're making concessions that are against the will of God."
Jordan, managing director of Lazard Fréres, LLC, former president and chief executive officer of the National Urban League, Inc., and former adviser to President Bill Clinton, opened the session by repeating comments he in his 1995 commencement address at Colgate University. Ten years later, he says, the words are even more relevant.

[Download Audio: "Essence of the Democratic Process" - 137kb] "The clash of ideas in Washington today is a good thing.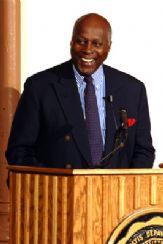 Whether you are a liberal or conservative, it is important to have your ideas challenged and to be forced to defend them. That is the essence of the democratic process."
But when the debate is over and the time comes to make a decision, Jordan suggested that all sides of an issue need to recognize,

[Download Audio: "The Need for Compromise" - 214kb] "the inevitability of pragmatic compromise and the need to develop bipartisan consensus on critical national issues. I am concerned that so much of what we hear these days is not debate but name-calling. There is a 'take no prisoners' rhetoric and a demonization of opposing and different views that brings political discourse to a shameful place." [BONUS CLIP:

[Download Audio: "More From Vernon Jordan's Colgate Remarks" - 133kb]
Birch Bayh, who served in the United States Senate from 1963-81 and is currently a partner in the law firm of Venable LLP, recalled the Senate of the 1960's as "a much different place," where Bayh --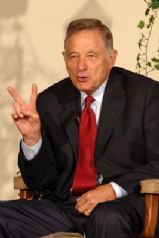 a Democrat from Indiana -- was mentored by Everett Dirksen, the Republican leader of the chamber.

[Download Audio: "Different Times" - 102kb] "Can you believe that in this day and age?," Bayh asked the crowd. He remembered co-sponsoring legislation with other Republicans, including Bob Dole, Howard Baker and Strom Thurmond.
When he was first elected to public office, Bayh recalls,

[Download Audio: "Tolerance & Civility" - 225kb] "I knew very little about government, except what I'd read when I was in school. And when I got to the state legislature ... you didn't get anything done unless there was some compromise. If you have 100 legislators, if we have 230-million Americans; we're living in a melting pot -- every conceivable ethnic group, every conceivable philosophy or a part thereof -- exists right in this melting pot. And the reason it's lasted all these years; the magic word is tolerance -- civility/tolerance -- being tolerant of other people's ideas."
Father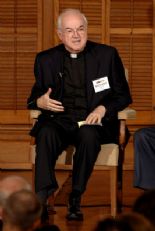 McBrien says the "sea change" in the shift toward incivility began in 1973, with the Roe v. Wade decision. He calls it

[Download Audio: "Roe v. Wade" - 217kb] "a major reason why millions of politically and religiously conservative people in this country became energized, whereas evangelical, pentecostal and fundamentalist Protestants generally had almost an ideological bias against getting involved in politics. Then suddenly they began to say, 'We're letting the game get away from us' and so they became more energized. I still think that's a major factor that plays now in the increasingly lack of civility in our public political life."
"Liberals and conservatives, Democrats and Republicans, don't talk anymore," remarked Jordan.

[Download Audio: "Restoring the Dialogue" - 261kb] "Unfortunately, when Katherine Graham, the editor/publisher/owner of the Washington Post died, the one convener in the Washington community disappeared. So there is nobody now to convene. Nobody turned down Katherine Graham. And so, the Republicans and the Democrats gathered for drinks and what have you, and when they gathered -- based on the arguments that took place in the Senate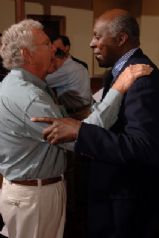 or in the House -- you would see them pair off and settle, in an informal way, the debates that took place. So it's my judgment, somehow, that we have to get the conversation going again and that might help."
The panel discussed whether the fallout from Hurricane Katrina, or even the war in Iraq, might create a new political conversation that is less heated and more bipartisan.

[Download Audio: "Sen. Bayh on The War" - 74kb] "I think we're seeing the war of Iraq having, slowly but surely, the same impact on the American population that the war in Vietnam did."
Father McBrien has written a weekly column on religion since 1966, and says the angriest letters and e-mails he's ever received have come recently and from people who call themselves Christians.

[Download Audio: "The Larger Fabric" - 92kb] "Those who are speaking now for Christianity are speaking for a particular kind of Christianity, and they have every right to do that. But the great majority of Christians don't agree with that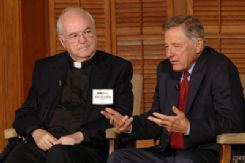 style and don't agree with such a limited agenda."
The nationally-known expert on theology and author of 20 books, including Caesar's Coin: Religion and the Politics in America, continued,

[Download Audio: "Exercising Counterweight" - 194kb] "It's incumbent upon the greater majority of religious people -- and I'm speaking mainly of Christians now, mainline Protestants and a great majority of Catholics -- to exercise a little bit of counterweight; to remind people, as former [U.S.] Senator John Danforth did in a recent op-ed piece in the New York Times that there are others of us who are also Christian -- people of faith -- who don't accept that agenda, and who don't abide by that particular style of engagement in the political process."
The participants all referenced DePauw. Vernon Jordan recalled the first time he spoke in Meharry Hall, as a freshman in 1954, and Dean Robert Farber (who attended today's session and is seen with Jordan in photo at right) sat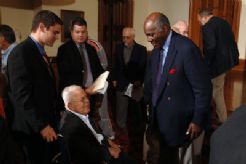 in the front row:

[Download Audio: "Vernon Jordan Remembers" - 210kb]. Father McBrien noted that the historic room is "like a church; it even has pews." Bayh spoke fondly of his long relationship with Jordan:

[Download Audio: "Birch Bayh on Vernon Jordan" - 116kb], and noted that his "best friend throughout my congressional endeavors" was Lee Hamilton, a 1952 DePauw graduate, who Bayh -- then a student at Purdue -- first met 54 years ago.

[Download Audio: "Sen. Bayh on Lee Hamilton" - 218kb] "I don't know of a living citizen that so emulates... what you ought to do to be worthwhile and worthy of the citizenship that we have living in the United States of America." Bayh, who sought the Democratic presidential nomination in 1976, added: "I tried to get him to run for president. I tell people he's probably the only man I'd trust with my life, my wife, and my country," the former senator said to laughter.
Vernon Jordan is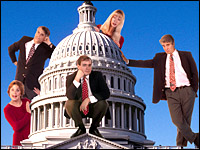 serving as honorary co-chair of DePauw Discourse 2005 with Paul Volcker, chairman of the Independent Inquiry Committee into the United Nations Oil-for-Food Program and former chairman of the Federal Reserve (who spoke Thursday night). The three-day symposium concludes tonight at 8 p.m. with a performance by the Capitol Steps in Moore Theatre of the Performing Arts Center. The Capitol Steps are a troupe of current and former congressional staffers who will provide a side-splitting and entertaining look at otherwise serious political issues.
Learn more, and access a complete schedule of events and biographies of the guests, at the event's official Web site.
Back