Photos of Chuck Ramirez, 'Deeply Superficial,' at Peeler Art Center February 1-March 5
January 25, 2006
Also: Religion and Boxing are Themes of 'Vincent Valdez: Stations,' February 1-April 30
Also: 'Skirting the Line: Conceptual Drawing,' February 15-May 7
January 25, 2006, Greencastle, Ind. - A solo exhibition of photographs by San Antonio-based artist Chuck Ramirez opens at DePauw University's Richard E. Peeler Art Center February 1. On display through March 5, 2006, the exhibition, "Chuck Ramirez: Deeply Superficial," is free and open to the public. Visitors are also invited to attend an opening reception with a talk by the artist on February 15 from 4 to 6 p.m. (top image: Coconut (Coconut Series), 48 x 48 inches, digital durst print; courtesy of Chris Erck, San Antonio)
Working primarily with large-scale photography, Chuck Ramirez's oeuvre includes prints and sculptural installations that are charged with metaphors of ethnicity, gender, sexuality and religion. Using typography and digital imaging technology, his work deconstructs the media world by isolating and recontextualizing familiar objects and texts as a means of exploring the
human condition. Always personally relevant and charged, Ramirez's photographs and installations explore cultural identity, mortality, physicality and consumerism. Photo-based, graphically direct and multileveled, his work also references the mixed blessings of identity-oriented, ethnic art.
Ramirez's work is particularly effective in its synthesis of personal history and narrative with pressing social issues. Drawing from personal and popular imagery -- his grandmother's kitchen, his artist friends, and Brady Bunch graphics -- he uses the familiar to explore how social issues impact his individual life. While earlier work investigated the complexity of Latino identity and visibility, queer politics and the AIDS crisis (Ramirez is an HIV+ gay male), in his more recent work, Ramirez resurrects waste — photographing such things as filled garbage bags, dying flowers, and battered, empty piñatas -- reflecting on the fleeting nature of human existence while imposing the will to survive. (at right: Alex (Piñata Series), 2002, digital durst print, 60 x 48 inches; courtesy of the artist and Finesilver Gallery, San Antonio)
Ramirez has shown extensively throughout the United States, Mexico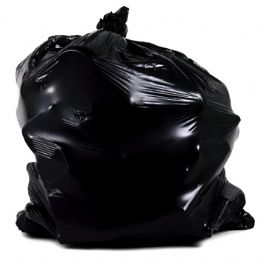 and Europe. Solo and group exhibitions include the Bronx Museum of Contemporary Art, New York; El Portal del Arte Contemporáneo (ARCO) Madrid; Centro de la Imagen and Galeria O Lamm, Mexico City; Galeries Khadrberlin, Berlin; Arlington Museum of Contemporary Art, TX; Center of the Visual Arts, Denver; the Austin Museum of Art at Laguna Gloria, Austin, TX; the Institute of Visual Arts, Milwaukee; Blue Star Art Space, San Antonio; and the Elizabeth Dee Gallery, NY. He was selected for an ArtPace residency in 2001 by Jerome Sans, an independent curator and co-director of the Palais de Tokyo, Paris. He currently resides in San Antonio. (left: Black Sack I(Trash Bag Series), 2001, digital durst print, 60 x 48 inches; courtesy of the artist and Finesilver Gallery, San Antonio)
The galleries at the Richard E. Peeler Art Center are open Monday through Friday from 9 a.m. to 4 p.m.; Saturday 10 a.m.-4 p.m.; and Sunday 1-5 p.m. Visit the Peeler Art Center online, or call (765) 658-4882 for more information.
Back