Ede Osemwota is Third DePauw Recipient of Fulbright Award; Will Conduct HIV Research in France
April 21, 2006
April 21, 2006, Greencastle, Ind. - Osamuede "Ede" Osemwota, a senior biochemistry and French major at DePauw University, will spend the next year in France researching an HIV-1 integrase inhibitor through an international graduate study and research grant awarded via the 2006-07 Fulbright U.S. Student Program competition. Fulbright student grants aim to increase mutual understanding among nations through educational and cultural exchange while serving as a catalyst for long-term leadership development.
Osemwota -- a Holton Memorial Scholar, Donald J. Cook Scholar, Ruth and Carl Stout Scholar, and Bonner Scholar -- is the third DePauw senior to receive a Fulbright Award for the upcoming academic year. Stuart E. Schussler will spend a year in Quito, Ecuador analyzing the plight of Colombian refugees, while Christina E. Guzik will devote a year in Argentina to studying and conducting research on the relationship between the U.S.-led War on Terror and regional security in South America's Southern Cone.
"I will be studying a particular HIV-1 integrase inhibitor, diketo acide (DKA), that could lead to new forms of HIV medical therapy," Ede Osemwota wrote in her Fulbright application. "HIV-1 integrase inhibitors hinder HIV-1 integrases, proteins that aid the spread of HIV in the body." She continues, "In France I will pursue research on the next generation
of anti-HIV drugs -- a new class of antiretroviral therapy that targets HIV-1 integrase. As it stands, the current antiretrovirals may become inadequate in the near future due to the increasing rate of HIV strain resistance." DKA inhibitors "are on the brink of clinical development," which she hopes to play a role in.
Osemwota is hopeful her work at ENS de Cachan -- a biotechnology and applied genetic pharmacology laboratory in France -- leads to "a better description of DKA's inhibiting mechanism so an improved form of DKA inhibiting drugs can be approved for HIV therapy."
The senior notes, "I have honed my analytical ability, laboratory skills, theoretical knowledge, and along the way gained a different understanding of the world around me as well as an appreciations for its complexities in a social context." Osemwota recalls, "Initially, I was enthralled by research because I simply found it interesting. Now, four years later, I want to combine my patient interactions, my aspirations to research topics at the confluence of modern medicine, and my desire to directly change the quality of peoples' lives to improving drugs designed to combat this indiscriminate virus. With the universal language of science as my tool I can transcend borders and collaborate with those on the edge of HIV research to fight this socially afflicting disease."
"I am delighted that Osamuede has blazed a path for the sciences amongst recent DePauw Fulbright winners," says David Gellman, associate professor of history and Fulbright Program Adviser. "Osamuede did a marvelous job explaining her research interests in accessible language that made clear the nature and purpose of highly technical research. Moreover, she placed her research interests within the context of her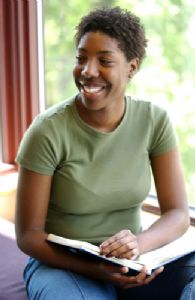 own development and articulated the way in which scientific exchange fosters learning across cultures, countries, and age cohorts. She is dealing with a deadly serious, tragic subject -- the battle against AIDS which knows no international boundaries. She made clear that crucial to winning this struggle is the sharing of scientific skills and insights across international boundaries. She will combine skills developed in labs here at DePauw, at NASA, and at the Cleveland Clinics to France with a deep commitment to the value of scientific and cultural exchange."
Chet S. Fornari, professor of biology at DePauw University, wrote a letter of recommendation supporting Osemwota's Fulbright application. "I'm very happy about Ede's award," he says. "She earned it by her own merits, and I encouraged her to pursue it and simply supported her quest with a reference letter. We're all happy for her and wish her the very best in this wonderful opportunity to engage not only in basic research but also in a rewarding public health project."
"I am very excited for Ede to have this opportunity," adds Sharon M. Crary, assistant professor of chemistry and biochemistry at DePauw, who also wrote a letter on behalf of the senior. "Certainly she will benefit from this experience and her career will be an interesting one to watch."
The Institute of International Education (IIE), in cooperation with the U.S. Department of State and the J. William Fulbright Foreign Scholarship Board, administers the Fulbright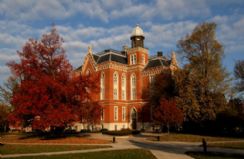 competition, which has provided future American leaders with an unparalleled opportunity to study, conduct research and teach in other nations for six decades.
The U.S. Student Program awards approximately 1,000 grants annually and currently operates in over 140 countries worldwide. Fulbright full grants generally provide funding for round-trip travel, maintenance for one academic year, health and accident insurance and full or partial tuition. Since its inception in 1946, the Fulbright Program has provided more than 257,000 participants worldwide with the opportunity to observe each others' political, economic and cultural institutions, exchange ideas and embark on joint ventures of importance to the general welfare of the world's inhabitants. Learn more by clicking here.
Back