Two Buildings Dedicated in DePauw Nature Park, a "Spectacular Addition" to the Campus
April 21, 2006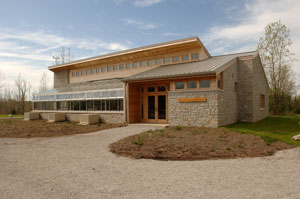 April 21, 2006, Greencastle, Ind. -

[Download Video: "Enhancing the DePauw Experience" - 373kb] "At this point, I've lost count of the number of classes and the range of faculty who have used the Nature Park to enhance their teaching at DePauw," Dana Dudle, associate professor of biology, told alumni, faculty members, students and administrators who gathered this afternoon for the formal dedication of two new buildings in the DePauw University Nature Park.
The Manning Environmental Field Station (seen at top) -- made possible by a gift from Tim and Denise Manning Solso, both 1969 graduates of DePauw -- is named in memory of Denise Solso's father and grandfather, Thomas Manning '40 and George A. Manning '11, respectively. It is a laboratory building with approximately 3,800 square feet of space and facilitates the teaching of environmental science, environmental biology and ecology.
The Ian and Mimi Rolland Welcome and Activities Center (photo at right) provides 1,400 square feet of interior space and 3,700 square feet of total space under the roof. It serves as a trailhead building for groups entering the park, where they can receive orientation and plan their activities. The structure also serves as the offices for the park ranger staff. The building bears the name of the donors; Mr. Rolland is a 1955 graduate of DePauw.

[Download Video: "The DePauw Family" - 1606kb] "The Manning Environmental Field Station -- naming it after Denny's father and grandfather who were Rector Scholars at DePauw -- it carries on with the concept of DePauw as a family school, and likewise with the Rollands whose granddaughter is a student at DePauw now,"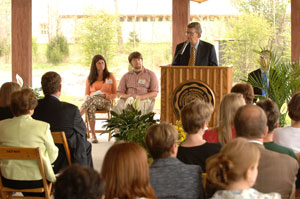 noted President Robert G. Bottoms. "The DePauw family concept is very important to us and has once again reaped great benefits for the DePauw community."
The DePauw Nature Park opened to the public in September 2004. It includes ten miles of trails that wind through the property and along Big Walnut Creek, as well as outdoor classrooms and a small outdoor amphitheater. Areas for weekend primitive camping and a canoe launch (with a canoe rental service) are available.
Plans for the Janet Prindle Institute for Ethics, which will be located within the Nature Park, were announced in September 2005. There are also plans to develop natural areas.
Brian Helm, now a DePauw junior, spent the summer of 2004 in one of the first research projects at the Nature Park.

[Download Video: "Brian Helm '07" - 1604kb] "It was the summer that made me reevaluate my aspirations and career goals and, I can't lie, they really shifted toward doing research in biology. Since the initial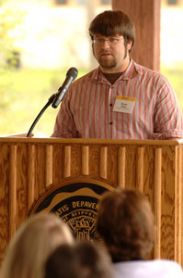 summer, I've watched as the body of data that I started has grown and impacted other students, creating opportunities and new learning experiences for them. That is probably one of the proudest things I've done at DePauw is to watch other students benefit from work that I started -- it's like kind of a passing of the torch -- and then watching them do even better things."
Dr. Dudle says students and faculty members from many disciplines -- not only biology and environmental sciences -- take advantage of the opportunities the Nature Park has for teaching, learning and reflection on a regular basis. The scientist, a self-described "quarry freak," told the crowd gathered for the ceremony,

[Download Video: "The Quarry" - 1527kb] "The part of the park that we now call the quarry bottom is such an unusual opportunity to study primary succession. Most students have to go to Hawaii
where the volcanoes are spitting up bare rock, or go to Mount St. Helens in Washington to study the process of life colonizing bare rock. It's really an unusual opportunity, and we're so lucky to have this terrific set of lab facilities to facilitate our work out there," Dudle exclaimed.
The Nature Park also hosts countless groups from area schools. Stacie Stoffregen, a 6th grade science teacher at Greencastle Middle School, described how DePauw students developed an "Outdoor Explorer" program for her pupils, and how much the younger students benefit from the opportunities the Nature Park provides. With the DePauw program,

[Download Video: "The Community Response" - 767kb] "They emphasize the interconnectedness between the park and the hands-on component," she says. "The students really love that aspect."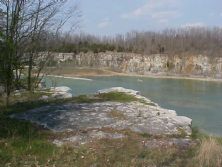 Hanson Aggregates mined a limestone quarry on the site, which is located one-third of a mile from the western edge of the DePauw campus, for nearly a half century. The company donated 280 acres of the land, and is leasing the remaining 178 acres to the University for $1 annually for ninety-nine years. DePauw acquired 23 acres of adjacent property to increase the total to 481 acres.
James B. Stewart, the Pulitzer Prize-winner and bestselling author who chairs DePauw's Board of Trustees, asserted,

[Download Video: "Spectacular Addition" - 792kb] "When I about this gift, I thought it was a great thing, it was certainly a lot of acreage. And not having been out here since I was a student many years ago I don't think I really realized what I think is a spectacular addition to the campus." The 1973 DePauw graduate says he now visits the Nature Park each time he's back to campus and has been pleased to consistently see groups of students, classes and local citizens using the property for learning, research, reflection and recreation.
Ian M. Rolland is the retired chairman of Lincoln National Corporation, a Fortune 500 company that he served for 42 years. He earned a B.A. from DePauw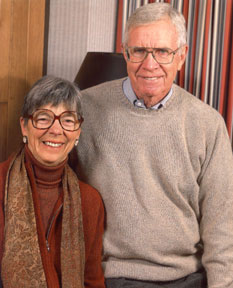 University in 1955 and a master's degree in mathematics from the University of Michigan. Mr. Rolland is an advisory trustee of DePauw and a past board chairman. Mimi Rolland is a graduate of North Central College, and taught school at the elementary level. She has been involved in volunteer and community activities, and is a former trustee of North Central College.
Theodore "Tim" Solso is chairman and chief executive officer of Cummins, Inc., which was named Business Ethics magazine's top corporate citizen in 2005. He joined the company in 1971 and has been chairman and CEO since the beginning of 2000. Mr. Solso received a B.A. from DePauw University in 1969 and an M.B.A. from Harvard University in 1971. He is a member of DePauw's Board of Trustees. Denise Manning
Solso graduated from DePauw in 1969 and is a retired teacher. She has been an active volunteer, serving on several community and not-for-profit boards.
The DePauw University Nature Park is open to the public from dawn to dusk, seven days a week. Camping is permitted only in designated areas and with authorization.
For more information, contact Brien Holsapple, park ranger, at (765) 658-1076, or the Public Safety Office at (765) 658-4261. Visit the DePauw Nature Park online by clicking here.
Back