DePauw Rates Highly in 2007 Guide to The Best 361 Colleges
August 21, 2006
Also: DePauw in U.S. News and World Report's Top Tier for Seventh Year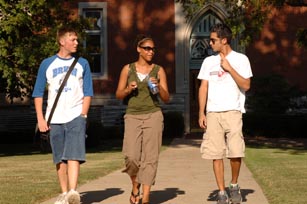 August 21, 2006, Greencastle, Ind. - DePauw University offers students an outstanding undergraduate education and its campus climate, student radio station, and extracurricular opportunities are among the nation's best, according to the Princeton Review. DePauw is again among the The Best 361 Colleges in the new, 2007 edition of the text published by the New York-based education services company. DePauw is ranked #1 in the nation for its "fraternity and sorority scene"; WGRE is America's third-best college radio station; and the University is thirteenth among all colleges and universities for "more to do on campus."
Princeton Review's rankings, not scientific, are based on a survey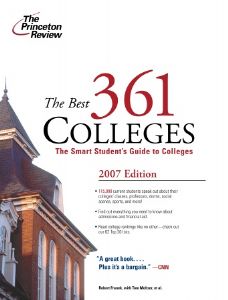 of 115,000 students (about 300 per campus on average) attending the 361 colleges in the book. Only about 15% of the four-year colleges in America and two Canadian institutions of higher learning appear in The Best 361 Colleges. The book arrives in stores tomorrow.
"We consider these colleges the best in the nation academically," says Robert Franek, vice president of publishing at Princeton Review. "We chose schools for this book primarily for their outstanding academics." Franek, the book's lead author, declares that in The Best 361 Colleges, prospective students and their parents can get a "report [on] what the colleges' customers -- the students themselves -- tell us about their schools and their experiences at them."
The book's two-page profile of DePauw -- which includes quotes from unidentified students -- notes that the University "offers students 'value through a liberal arts experience grounded in reality by generous opportunities
to travel, study and/or work abroad as a student.'" It refers, among other things, to the "highly praised" Management Fellows Program and "phenomenal" internship opportunities DePauw students enjoy, asserting, "Undergraduates get to learn hands-on almost from the moment they arrive."
A student reports that "DePauw really values technology," while another states that most undergraduates are "incredibly involved in community service and athletics." A third states that, in recent years, "diversity has increased, and with it the culture has been broadened."
The book's editors also point to survey results that show students appreciate the small class sizes DePauw offers and that "lab facilities are great." The most commonly found class size at DePauw is 10 to 19 students, and there are no teaching assistants -- 100% of courses are taught by professors, The Best 361 Colleges states.
Princeton Review, known for its education, admission and test-prep services,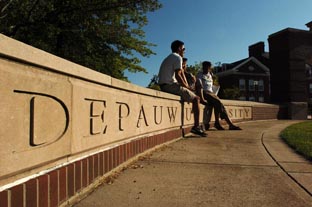 is not affiliated with Princeton University or ETS. DePauw's #1 rating for Greek life is also noted in a story at Yahoo! News.
The listing in the new book is one of a number of external kudos that DePauw has received in recent months. The 2007 edition of U.S. News & World Report's "America's Best Colleges" ranks the University in the top tier of national liberal arts colleges for a seventh consecutive year. Historic East College is pictured on the cover of America's Best Value Colleges: 2007 Edition, which lists DePauw University as one of 150 colleges offering excellent academics, generous financial aid packages and relatively low costs. The National Survey of Student Engagement finds that students at DePauw University enjoy significantly more academic challenges, interactions with faculty, collaborations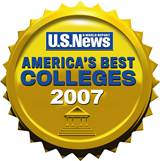 with others and enriching educational experiences than students at peer institutions and the national average at all colleges and universities. DePauw is also among the "Top 50 Most Unwired College Campuses," a survey of all institutions of higher learning -- big and small -- sponsored by Intel Corporation. DePauw is ranked #30 -- the highest of any liberal arts college in America -- in the report.
DePauw welcomed 639 new students to campus over the weekend, and classes begin Wednesday. Read about President Bottoms' address to the incoming class, and access video and audio clips of the speech, in this previous story.
Back