Nine from DePauw to Spend 'Alternative Fall Break' Rebuilding Katrina-Ravaged Homes
October 10, 2006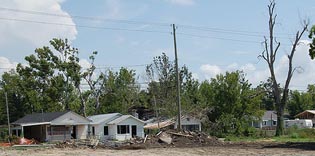 October 10, 2006, Greencastle, Ind. - Eight DePauw University students and one faculty member (Boris Penkov, Fulbright Foreign Language Teaching Assistant in Russian Education) will spend the week of Fall Break (October 14-21) along the Gulf Coast, assisting in the region's efforts to recover from Hurricane Katrina. The team will spend a Fall Break in Service in Biloxi, Mississippi, where they will gut and rebuild homes that were damaged by the devastating storm. The DePauw volunteers will partner with Hands on Gulf Coast, a disaster response project of Hands On Network -- a network of 62 nonprofit organizations around the world.
It marks the third time that a group of DePauw students has chosen to spend an "alternative break" benefiting the victims of Katrina. Last fall, a group traveled to Pascagoula, Mississippi; while a spring trip aided the residents of New Orleans' St. Bernard Parish.
Sophomore Carter Johnson made the previous two trips and is planning to return to the region this weekend. "First and foremost, I hope that we truly make a difference," he tells The DePauw. "But in addition, I hope that it touches the members of the trip and they realize that they can make a difference in people's lives and that there are few things as fulfilling as truly serving another human being."
"The ongoing commitment of DePauw students to community service is impressive and heartwarming and something we're very proud of," says Valerie Rudolph, coordinator of DePauw's Russell J. Compton Center for Peace & Justice. "After an intense and rigorous seven weeks of classes and studies, the fact that these students are willing to go to an unfamiliar place and do good work for others over their fall break says a lot about them."
Visit Hands on Gulf Coast's Web site by clicking here.
Back