Elisa Villanueva Beard '98 Promotes Equal Education Opportunity as Teach For America Sr. VP
February 5, 2007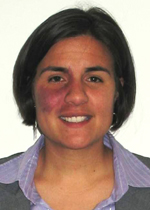 February 5, 2007, Greencastle, Ind. - "The reason I wake up in the morning is because I want to make sure that our kids are getting the education they deserve," says Elisa Villanueva Beard, senior vice president of regional operations for Teach For America and 1998 graduate of DePauw University. "I ensure that people stay motivated, grounded and inspired to work relentlessly to get to our goals, and that's what we care about: our students' outcomes and our teachers getting the right experience so they can go on to be lifelong advocates."
Beard has been supporting Teach For America's mission for equal education opportunity for more than eight years. After graduating from DePauw, she taught for Teach For America as a first and second grade bilingual teacher in Phoenix for three years, going beyond the program's two-year commitment. She later directed a team in the Rio Grande Valley as executive director and eventually became the senior vice president of regional operations, a position in which she manages the program's 25 executive directors across the country.
Founded in 1990, Teach For America is a national corps of outstanding recent college graduates who commit two years to teach in urban and rural public schools and become lifelong leaders in expanding educational opportunities. Currently, 4,400 corps members are teaching in more than1,000 schools in 25 regions across the country, impacting the lives of nearly 375,000 students.
A sociology major and Spanish minor, Villanueva says her time at DePauw taught her the skills needed to be successful where she is now. "Given my life experiences and experiences at DePauw, I feel like I have the credibility, knowledge and insight to be able to ensure that my voice is heard. DePauw was a very enriching experience for me, both academically and personally. I received an excellent education at DePauw, but what was truly powerful for me was the cultural exchange that happened. It taught me so much about what is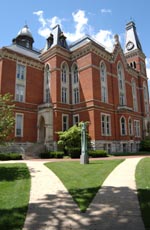 possible and what we must expect of our system and our country."
Of all of the inspirational people she met at DePauw, Villanueva lists Joe Disque, her mentor who passed away last December and whose wife and son attended the University, as the person whom she attributes most of her success to. "He deeply believed in kids and potential," she says of Disque. "He was a big reason I came to DePauw. I was one of those kids he picked out of a crowd and said, 'we need to get you to a different place.' He was like my second dad."
Through the DePauw experience Villanueva says she learned to step up, be confident and do the work that is put before her. "At DePauw, you just have to perform," she says.
Villanueva developed a passion for education during her sophomore year at DePauw and applied to be part of Teach For America during her senior year. In he summer after her second year of teaching in Phoenix, Villanueva taught at the program's summer institute, where student teachers are trained before they begin teaching. "It was my first experience working on staff, and I loved it," she said. "It was the first time I actually took interest in considering a full-time position at Teach For America."
Jerry Hauser, chief operating officer of Teach For America at the time, saw Villanueva's leadership potential and encouraged her to apply for the executive director position that year. She applied in the fall and after her third year of teaching at Phoenix, became an executive director for the Rio Grande Valley, her hometown in Texas. Villanueva worked for four years as executive director there, building a team to set goals for the program and networking among various constituents, until a year and a half ago, when Teach For America launched a five-year growth plan and asked her to take on the senior vice president role.
Since then, Villanueva has been one of six senior vice presidents in charge of an operating area at Teach For America, managing the program's 25 executive directors and carrying out its mission to ensure that all children receive an excellent education regardless of their background.
"At Teach For America, we really believe that where a kid is born should not dictate what life opportunities or choices they have," she says. "That became my passion."

A record 14 DePauw graduates joined Teach for America last spring, a strong showing that was noted in a May 26, 2006 Inside Higher Ed story.
Back