Presidential Search Committee Meets as a Group and with Faculty Members
August 17, 2007
Also: Visit the Presidential Search Web Site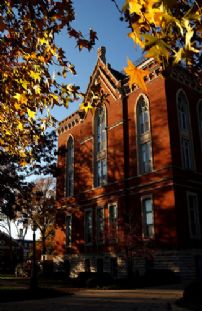 August 17, 2007, Greencastle, Ind. - DePauw's Presidential Search Committee today held its first face-to-face meeting on the Greencastle campus. The three-hour session took place after this morning's Faculty Institute. At that event, which was held in Meharry Hall of historic East College, faculty members heard from Sarah Reese Wallace, the 1976 graduate and Trustee who is chairing the presidential search committee, as well as Nancy Mistretta of Russell Reynolds Associates, a global executive search firm headquartered in New York.
"We continue to have very valuable and insightful discussions with DePauw's various constituencies about the qualities they believe will be vital to our next president's success," says Wallace. "It's an important process, and I'm happy to report that the response from members of our community has been very strong."
Wallace is leading a committee of 17 individuals, which includes nine other Trustees, four faculty members, two students and one administrator. Robert G. Bottoms, who has served as DePauw's president since 1986, announced in April that he will be stepping down from the post and becoming Chancellor of the University following the 2007-08 academic year.
After the brief presentation at the morning's Faculty Institute, an event attended by all DePauw professors and many administrators, members of the faculty were invited to attend breakout sessions, which were led by the four faculty members serving on the search committee.
Later, the search committee met as a group for the first time.
Last month, Wallace and Mistretta held a series of sessions on campus to discuss the presidential search process and gather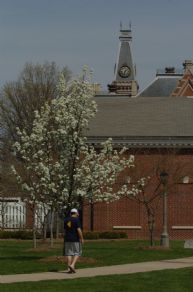 input from DePauw students, staff, administrators and faculty members, as well as Greencastle community leaders.
Student members of the search committee will hold forums for DePauw students at a future date to be determined.
Russell Reynolds Associates is assisting with the recruitment of qualified candidates for the position, and is accepting submissions at DePauwpres@russellreynolds.com. "If members of the DePauw family have thoughts on this process and, in particular, wish to nominate a candidate for the presidency, we welcome their input," states Wallace.
The committee's timeline calls for the group to begin reviewing candidates for the presidency by mid-Fall. Its anticipated the University's nineteenth president will be announced next Spring.
Learn more about the work of the presidential search committee at this Web site.
Back