"A Defining Element of the DePauw Experience" Enhanced as Green Center for the Performing Arts is Dedicated
October 25, 2007

[Download Audio: "Complete Remarks of Joyce & Judson Green" - 3324kb]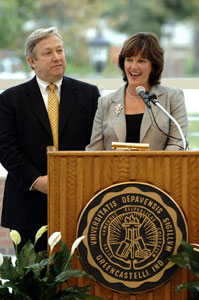 October 25, 2007, Greencastle, Ind. -

[Download Video: "Supporting a Defining Element" - 529kb] "As we stand here today, we are quite humbled by the fact that the performing arts have existed here at DePauw for 123 years," said Joyce Taglauer Green '75 as she and her husband, Judson C. Green Jr. '74, and more than 200 alumni and friends of the University gathered this afternoon to formally dedicate the Judson and Joyce Green Center for the Performing Arts. "As we reflect upon this, the performing arts have been, and continue to be, a defining element of the DePauw experience."
The Greens provided the lead gift toward the $29 million expansion and renovation of the Performing Arts Center, which opened in 1976. The new Green Center comprises 80,000 square feet of space, including a 20,000 square foot addition, which provides the School of Music with new faculty offices that double as teaching studios, practice rooms and rehearsal spaces, additional classroom and office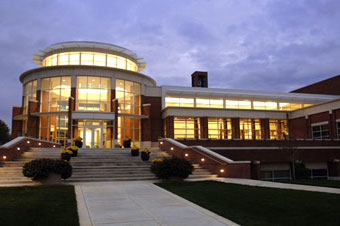 space for the communication and theatre department, a state-of-the-art recording studio, expanded library space, and new lobbies for Moore Theater and Kresge Auditorium.
Work on the second phase of the renovation project, which is creating new space for the communication and theatre department, is under way and is scheduled to be completed by the end of the academic year. A campus favorite, Walker Pond, will be re-established in front of the building when the work is completed.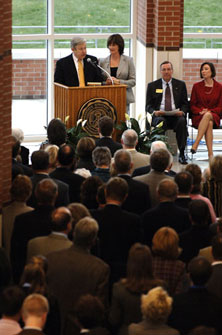 Founded in 1881, the DePauw University School of Music is one of the oldest private institutions for post-secondary music instruction in the United States. It is now a leader among liberal arts colleges with a reputation for producing excellent music educators, performer and scholars. Its unique size -- approximately 150 to 175 undergraduates -- makes possible a full complement of musical opportunities and degree programs while maintaining an intimate, nurturing educational atmosphere.
"There is clearly a place for the performing arts in a university context," noted Judson Green, who is president and CEO of NAVTEQ and a member of DePauw's Board of Trustees, which he chaired from 2002-04. "The experience of performing provides a spirit of camaraderie and teamwork, if it's an ensemble performance, and the necessary mental discipline and courage, if it's a solo performance. It provides a sense of being part of something greater than what any one individual can attempt or achieve. It provides a respect for the artistic talents of others. It provides a feeling of accomplishment from the hard work required to master the technical and empathetic challenges of the work being performed. And it provides the sheer joy and delight from creating something that can have a magical impact on others."
The Greens share a lifelong love of music. An accomplished jazz pianist, Judson Green majored in economics and minored in music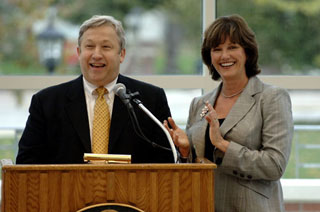 composition and went on to earn an M.B.A. from the University of Chicago's Graduate School of Business. Joyce Green studied piano in the DePauw School of Music and was a member of the DePauw Symphony. After graduating, she was a pre-school music teacher and developed a "Music for Kids" program. An active community volunteer, she serves on the the board of the Chicago Symphony Orchestra and is past president of the Friends Board for the Mennello Museum of American Art in Orlando, Florida. She has also served DePauw in several capacities, including serving as chair of the Washington C. DePauw Society Executive Committee from 2000-05.
Joyce Green pointed out, "For young people passionate in the performing arts, it's a weighty decision whether the performing arts should become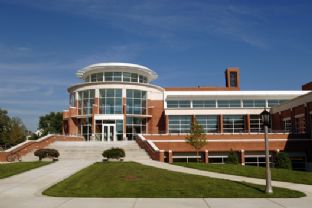 a vocation or an avocation, and DePauw has always been open and nurturing to this life decision. Although the performing arts are not typically defined as an element of a liberal arts education -- although they probably should be -- the performing arts can be a rich and essential element of a life well-lived." Whether a student chooses a career in the arts or takes a different professional path, Green says the Center will nuture a love of the performing arts that will prove valuable to future DePauw students, as it has to her and her husband.
Corinne M. Webb, a DePauw junior who is majoring in music performance and psychology, spoke of the "wow factor" the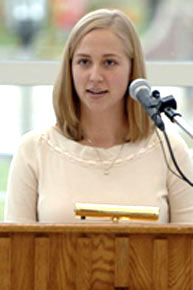 new Green Center carries with it.

[Download Video: "Corinne Webb '09" - 985kb] "While those of us here at DePauw experience the value of this building on a daily basis, there's no doubt that this investment will pay huge dividends for attracting some of the most promising young students from around the country. First impressions can be very powerful and prospective students who come to DePauw (and) walk around this magnificent building and this beautiful campus will be able to envision themselves enjoying the DePauw experience."
Webb added,

[Download Video: "An Example Set" - 416kb] "Looking at what the Greens have invested inevitably encourages current students to ask themselves what their own roles will look like in supporting future generations."
The Green Center provides the DePauw community with "a bright, open, comfortable, inviting space in which to learn, practice, study, teach and work," added Caroline K. Jetton, dean of the DePauw School of Music and associate professor of music.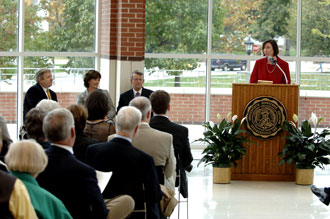 R. David Hoover '67, the new chair of DePauw's Board of Trustees, remarked, "The future of the School of Music is very bright, and we're excited about the potential and the prospects of an even stronger program with the addition of this new facility."
"When I think of my time at DePauw, I truly do think of Judson and Joyce Green and how their lives have become so intertwined with the success of this institution," said Robert G. Bottoms, who is in his twenty-second and final year as the University's president.

[Download Audio: "The President's Gratitude" - 247kb] "Because of them we have this fine facility. They are very special people. They have made this a very special place. They are outstanding members of a proud DePauw family. Joyce and Judson, we appreciate all you have done for this great place," said Dr. Bottoms.

[Download Video: "The Joy and Celebration of Music" - 1504kb] "Joyce and I have found countless times over our lives that music and the performing arts are truly unique in their ability to bring together and establish emotional connections among diverse people, regardless of generation," Judson Green said. "Thus, we are honored to be
connected with all of you here today, and hope that the joy and celebration of music and the performing arts endure not only here at DePauw, but wherever your life journey's take you."
The dedication ceremony was followed by a reception and a perfomance by the Grammy-winning Orpheus Chamber Orchestra.
View photos of the Judson and Joyce Green Center for the Performing Arts by clicking here.
Back